Young The Giant mixes funk and political influence on latest indie rock album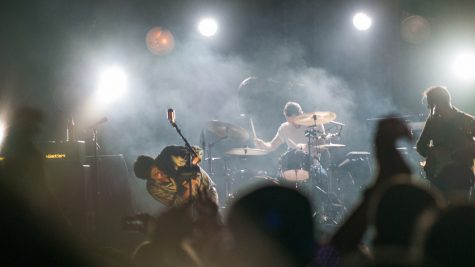 California-based rock band Young the Giant makes a foray into darker territory on "Home of the Strange," the group's latest album which was released in August.
The group experiments widely with their sound on the latest album, managing to maintain some old aspects while adding a new, refreshing twist.
Unlike previous the band's previous records, "Young The Giant" and "Mind Over Matter," the latest album is decidedly less upbeat.
This record introduces a dark, indie-pop side of the group that has not been seen before. While keeping the same strength in melody present on its first two albums, the band adds eerie synth to the equation.
The dark influence in the music hints at something much deeper, like the mysteriousness of what happens behind the closed doors of politicians, or even lead singer Sameer Gadhia's personal life.
"Home of the Strange" is available for download on iTunes, Google Play and Amazon. Additionally, the album is available to stream on Apple Music, Spotify and Youtube.
Vulnerability and strength are effectively intertwined throughout "Home of the Strange."
The first track, "Amerika" is reminiscent of Radiohead's track "2+2=5" which appears on album "Hail to the Thief."
On the Young the Giant track, Gadhia asks, "Are you paying attention?"
Similarly, Radiohead vocalist Thom Yorke says, "It is too late now because you have not been paying attention."
The title of the song suggests that Gadhia is making a statement about the American public ignoring corruption within the government. Gadhia, a child of Indian immigrants, demands to be heard in his lyrics.
Strong tracks on the album include "Jungle Youth," a distorted garage-rock track that is most different from the group's previous albums, and "Mr. Know-It-All," a blaring, experimental garage-rock sound that mixes old indie rock with new styles. The result is modern edginess with a strong hook.
Funk rock is infused with garage rock on a number of tracks, giving the album an off-putting vibe.
Tracks including "Silvertongue," "Nothing's Over" and title track "Home of the Strange" have funk aspects exhibited through strong basslines.
Synth and other electronic experimental sounds play a huge role on this record, making appearances on the title track as well as on "Titus was Born."
"Repeat" explodes after an acoustic beginning. The song carries a powerful statement. Gadhia references his immigrant family background and declares his presence in the United States.
Young the Giant will continue on their "Home of Strange" tour through November 4 with stops in Texas, Colorado, California and British Columbia.
Email Jaylene at jaylenelopez@umass.edu or follow her on Twitter @JayleneLopez_.