Mindset and sense of community the focus for UMass Parkour club
The Parkour Club of UMass chooses to practice with a growth mindset as it seeks to create a strong connection between members.
Wei Cai, Contributor
October 4, 2016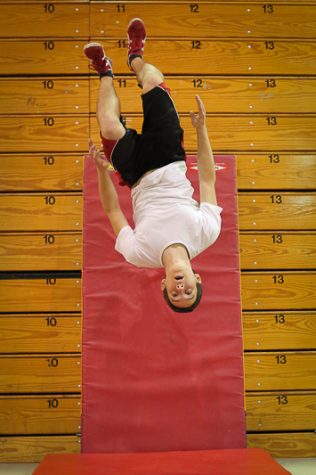 AMHERST — What comes to mind when you think of parkour?
For many, parkour stirs up memories of YouTube videos where people jump off buildings and do backflips. For others, it's the depiction popularized by television show The Office, where Steve Carell foolishly jumps on tables and chairs.
But for UMass Parkour, a club at the University of Massachusetts Amherst, those stereotypes could not be further from the truth.
Although structured like a sport, those who practice parkour consider it an art form.
"Parkour, in its purest form, is moving from point A to point B in the most efficient route possible," said Matt Murch, a member of UMass Parkour and senior biology major at UMass Amherst.
UMass Parkour gets together like clockwork. They do conditioning and practice six days a week, and they push themselves beyond their own physical and psychological limits.
"A lot of people do come in with a bad mindset of the parkour that they watch on YouTube and stuff, so like people doing parkour but seriously injuring themselves," said Jorge Luis Reyes-Lebron, president of UMass Parkour.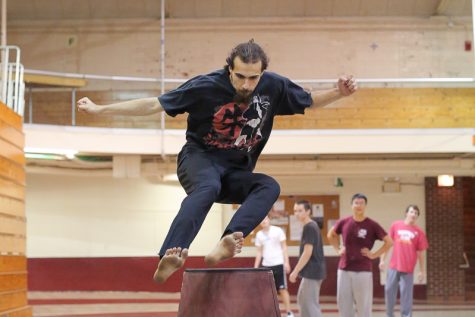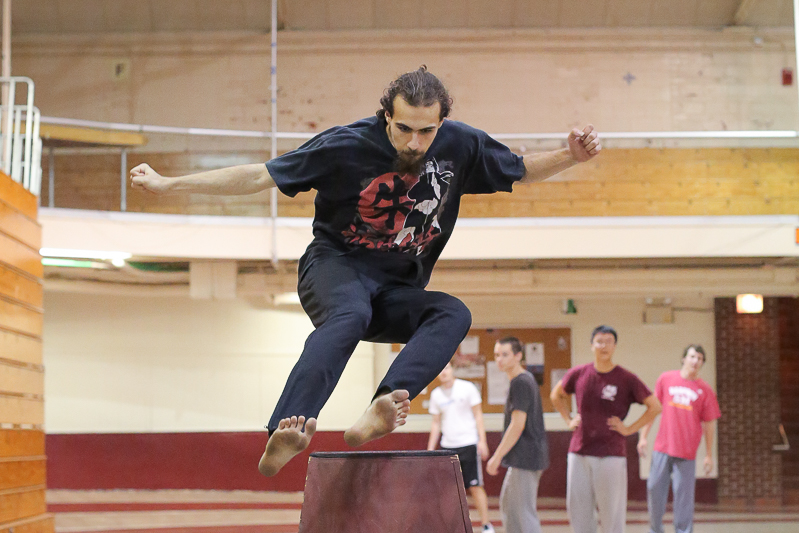 To combat that physical risk, UMass Parkour encourages the development of personal ability, and focuses the psychological aspect of parkour.
For most sports teams, members must have a baseline level of skill to participate. In parkour, the only requirement is a "can-do" attitude.
At a recent UMass Parkour practice, faces of defeat were nonexistent. Instead, there was laughter, encouragement and clapping.
But don't let the fun atmosphere fool you — parkour can be quite challenging. A phenomenon referred to as a "mind-block" often gets in the way of members who attempt more advanced stunts, called tricking. According to Reyes-Lebron, tricking can mean doing backflips or hanging and flipping off things.
"It's very much a mind-block, your body can do so much, especially when you go over something. You feel yourself falling. Your body knows what to do," said Catherine McEachern, a UMass Parkour member and pre-med major.
According to Murch, parkour is less focused on the skill level an individual has. Instead, it is about the journey of growing.
"Overcoming that fear and breaking through those plateaus is a really great feeling not only for the person who does it but kind of for the people who watch them and help them," Murch said.
Even for advanced members of the club, tricking presents a safety concern. McEachern serves as the club's safety officer and EMT in case of injury. She said the club has a relatively low injury rate.
"A lot of it is just scrapes, and bruises," McEachern said. "For cuts, there's Band-Aids and gauzes."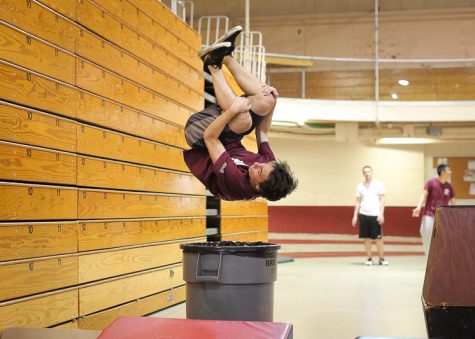 Members of UMass Parkour have a tight-knit, familial connection that fosters the growth of personal ability. The club holds group dinners after every practice, and does not compete with other university-level parkour clubs like a traditional sports team would.
That sense of togetherness makes it an attractive club for new members, like freshman engineering major Jonathan Chen. He said the club consists of "good people and quality family."
For Paul Rymsza, a freshman biochemistry and molecular biology major, UMass Parkour is just a fun way to get moving.
"I go to the gym most days, but especially on days that I don't go to the gym and I feel kind of lazy, being out here in the fresh air and doing cool stuff," Rymsza said. "It's just a way to be free."
Email Wei at [email protected] or follow him on Twitter @weicaiumass.