BREAKING: Post-election protest erupts at UMass Amherst
AMHERST — As Kyle Hartmann watched the election results roll in last night, he got a sinking feeling in his heart. Republican candidate Donald Trump swept the election — an unexpected victory.
The next day, the University of Massachusetts Amherst senior led a protest of some 100 students across the campus. The students yelled chants like, "love trumps hate," and "if we don't get it, shut it down."
"No one is safe in this country right now," Hartmann said. "This is what motivated me to start this protest."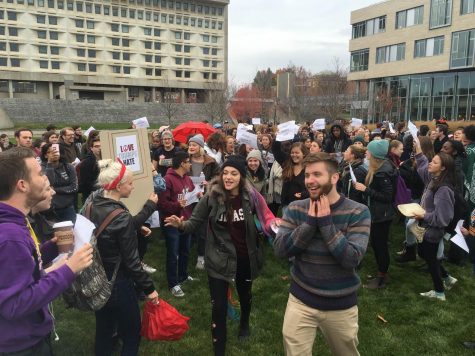 A little after 1 p.m. Wednesday, the protesters marched their way from the lawn outside Goodell Hall towards the Commonwealth Honors College. The protesters continued toward the Fine Arts Center and up North Pleasant Street, over to Metawampe Lawn outside the Campus Center and then back to the Goodell lawn.
"The people's voices were not heard and they need to be heard. This is what we are fighting for," protest leaders shouted as the protesters crowded onto the grass. Many held signs on white paper.
This protest will continue Friday at 1 p.m., Hartmann said. Protesters will meet again on the Goodell lawn to share speeches, poetry and songs, he said.
Hartmann said he took a stand in his history class Wednesday morning. He gave a speech in class, reacting to the unexpected election results.
"We are all given one chance on this Earth to do something great, something unimaginable, and I am looking to all of you for your support. Last night we were stuck with news that many of us never thought would become a reality," the speech read. "But I am not willing to go down without a fight."
And he hasn't. The protest continued to grow in number, gaining support from well over 100 students and even more onlookers.
The public display was the first public reaction from UMass students since Trump was declared the winner of the 2016 election early Wednesday morning. Protests will continue Wednesday, a gathering called "Vigil for Love & Unity" will be held on the Amherst Common at 5:30 p.m. Wednesday.
Editor's note: This story was updated to change an incorrect quote. 
Amherst Wire Editor Stephanie Murray contributed reporting. 
Email Julie at [email protected] or follow her on Twitter @julie_sham.
About the Contributor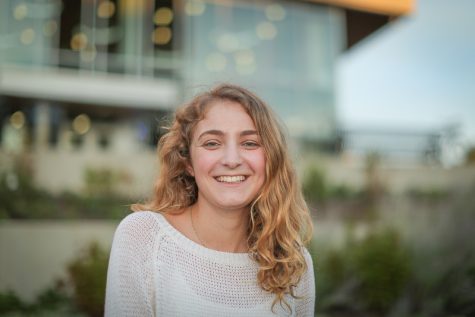 Julie Shamgochian, Managing Editor