UMass professor Sut Jhally responds to being named to list of 'radicals'
"Is what I teach in class radical? I hope so."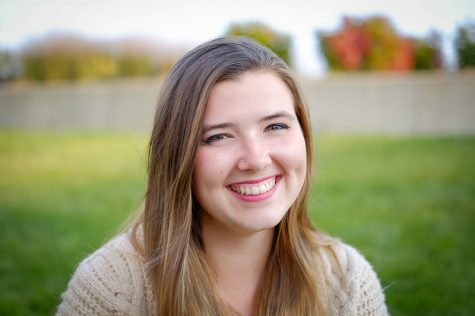 More stories from Morgan Hughes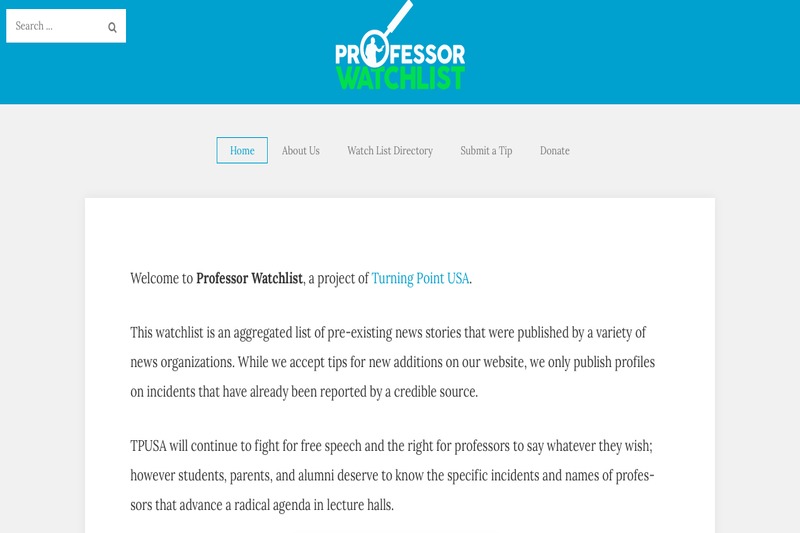 AMHERST — Two University of Massachusetts Amherst professors were named to a list created by a conservative organization aiming to identify professors attempting to "advance a radical agenda."
The website, by conservative organization Turning Point U.S.A. (TPUSA), includes some 200 professors from around the country, including UMass communication professor Sut Jhally and retired economics professor Richard D. Wolff.
This list's website states that "students, parents and alumni deserve to know the specific incidents and names of professors that advance a radical agenda in lecture halls." It also states that TPUSA fights for "free speech and the right for a professor to say whatever they wish."
Jhally noted that he was not surprised that the list was "amateurish," but that the dissemination of the list reached as far as The New York Times and other national and local news organizations.
"This really stupid thing that has nothing substantive behind it has gotten so much press," Jhally said.
He explained that it appealed to the popularity of "clickbait" and "listicles" and became legitimized by the right-wing press. He sees it as a means to spread opportunity for people to attack the academics listed.
Jhally is not concerned about the safety of his position at the university. However, he is concerned for other professors who may not be tenured.
"For me, it's not a big issue, but for other people on the list who don't have that much protection, it could turn into something," Jhally said.
He is concerned about others on the list losing their jobs or being targeted by "internet trolls" either in person or online, he said.
"I think that their aim is to get people harassed … to have people be intimidated," Jhally said.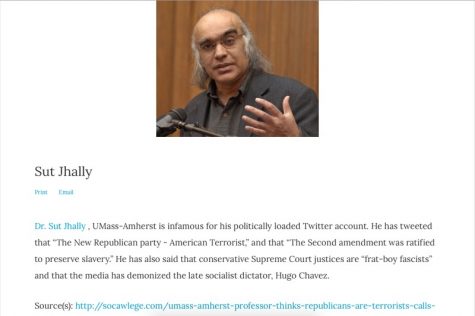 Jhally's description on the website detailed his "politically loaded Twitter account" and open criticism of some conservatives.
"Is what I teach in class radical? I hope so," Jhally said. "My aim is to get people to think about issues they haven't thought about before and disrupt how they think."
He believes he was labeled as radical because he addresses questions of power in his studies and lectures. He often questions the ability of those in power in the government and in the media, to alter public perception or dialogue in an attempt to "suppress the masses" as old as the founding fathers.
"I'm asking questions that don't normally get asked, and that's sometimes a definition of radical," Jhally said.
He notes, however, that he supports everything he says with facts and encourages debate in his classes.
"I go out of my way to say it, will never once tell you what to do, that's up to you," he said. "You are your own ethical, moral people. You have to take this information and do what you want."
Jhally said on the communication department's website that he is interested in popular culture and media from the perspectives of critical cultural studies and the political economy.
Jhally teaches a blended online class on advertising as a form of communication, and another in-person lecture titled "Media, Public Relations and Propaganda."
The course description for the class states it will examine "how the industries of media and public relations have been used as instruments of social control and propaganda by economic and political elites." Lectures talk about the American consumer as a tool of the media and the media's role in the public debate and understanding of domestic and international issues.
Jhally feels the list was "lazy" in its execution. He believes the creator of the list did minimal research on him and other professors and picked up on a story written about him last year on another website, called SoCawlege. He also noted the tweets cited by the list were from several years ago.
"Some kid in a basement did a little bit of research over the weekend and came up with this," Jhally said. "The site is really amateurish in the way they picked people, why they picked people."
In a blog post by Charlie Kirk, TPUSA founder and executive director, Kirk stated he wishes to expose professors who "attack and target conservatives, promote liberal propaganda and use their position of power to advance liberal agendas in their classroom."
Kirk listed a few professors who promote left-wing "propaganda" in lectures, from one who said Brexit was a result of racism to one who made an anti-American parody of the pledge of allegiance.
No other Five College professors were named to the list.
Morgan Hughes is a student in Sut Jhally's course, COMM 289: "Media, Public Relations and Propaganda."
Email Morgan at [email protected] or follow her on Twitter @HughesMorgan_.
About the Contributor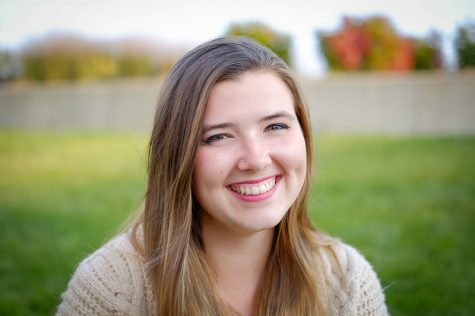 Morgan Hughes, Campus News Editor