Migos at the top of the charts with 'Culture'
Here's what you need to know about the Atlanta trio's latest album
More stories from Jack Hamm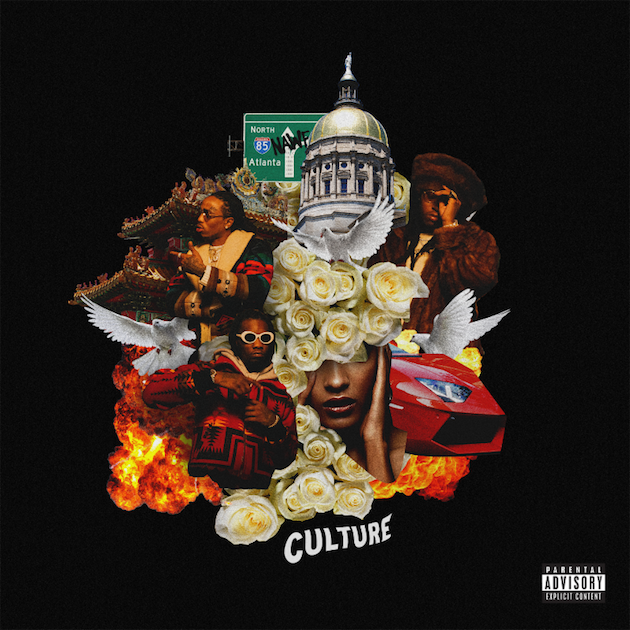 Two weeks after the release of the Migos sophomore album, "Culture" sits atop the Billboard Top 200 Mount Olympus.
Quavo, Offset and Takeoff kept it relatively Atlanta-centered with features Gucci Mane and 2 Chainz. Other artists such as Lil Uzi Vert, Travis Scott and Snapchat's own DJ Khaled (Anotha One!) followed, clinging on at times as the Migos guerrilla rap assaults peppered the tracks.
The high-octane, spastic rhymes on "Culture" slap in the club, the car or the cubicle, bringing energy only the Migos could create. Where the album lacks is exactly where it thrives, if you consider predictability a detriment. If you're looking for a revolutionary Migos masterpiece, "Culture" is not your answer.
The collection may not be revolutionary, but the refined styles of Quavo, Offset and Takeoff are on full display. The Atlanta trio maintains fortified, triangular balance even through heightened fame. Their one-third motto persists, as none of the three value outperforming the other two.
DJ Khaled opens the curtains on "Culture," serenading us with fiery opposition to the Migos' haters (more explicitly than can be written) before the snare, bass and mallets produced by 808 Mafia enter. Takeoff dives in and we're off.
Two highlights of "Culture" follow the intro with "T-Shirt" and "Call Casting." In a virtual Video Music Award shoe-in, the Migos take the trap to the wild in a "Revenant"-meets-North-Atlanta parody. In presumably Inuit garb and alongside scantily clad women, the Migos ride off through the white mountains on snowmobiles, armed to the teeth with bows and arrows. It's truly a masterpiece, check it out for yourself.
Following "T-Shirt" is the Billboard 200 number one (number two this week) record "Bad and Boujee." Offset delivers the hook harder than the hypothetical crack rock he claims to cook before Offset and Quavo deliver their verses, respectively. Quavo even gives love to the younger children as he quips, "still be playin' with pots and pans, call me Quavo Ratatouille," squeezing in a subliminal drug reference.
"Bad and Boujee" takes an underwhelming turn as Lil Uzi Vert delivers the last verse like an underpaid pizza boy. Following Offset and Quavo's first verses proves difficult, but Lil Uzi Vert lacked even a slight effort to match the Migos. The "yeah, yeah, yeah, yeah!" Uzi Vert bars set up the verse for disaster as his raspy and frankly annoying voice requires a volume decrease for fear of hearing damage.
His rhymes are simple and not in a good way. You may remember lines like, "switching my h**s like my flows, switching my flows like my clothes," from joke freestyle sessions in eighth grade with friends after school. Of the few pitfalls of the "Culture" album, Lil Uzi Vert's verse on "Bad and Boujee" may be the deepest. This speaks volumes of both Offset and Quavo as they still carry the song to the top three on the Billboard 200, dragging Lil Uzi's incompetence behind.
The album continues with "Get Right Witcha" and "Slippery" feat. Gucci Mane, both surprise hits shadowed by the commercially driven "T-Shirt" and "Bad and Boujee." Gucci Mane in particular gives "Slippery" a quality verse, oozing like molasses and filling in the bass booms and snare taps in a way only Gucci Mane could. Though he kicked his promethazine habit, he still raps with confident leisure as he carries rhymes through the end and into the next bar.
"Culture" then glides through songs like "Big on Big," "What the Price" and "Brown Paper Bag" that only the hardcore Migos fans will remember down the road.
"Deadz" comes next with a substantial 2 Chainz verse. The repetitiveness of the Quavo hook hurts "Deadz" slightly as it seems to go, and go and go. 2 Chainz breathes life back into the song between Quavo and Takeoff with clever wordplay over a percussion-like rhythm.
"Might buy a bowling alley, I got mon(ey) out the gutter," 2 Chainz says.
"Culture" finishes on a solid note with "All A**," "Kelley Price" (feat. Travis Scott) and "Out Yo Way." "Kelley Price" lacks references to the actual R&B singer-songwriter Kelley Price, but does that matter these days when a track like Young Thug's "Kanye West" fails to mention Saint Pablo at all?
"Culture" gives the world not so much a new Migos, but rather a more refined version. Atlanta's stance at the forefront of not only trap, but modern music as well strengthens its foothold with "Culture." The Migos may not give you the culture you want, but it is the culture we have from the nucleus of North Atlanta — "DAT WAY!"
Email Jack at [email protected]