NPR's Eric Westervelt discusses DeVos, education accessibility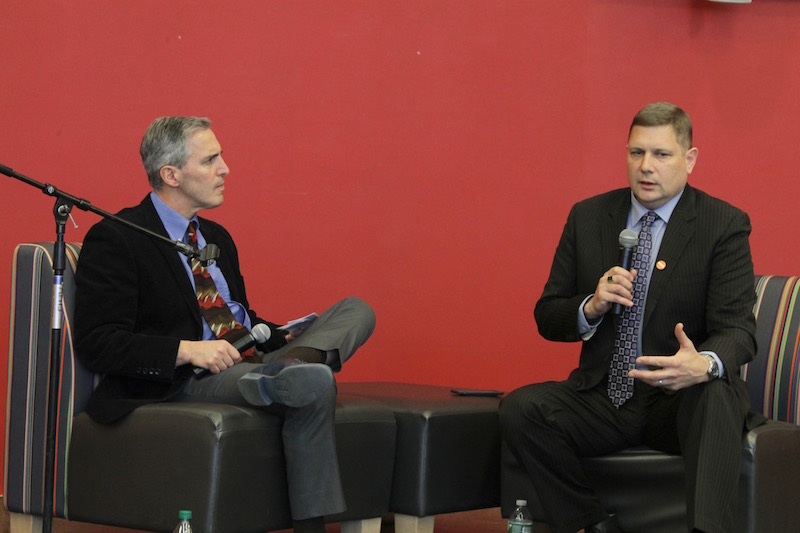 AMHERST — Eric Westervelt, education correspondent at National Public Radio (NPR) discussed issues of education policy under the Trump administration in conversation with University of Massachusetts Amherst professor Stephen Sireci at the university's Commonwealth Honors College Events Hall on Friday, Feb. 17.
The New England Public Radio-sponsored event was geared towards opening discussions about the biggest issues in the American education system, including accessibility for students with special needs, technology integration in classrooms and implementing more effective teaching strategies in classrooms. The common thread among these issues, Westervelt said, was that there is no one solution to any of them.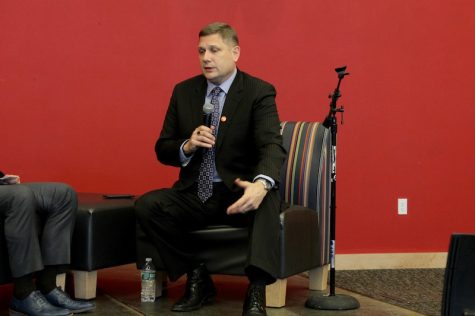 "There isn't a secret sauce I can tweet now and schools will be great," said Westervelt, praising school districts in New York, Boston and Denver. Westervelt said it is impossible to come up with a "one-size-fits-all solution."
Regardless of the topic, the conversation always came back to the newly-appointed Secretary of Education, Betsy DeVos. The secretary's lack of experience with the American public education system is a point of concern for many, Westervelt said. The discussion was underscored by a tone of uncertainty. DeVos is in a position to undo many of former President Barack Obama's policies regarding issues such as Common Core and Title IX.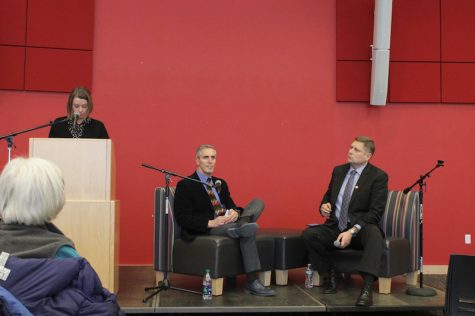 "The key is going to be oversight and accountability," Westervelt said. "There were specific measures that she supported financially that would have watered down accountability."
Westervelt, who was once a foreign correspondent, advised journalists to expect "pushback" from those being covered and to work past it.
"It's your job to stand up," said Westervelt. "These are the facts. If I got something wrong, we'll correct it. If we get something right, we're going to stand by it."
For audience member Casey Pease, a sophomore political science student at UMass, the conversation was the reassurance he was hoping to find.
"I think what he said is something I already know," said Pease. "We have to keep speaking out, we have to keep finding means to advocate for affordable higher education."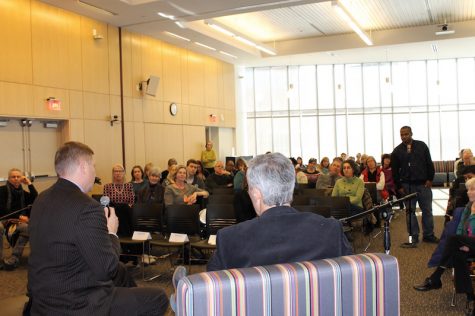 Pease added that he trusts journalists to hold those in power accountable.
"I am more confident, though, that there are journalists such as himself who have the courage to speak out against the current administration and to ask the hard questions," Pease said.
Pease voiced concerns that the current administration would not address the needs of students, such as himself, who rely on affordable public education for their futures.
Sonji Johnson-Anderson, from the UMass Amherst College of Education, was not as impressed by the conversation. Instead, she was concerned about an unaddressed issue: Race.
"My usual reaction to discussions around education as discussed by mostly white people is that they talk around issues that concern people of color and students of color," said Johnson-Anderson.
Johnson-Anderson expressed frustration at the fact that even "liberal" and "progressive" educators "just don't seem to get the real challenges that exist for students and teachers and educators … of color."
Email Sabrina at [email protected]