Former NAACP president speaks at UMass
More stories from Allyson Morin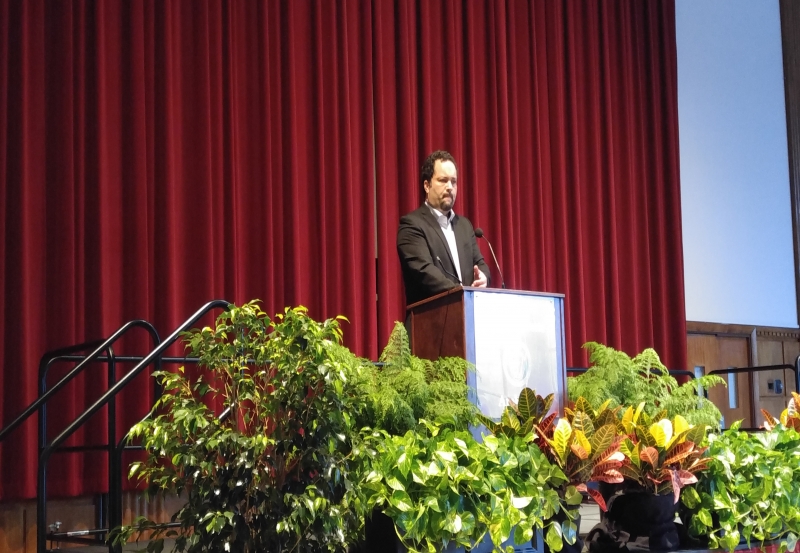 AMHERST — Former President and Chief Executive Officer of the National Association for the Advancement of Colored People (NAACP) Ben Jealous spoke on Thursday to a crowd of 100 in the University of Massachusetts Amherst Student Union Ballroom.
The lecture, "The Forgotten Origins and Consequences of Race in America" came at a time of uncertainty and political turmoil in America. A mix of university students, faculty and community members attended the lecture on the evening of NAACP founder W.E.B. Du Bois' 149th birthday.
"W.E.B. Dubois, whose legacy is woven into the fabric of our campus, was the founder of the NAACP and was born 149 years ago today … how wonderful it is to honor his birthday with this lecture," said UMass Amherst Chancellor Kumble Subbaswamy.
Jealous' lecture touched upon the history of race issues and called for people to join together to support civil rights in the present.
"Some people look at the darkness our country is moving in right now and say this darkness will likely last forever … I don't look at the darkness we've moved into. I look at the numbers and the way they have shifted in this country and I say dawn is coming in the morning," Jealous said.
The 44-year-old was selected at age 35 as the youngest-ever leader of the NAACP. From 2008 to 2012, Jealous led the organization, focusing on voter suppression, economic inequality and the abolition of the death penalty in Connecticut and Maryland, among other civil rights issues.
"We may feel like all is lost right now, but let's be really clear. We've had the antidote to voter suppression for a long time," Jealous said.
According to Jealous, voter suppression has left millions without a vote in conservative-led states. By registering new voters, he said, it is possible to tip the political scale.
"In North Carolina, conservatives tend to win by 25,000 votes. There is 100,000 unregistered black people there. In South Carolina, [conservatives] tend to win by 10,000 votes, there's 350,000 unregistered black voters there. In Georgia, the conservatives tend to win by 250,000 votes. There are 830,000 unregistered blacks, Latinos, and Asians in Georgia. In Florida … there are 1 million unregistered blacks and Puerto Ricans," Jealous said.
In November, Hillary Clinton lost by a mere 112,000 votes in Florida.
"I do believe Donald Trump will betray America … but folks who voted for him really did believe what he was saying … that every policy he passed would create more jobs and better wages here," Jealous said.
"We talk about the 99 percent versus the 1 percent, but most of us are very aware that we are in the top 10 percent, maybe the top 20 percent. There's something like four-fifths or more of the country out there that's living a very different economic reality," said Jealous.
Jealous spoke of working across political and racial lines to "acknowledge the pain and the agenda" of all types of Americans like former Democratic candidate Bernie Sanders did on his campaign trail.
The former NAACP leader endorsed Sanders during his run for presidency last year and worked closely with the Vermont senator as he toured the nation.
"The original state of the struggle in this country was one of people rebelling together, organizing together, risking everything together because they had become convinced that their children were likely to suffer a fate as bad or worse than their own," Jealous said.
Jealous used the example of the Gloucester County Conspiracy of 1663, in which African slaves and Irish indentured servants rose up in rebellion against the government, as a call to action for all Americans to fight together for civil rights in the United States today.
"The economic peril is this at work, the scourge of mass incarceration (and) the impact both have had on higher education. The way in which our young people struggle under the highest tuition, the highest debt, the highest default rates we have ever seen," Jealous said.
The United States accounts for 5 percent of the world population, but is responsible for over 20 percent of the world's prison population, according to Amnesty International. Student debt in the United States tops $1.2 trillion.
"This is the moment for all of us to organize, to fight, with the same spirit and the same fearlessness of every rebellion we have seen in our country from 1663 to the present," Jealous said.
Email Allyson at [email protected] or follow her on Twitter @niromylla.