White nationalist fliers appear in UMass parking lot
AMHERST — Fliers promoting Identity Evropa, an organization classified as a white nationalist group by the Southern Poverty Law Center (SPLC), were found on fixtures and car windows in Lot 44 at the University of Massachusetts Amherst on Sunday evening.
The SPLC defines white nationalist groups as those who "espouse white supremacist or white separatist ideologies, often focusing on alleged inferiority of nonwhites."
UMass student Zach Peterson found one of the group's fliers on his car Sunday evening around 6 p.m. He said that were dozens of similar fliers on other vehicles around Lot 44.
"I wasn't sure what it was all about at first, they have a nice, clean, presentable look. But I thought it was definitely fishy, so I did some quick research once I went home," said Peterson.
After reading about the organization, Peterson made a point to go back to the parking lot and remove as many of the fliers as he could. He turned the fliers he was able to collect over to the Residential Assistant (RA) on duty in his dorm in the Sylvan Residential Area.
Identity Evropa was founded in 2016 by Nathan Damigo, the former leader of a white nationalist hate group called the National Youth Front. Damigo's organization espouses white supremacist, anti-diversity, anti-immigrant values, and believes that multiculturalism is leading to a "white genocide."
Damigo said in a 2016 interview that he has a "good working relationship" with Richard Spencer, a well known neo-Nazi and champion of the so-called "alt-right."
Identity Evropa boasted about spreading their message to UMass on Twitter, and encouraged students to join their white nationalist movement.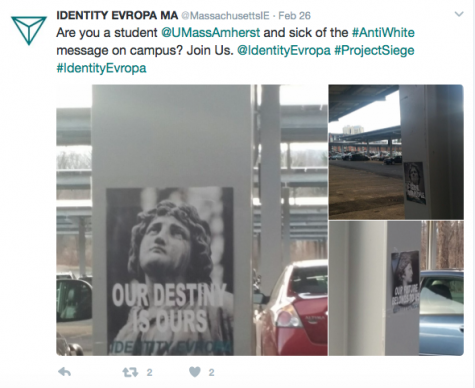 The organization has been putting up fliers on campuses nationwide as part of an effort they call "#projectsiege." "Siege" means "victory" in German. "Siege Heil," meaning "hail victory," was a common expression in Nazi Germany.
Officials at Indiana University recently contacted the FBI after Identity Evropa fliers were posted on doors targeting "faculty members of color or scholars of race and ethnicity," according a statement released by the school's Provost and Executive Vice President Lauren Robel.
Ed Blaguszewski, a UMass spokesman, said that the UMass Police Department is investigating the situation and that the university is "keeping an eye out" for similar fliers.
Blaguszewski said that while the university "believes in and respects people's rights to freedom of speech under the first amendment," administrators also "reject the sentiment" of white nationalism and "take these issues very seriously." He also said that "speech that is hateful or targeted towards a particular individual or group doesn't fit our values," and may violate the student code of conduct.
Blaguszewski urged students who see incidents of hateful or derogatory speech around campus to report them on the school's Diversity Matters page.
Email Bowman at [email protected] or follow him on Twitter @BryanBowman14.
About the Contributor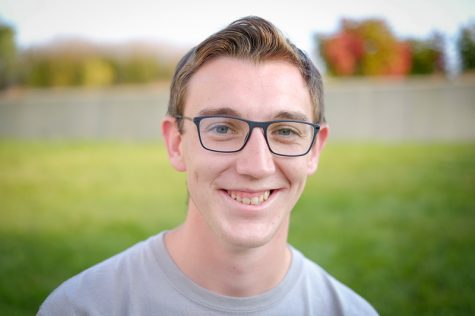 Bryan Bowman, Senior Reporter
"Buy the ticket, take the ride."