Should President Trump get his news from Breitbart?
Breitbart News has been making more headlines than ever since former Executive Chairman Steve Bannon, became the White House Chief Strategist for the Trump Administration.
Although Breitbart News is known for it's far-right news, opinion and commentary, it also seems to be where President Donald Trump sometimes gets his hard-hitting news.
Over the weekend, in what CNN called, "the making of an alternative reality," Trump tweeted in outrage, claiming that he "just found out" that President Barack Obama had wiretapped Trump Tower during some time leading up to the 2016 presidential election.
According to CNN, this idea came out last Thursday, when conservative radio host Mark Levin of "The Mark Levin Show" suggested "that former President Barack Obama and his allies have mounted a 'silent coup' against Trump using 'police state' tactics." And that, "Levin cherry-picked news stories that supported his thesis and omitted information that cut against it."
A Breitbart story indulging in those unsubstantiated claims "circulated" the White House and "infuriated" Trump, according to a White House official that spoke with CNN's Jeff Zeleny.
Should the man with the most intelligence access in the world be getting his news from a partisan news and opinion website?
Just two weeks prior, Breitbart News journalist Milo Yiannopoulos stepped down from his tech editor position after an internet video of him surfaced defending pedophilia.
Yiannopoulos really came into the spotlight last summer after being banned from Twitter for verbally abusing Saturday Night Live actor Leslie Jones.
In the video, Yiannopoulos defends the relationship between younger boys and older men saying they "provide them [younger boys] with love and reliable sort of rock where they can't speak to their parents."
Since the video release, Yiannopoulos has been uninvited to the 2017 Conservative Political Action Conference (CPAC).
The Chairman of CPAC, Matt Schlapp, came out with the official statement via twitter: "Due to the revelation of an offensive video in the past 24 hours condoning pedophilia, the American Conservative Union has decided to rescind the invitation of Milo Yiannopoulos to speak at the Conservative Political Action Conference."
Soon after this, Yiannopoulos took to Facebook to release a statement clarifying his comments.
In his original Facebook post titled, "a note for idiots," he said, "I do not advocate for illegal behavior. I explicitly say on the tapes that I think the current age of consent is 'about right' I do not believe sex with 13-year- olds is okay. When I mentioned the number 13, I was talking about the age I lost my own virginity." Yiannopoulos has since updated the post.
He went on further to apologize for his language in the video, calling it "imprecise."
Yiannopoulos also said that he was a victim of sexual abuse himself and that the experience might have given him the free range to say anything regarding the topic.
Soon after, the Simon & Schuster publishing company decided to cancel his $250,000 book deal for his upcoming book, "Dangerous," that was planned to release this June.
In a response to this, Yiannopoulos again took to Facebook, stating, "I've gone through worse. This will not defeat me."
On Feb. 21, Yiannopoulos held a press conference apologizing for his remarks on pedophilia and condemning the act of child abuse.
"I haven't ever apologized before, and I don't ever anticipate on doing it again…I regret the things I've said, I don't think I've been sorry about anything my whole life," said Yiannopoulos.
Despite the backlash, Yiannopoulos called this a "cynical media witch hunt" by people who are aimed to take him and his "allies" down.
Yiannopoulos said he plans to create a new media outlet in the future, along with new college campus tour dates under the name "Troll Academy."
So, to answer our question regarding President Trump's habit of using Breitbart articles to back his destabilizing claims — No, he probably shouldn't do that.
Email Alvin at [email protected].
Email Léa at [email protected] or follow her on Twitter @leaaliberti.
About the Contributor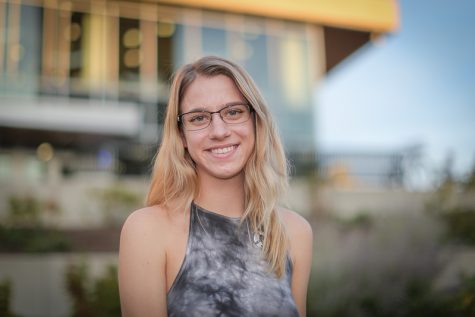 Léa Aliberti, Politics/Voices/Op-Ed Editor
"So what do we do with our lives? We leave only a mark. Will our story shine like a light? Or end in the dark? Give it all or nothing."