Minuteman Marching Band to perform at Tournament of Roses Parade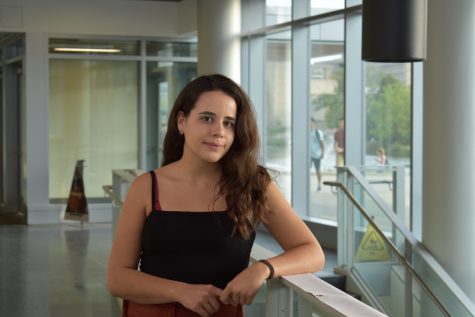 More stories from Caeli Chesin
AMHERST — For the first time in University of Massachusetts Amherst history, the Minuteman Marching Band will perform in the Tournament of Roses Parade in Pasadena, Calif.
Members of the band found out about the trip during their last half-time performance of 2016 at McGuirk Stadium.
Band members were motioned by a deep voice to turn their attention to the end zone board for a special video presentation. As alumni, students, faculty and family members sat in the bleachers, Lance Tibbet, president of the Tournament of Roses, introduced himself through the large video monitor.
The band had just concluded the composition "Appalachian Spring." They stood in formation, wondering what was going on.
"I slowly started to realize what was happening," said Crystal J. Lanzing, a junior alto saxophone player.
A fellow freshman band member hugged Lanzing with excitement as she heard the formal invite voice over the field.
"After that, we immediately all just started screaming," Lanzing said.
The band regularly meets for early morning practices and late night rehearsals to keep the high-performing legacy it has held for decades. Yet at the halftime performance last semester, band members remained unaware that this legacy and their hard work would lead to their first-time performance at the Tournament of Roses Parade.
The parade will take place on January 1, 2018.
"I wanted everyone to find out together," said Timothy Anderson, director of the Minuteman Marching Band. He kept the upcoming performance a secret until the final home game of the season.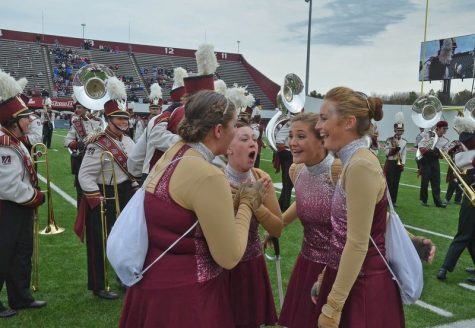 In the days leading to the Rose Parade, the Minuteman Marching Band will perform at Bandfest at Pasadena City College — a requirement for all bands performing in the parade.
According to Anderson, all students in the band are encouraged to go on the trip. Travel expenses are still being calculated.
"We're predicting that there's going to be some out-of-pocket costs for the students," said Band Co-Manager Sarah Carroll, a junior legal studies major and clarinet player. "We have no idea how much."
The Tournament of Roses Parade is presented annually by Honda as "America's New Year celebration." The event is put on each year by the tournament's non-profit association.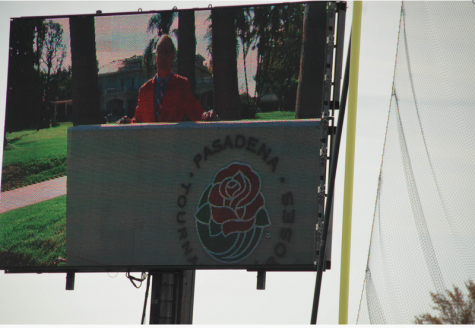 "It's nice to know the hard work we put in is being recognized. We are going to be able to take our organization on an international stage that will be broadcasted to different corners of the world," said Band Co-Manager Ryan Kramer, a sophomore alto saxophone player.
The UMass Minuteman Marching Band is one of the 20 bands chosen from around the world to perform at the parade, which will be broadcast worldwide. According to the Tournament of Roses website, bands are selected on a variety of criteria including musicianship, marching ability and entertainment or special interest value.
According to Anderson, the Tournament of Roses committee reached out to the band on two separate occasions to see if the band would be interested in applying. After some consideration, the band sent in an application.
The UMass Marching Band has done other large performances in the past such as the Macys' Thanksgiving Day Parade in 2013.
The Rose Bowl Parade will be over five miles long, doubling the Macys' Thanksgiving Day Parade marching distance. A march of this length takes extra practice to adjust to.
"We already started preparing a little bit last season. With the last football game in October, we used some days in November to start practicing our parade march," said Anderson.
While music selection and other preparation processes for the parade is still underway, there is an emphasis on what the band will need to do in the upcoming season to start getting prepared.
Much of what the marching band does is correlated to sharpening muscle memory. Marching is a combination of playing an instrument and moving around. Building up this muscle memory only comes with practice.
"You can't be thinking about things. The music has to be committed to memory — the muscle memory, the physical," said Anderson. "It's repetition."
During the fall 2016 semester, the marching band practiced Monday through Friday from 4:40 p.m. to 6:10 p.m. Band members also attend band camp before the start of fall semester.
In preparation for the parade, more rehearsals may be put in place. Busy schedules often leave band members exhausted during the in-season.
"We sometimes have 12, 14 or 16-hour days. Sometimes we don't sleep at all," said Lanzing.
Even with the long hours, the band is committed because of their love for each other and the program itself. Members are dedicated to keep this commitment going with newer generations.
Freshman Gianni Davilli, a music education major and euphonium player, came to UMass wanting to be in the band and couldn't be more excited to take a part in the upcoming parade.
Wanting to make a good impression, Davilli has been practicing his instrument even during the off-season.
"Knowing that you're doing the thing you love, with the people you love and all coming together to make a uniform, beautiful thing that every person of every creed can enjoy makes all that rehearsal worth it," said Davilli.
Band members said the organization gives them a feeling of family and home.
"Band is a family because we're with each other for so many hours," Carroll said with a laugh. "We've seen each other at our best and at our worst, when you have showered and when you haven't showered."
For older band members, the Tournament of Roses Parade will be their last performance with the Minuteman Marching Band.
"This is the last thing I'm ever going to do with this organization and I couldn't be happier about it," said Carroll.
"Joining band has been the pivotal moment of my college experience," Lanzing added as tears filled her eyes.
Editor's note: This story has been updated to correct a previously misstated practice time of the Minuteman Marching Band. 
Email Caeli Chesin at [email protected] or follow her on Twitter at @caeli_chesin.
About the Contributor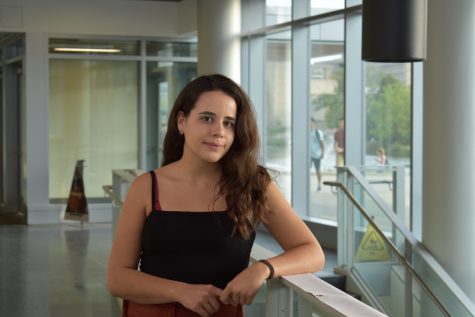 Caeli Chesin, Campus News Editor
"Anyone lived in a pretty how town" - E.E. Cummings