Apartment fire on Kellogg Avenue
AMHERST — The Amherst Fire Department responded to an apartment fire at 33 Kellogg Ave. on Friday afternoon. Gray smoke poured out of an open balcony door on what appeared to be the third floor as four firefighters headed inside the Ann Whalen Apartments. Amherst Police said a small collection of boxes caught fire on the balcony and first responders arrived shortly after. Two officers put the flames out with a fire extinguisher.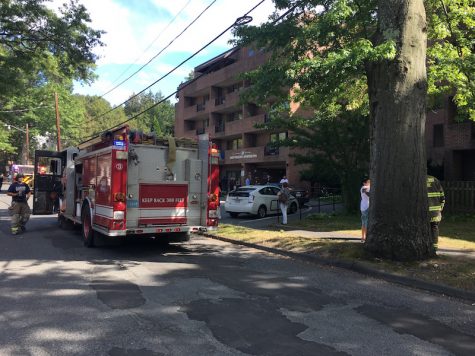 The residents of the complex are not allowed back inside for another hour, so police and firefighters can go in and assess the damage. It was unclear if anyone was injured as of 2:45 p.m. Friday.
The apartments are managed by the Amherst Housing Authority, according to the Ann Whalen website.
Email Chris at [email protected] or follow him on Twitter @ChrisIngerson_.