Outing Club hosts kayak lessons at Totman pool
More stories from Jon Decker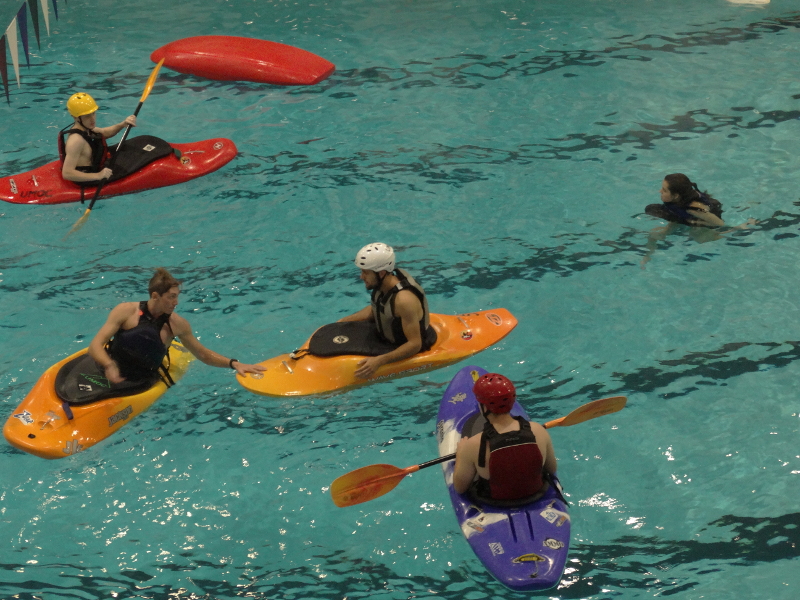 AMHERST — The Totman Gymnasium pool was busy on Sept. 26, but not with swimmers. With the help of several University of Massachusetts students, Dave Su, a traveling kayaking instructor, pulled out lane dividers to convert the lap pool into one open space. In a matter of minutes, the water was filled with neon-colored plastic kayaks and UMass students taking their first lessons in whitewater kayaking.
The lessons, held every Tuesday and Thursday, are hosted by the University of Massachusetts Outing Club. The Sept. 26 lesson was attended by 20 kayakers.
Some students, like freshman Aidan Byrne, sat in a kayak for the first time during the lesson.
"It's a little scary, a little disorienting," said Bryne, after being flipped upside down a few times. He was inspired by watching kaykers during the summer. "I've always seen whitewater kayakers just going at it and wanted to try it," he said.
Leading the class was instructor Dave Su, an avid paddler who travels around the country teaching others how to kayak. "I've been paddling since 1982," said Su, who was introduced to water sports when he canoed in the Canadian arctic. Although Su travels around the country to teach his craft, he has been based in Amherst and has taught with the outing club since 2004.
"These kind of boats weren't invented then," he said, referring to the kayaks the club uses. "This style of boat started coming around 1990. They made them shorter and more dynamic (now)."
This dynamic, shorter design is what allows paddlers to flip and recover the kayaks so easily, as well as pull off tricks.
More experienced students, many of whom are active participants with the club, also assisted in teaching newcomers. Some of them have been with the outing club since the beginning of their college careers. Sean Rose, a junior, has been kayaking since he was 13 years old. Now he helps teach new paddlers.  
"I've been teaching here since my second semester freshman year," said Rose, after flipping his neon green kayak in the deep end.
Each class costs $3 per student. Su said that he believes the club doesn't get enough funding or help from the university to keep up with the large number of students in need of equipment. There are boats, helmets, life jackets paddles and spray skirts available for trips and practices, but there is always a need for maintenance and gear replacement. Once students have paid the $20 club membership fee, they can borrow all the gear they need and go on trips.
"We get a little bit of money for gear, but it's not consistent," said Su. "When I go to other state universities [to teach], flagship universities, they are better outfitted than we are. But we probably have more bodies than any school in New England."
Su was also quick to point out that there is a lot of volunteer help from local kayak enthusiasts who want to see the sport continue. Many of them loan trailers and give rides on river trips.  
"They help out. We have more students than cars for trips, and they help out," said Su. Most of the trips are local, at locations such as the Deerfield River, and happen a few times a semester.
Outing club kayak lessons take place at Totman Gymnasium every Tuesday and Thursday night at 7:30 p.m. They are open to all students and require no reservation.
Email Jon at [email protected] or follow him on Twitter @Jon_H_Decker.