Top Five: Local nature spots
Julie Harrington, Writer
October 5, 2017
Hang on for a minute...we're trying to find some more stories you might like.
While many say that their favorite parts of fall are the pumpkin spice lattes, football games or even the return of flannels and boots, in Western Massachusetts, the great outdoors takes the cake. As the leaves begin to change color and fall weather approaches, it's time to get outside and enjoy what the area has to offer. Here are my top five favorite nature spots around Amherst.
1. Mount Holyoke Range State Park
Located in Amherst, this state park is 3,000 acres in size and has a seven-mile long mountain ridge filled with hiking trails. The many hiking options, such as Mount Norwottuck and Bare Mountain, offer varying difficulties. All of the peaks offer far-reaching views of the Pioneer Valley and beyond. Mountain biking and cross-country skiing are also popular activities on these trails throughout the year, making it the perfect spot for people of all interests.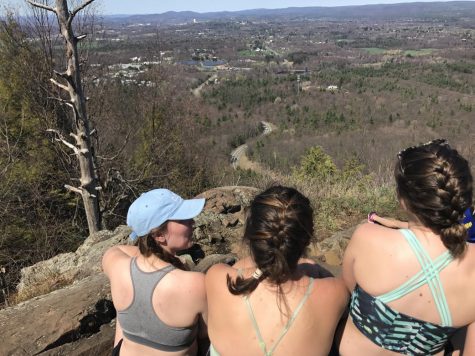 (Courtesy of Julie Harrington)
2. Mount Sugarloaf
Mount Sugarloaf is a great spot for hikers and non-hikers alike. The Pocumtuck Ridge Trail is perfect for when you are short on time but still want the payoff of a fantastic view. While it doesn't take long to reach the top, it sure is steep, so get ready to work those legs. For any visitors who want all of the rewards without the effort, you can also drive to the top or walk the easier trail alongside the road. The summit offers an expansive view of the Connecticut River and you can even spot the University of Massachusetts Amherst campus in the distance. The summit also has a large picnic area with grills and picnic tables, making it an ideal spot for lunch with a view. 
3. Puffer's Pond
Puffer's Pond is a quiet place to relax with a scenic view and is only a short bus ride away from campus. On a hot day, you will find students and local families cooling off with a swim or sunbathing on the sandy beach area. Some even scale the large rocks and jump off into the water, or spend time fishing from the shoreline. The long walking trails are perfect for an afternoon stroll through the fall foliage, with many locations to stop and sit by the water. The pond is fed by the Mill River, which pours over a dam in a large waterfall worthy of your next Instagram post.
4. Atkins Farm
What better way to get in the fall mood than heading over to this hilltop farm in Amherst. During a few select weekends, the farm opens up its orchard on Saturday and Sunday afternoons for apple and pumpkin picking. Not only can you leave with hand-picked Cortland apples and your future jack-o'-lantern, but the country store also offers fresh, locally grown produce and flowers. The farm even holds special events like scarecrow workshops, where you can learn to build your own "life-size and love-able" scarecrow. Stop by Atkins Farm to put your support behind farmers providing locally grown, sustainable food to the Amherst community.
5. Amethyst Brook Conservation Area
Just outside Amherst Center, the Amethyst Brook Conservation Area provides a flat, easy hike that is perfect for any fall afternoon. The Robert Frost Trail will take you on a short loop into the woods and over the brook a few times, allowing you to enjoy the beauty of the trees as well as the water. This trail is another one that is easily accessible through the UMass bus system via the nearby Thayer Street stop. You can even treat yourself after your walk by going right down the road and stopping by Antonio's or Amherst Coffee.
Email Julie at [email protected] or follow her on Twitter @juliemh126.