Your fall sartorial fix
Time to turn over a new leaf in your wardrobe
Crisp apples and honey-toned hues! Fall is in session and this is a treat for many of us. A new season is the perfect time to turn over a new leaf (pun entirely intended). And what better way than to tweak your style with some snazzy autumnal picks. This is your fall fix.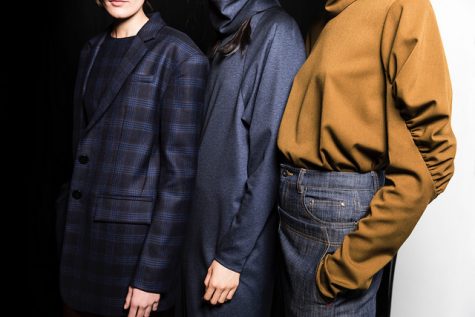 Hats
Hats are an underrated accessory that not only tie your entire look together, but can also offer much-needed salvation on bad hair days. If you aren't enthusiastic about knit pom pom beanies, try a slouchy beret for a chic yet laid-back look. Wide-brimmed felt hats, such as these from Urban Outfitters, also make for a cozy, Bohemian addition.
Ba-ba booties
Strut your stuff in a pair of sleek booties. Lace-up booties are a great option, especially in patent leather. Student budget-friendly options include these babies from H&M. As opposed to the banal black shoelace, use contrasting colors such as a cherry red shoelace or one in ivory in the style of Alexander McQueen Ready-to-wear Fall 2017. For those less inclined to wearing heels to class, invest in over-the-knee sock boots for a slender, alluring fit. There are a lot of options online and in-store, you just have to find what works for you.
Coats
Last but not least, a classic fall outfit isn't complete without a snug coat. A timeless staple I would recommend is an elegant trench coat. It is a great option for both men and women. First worn by French and British soldiers in the First World War, the trench coat was promoted for its lightweight and waterproof material. A slew of personalities in fiction and film have also donned the garment, from Sherlock Holmes to Neo of The Matrix Chronicles, albeit in a more futuristic, vinyl version. British label Burberry is well known for its iconic trench, however, the prices are too steep for college pockets. For more affordable alternatives, pay a visit to Northampton's Urban Exchange for pre-loved designer goods and maybe you can snag a trench for a steal!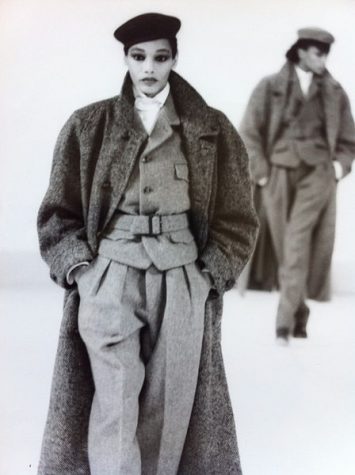 Experiment with texture and hues.
A pop of color in the void of winter blacks can go a long way. It's time to diversify the color palette of your wardrobe with shades of red, yellow and rust. A suede burgundy skirt with knit separates, like a chunky bell sleeve sweater, is a classic way to emulate the foliage colors. Brown is another rich hue, reminiscent of warm coffee on crisp mornings. This is a great time to bring out your boots in caramel, cinnamon and chocolate. These flavors are just as aromatic as they are visually appealing when paired with apt textures like suede and leather.
My current fall uniform is etched in velvet and satin; two staples that can be re-worn in the months to come and layered throughout the winter. I could never say no to red velvet! For those of you that are still hanging on to summer by the threads, say hello to earthy greens. A vivid forest green scarf might be just what you need as you charge against the Du Bois drafts. This goes for men too. I sure would like to see my man looking sharp in a cashmere scarf!
That wraps up my styling advice for fall. Play around with colors and fabrics, go out of your comfort zone and the next time you are out shopping, choose a piece you normally wouldn't wear. You never know what might work for you until you try it!
Email Priya at sbikkani@umass.edu.