Amherst Town Meeting votes to limit recreational marijuana stores
AMHERST ― On Monday night, members of the Amherst Town Meeting voted to enforce a local limit of eight recreational marijuana retail establishments as it prepares for the sale of recreational weed to begin as early as June 2018.
The vote to enact an eight-store limit in the town, which took place at Amherst Middle School, passed 98 to 57.
Those eight stores will likely include the four dispensaries in Amherst that have already been licensed to provide prescribed medical marijuana for patients, although none of them are currently open.
Additionally, the Town Meeting agreed to revise a zoning bylaw that originally designated specific parcels of land to host medical marijuana dispensaries. Those revisions will include new regulations to accommodate recreational marijuana retailers under the same law.
Geoff Kravitz, the economic development director for the Town of Amherst, said that even with the new dispensary limit, those eight spots may not be filled by next summer.
"As to whether we will see eight recreational marijuana retail establishments in summer 2018, I think is highly unlikely," said Kravitz in an email.
Kravitz explained that those businesses with licenses for medical marijuana distribution will get priority review with the Cannabis Control Commission once the application process for recreational marijuana begins, however they will still need approval from the Amherst Zoning Board of Appeals.  
"Any new [recreational marijuana retailer], which would not have priority review at the state level, would have to go through the same process but would also need to find a suitable location," Kravitz said.
The discussion of the zoning bylaw amendments included a summary of the parcels of land in Amherst where retail sale of recreational marijuana may be permitted. The amendments kept most existing regulations, including one designed to distance licensed marijuana stores at least 300 feet away from schools, college campuses and public libraries.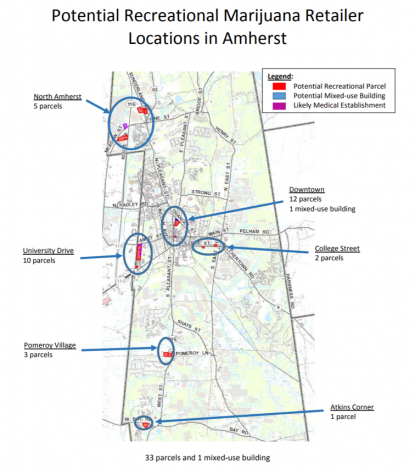 In Amherst, there are 11 package stores licenses, three of which are held by wine and malt stores. The number of licenses is based on population and determined at a state level. Until Monday, however, such a limit did not exist for the number of recreational marijuana retailers in town.
Alisa Brewer, a member of the Amherst Town Select Board, was one of many meeting attendees to suggest that marijuana regulation can and should be similar to that of alcohol.
"Despite strict alcohol quotas, the Commonwealth has not limited the possible number of recreational marijuana retail establishments," said Brewer, opening the discussion on the motion to create a dispensary limit.
Several Town Meeting members said that there should be no limit to the number of dispensaries in Amherst, arguing that applicants for marijuana retail licenses would be forced to jockey for limited commercial space and compete with each other.
"I feel like enough states, college towns and college cities have been successful [in] running legal recreational marijuana stores," said Jim Brissette, a Town Meeting member from Precinct 6. "To think that a town our size, with regulations already in place, that we're going to have problems if we have more than eight, I think is just ridiculous."
Other Town Meeting members objected to the idea of a larger influx of marijuana stores, saying it would not only be a threat to the culture of Amherst, but also to the health of high school and college students who may get more exposure to marijuana once recreational marijuana is sold.
"I think even eight is too many," said Marla Jamate, a Town Meeting member from Precinct 7, addressing the Town Meeting. "It has taken UMass decades to lift its prior reputation as a party school … the addition of abundant recreational marijuana … could well exacerbate existing core problems," she later added.
Jamate and others also made note of the potential for marijuana use and its effect on brain development in young people.
"Heavy recreational marijuana use can and sometimes does lead to apathy, impaired memory, diminished cognition," said Jamate. "Allowing several recreational marijuana shops in town I think runs counter to the welfare, business and goals of our unique, high-aiming community."
Voters at the meeting also overwhelmingly passed bylaws to enforce a 3 percent excise tax on recreational marijuana sales in Amherst and a $100 fine, reduced from an original amount of $300, for those who break the law in their consumption of marijuana.
Town Meeting sessions will continue as needed. For more information, visit amherstma.gov.
Email Liam at [email protected] or follow him on Twitter, @LiamOConnnor.