A bit of light in the darkness: refugees in the Pioneer Valley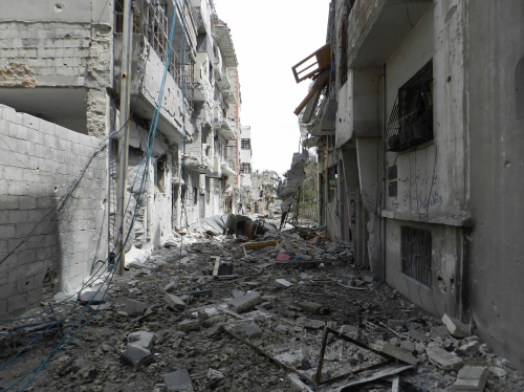 Kathryn Buckley-Brawner has seen pictures of the 12 Syrian refugees slated to be resettled in the Pioneer Valley, but she will likely never meet them.
Sitting at her desk in her downtown Springfield office, Buckley-Brawner pulls up the medical files of a young Syrian boy on her desktop computer. In the top left corner is the boy's picture taken by United Nations officials.
She scrolls through the rest of the file, squinting to read the small font. Above her to her right is a large painting of Mary holding baby Jesus. On the wall behind her, a wooden cross hangs next to a black t-shirt that says, "Sudan stop the the violence."
"So cute," she mumbles under her breath before explaining that the boy and his family were displaced from their home in Homs, the "capital of the revolution," in 2013. Before then, the boy's father was a painter and his mother was a teacher. Now, they remain in a refugee camp in Iraq, unable to move.
"We have their pictures so we can already kind of get attached, which is probably not really smart," she says, flashing a sad smile. "We get sappy sometimes and sit around and say, 'Oh look at that little boy, look at that girl.' You see them and you look at their faces and it really sinks in."
The 64-year-old director of the Catholic Charities Agency of the Roman Catholic Diocese of Springfield is spearheading a local effort to bring refugees from across the world to western Massachusetts.
Catholic Charities was recognized as an official refugee resettlement program by the State Department in October 2016. Shortly after, Buckley-Brawner announced that 25 Syrians would be resettling in the Pioneer Valley after they were granted refugee status by the United Nations High Commissioner for Refugees (UNHCR), rigorously vetted by the U.S. government, and finally, directed into Catholic Charities' "pipeline."
The refugees were told they were going to Massachusetts. Housing arrangements were made. After years of waiting, it appeared the refugees would finally have a home.
But looming over the process was the imminent inauguration of President Donald Trump, who had been vocally hostile toward refugees — particularly Syrians — throughout his campaign. Just eight days into Trump's presidency, with a stroke of a pen, the plans were foiled. His executive order, signed on January 28, banned all nationals from seven majority Muslim countries — including Syria — from entering the U.S. and temporarily banned the admission of all refugees.
"It was like a punch in the gut," Buckley-Brawner said. "These are probably the most vulnerable people suffering the most at this time. It's just devastating to know that there'll be so many left behind."
While Trump's initial executive order was struck down in court, Syrian refugees remain unable to move while the measure remains tied up in legal disputes. Thirteen of the Syrian refugees who were supposed to resettle in Massachusetts were transferred to other programs, but 12 remain in camps in Iraq and Jordan with nowhere else to go.
As Trump and the federal government turn their backs on refugees, Catholic Charities and a network of local professionals, activists and volunteers are fighting to make a difference for those who can still be helped.
Since February, Catholic Charities has resettled 27 refugees from three countries — Iraq, the Democratic Republic of the Congo (DPC) and Bhutan. These refugees are now living in Northampton, with the exception of one family living with relatives in Westfield.
Even without the additional Syrian refugees, Catholic Charities has its hands full. "Refugee resettlement is only about a quarter of the work that we do, but it can take up a lot more time than that. It's not supposed to be a full-time job but it sometimes can be. Anytime we work overtime, it's always with the refugees," Buckley-Brawner said.
Catholic Charities plays a major role providing resources to refugees, but they're not alone. The organization has been joined by a network of grassroots volunteers.
Keegan Pyle, the volunteer manager for Catholic Charities, is in charge of organizing donations and coordinating volunteer efforts. While she's not religious herself, Catholic Charities was a natural landing spot for Pyle, who previously worked for the International Refugee Committee in San Francisco after spending two years in the Peace Corps after college.  
According to Pyle, over 1,000 people have signed up for a volunteer mailing list and over 300 people are actively involved in the refugee resettlement program to date.
A donations committee has been set up by Pyle to manage donated goods like furniture and household supplies. There's a move-in committee in place for when refugees arrive. A "psycho-social" committee made up of mental health professionals has been created to provide counseling for refugees. An education committee works to teach refugees English and help children with school work. A fundraising committee holds events to raise money for the program.
Finding affordable housing for refugees is one of the most daunting challenges the organization faces. But generous property owners like Jordi Herold have helped by donated housing units.
"This seemed like a good way to put our money where our hearts are," Herold said, explaining that the idea of donating an apartment to refugees came up during a family Chanukah celebration. "It also offered something much more concrete to the children than sending a check," he said.
Pyle has also organized volunteers into "circles of care" that work directly with families on a more personal basis to help with day-to-day affairs. On top of managing the program, Pyle is part of a circle of care that works with the Yowas, a family of three who fled the DPC in 2011.
"It's not in my job description, but I can't imagine not doing it," Pyle said, adding that she spends about 10 hours a week with the Yowas. "I have them over for dinner every Saturday," she said. "Their kids are like cousins to my kids. It's a really strong bond. We really, really want to see them succeed."
Life before Northampton wasn't easy for the Yowa's. The mother, Madeline, was separated from her first husband while fleeing their home and doesn't know if he's alive. She lost a child to fever while living as a refugee in neighboring Congo, and three of her children were deported back to the DPC while she was in the hospital. Her second husband remains in Congo, not eligible for refugee status.
But life in the Pioneer Valley has given them hope. Victorian, Madeline's five-year-old son, is enrolled at the Farm Hands School in Northampton and is learning English fast. He had his first-ever birthday celebration this year and went trick-or-treating on Halloween with some of his classmates. Raissa, her fourteen-year-old daughter, is enrolled at Northampton High School and recently attended the school's homecoming dance.
Madeline works full-time as a dishwasher at Roberto's restaurant in Northampton, and is hoping to pick up a second job soon.
Pyle and Buckley-Brawner said that seeing refugees like the Yowa family succeed and find small joys makes the demanding work they do worth it.
"It's great, it's so fulfilling," Buckley-Brawner said. "With so much pain and suffering out there in the world, it brings me joy to help ease that pain in any way I can. To bring a little light into the darkness."
Email Bryan at [email protected] or follow him on Twitter @bryanbowman14.