"Cool Blue Jewels": Riff Raff and DJ Afterthought throw a house party, and you're probably invited
"Cool Blue Jewels" is recommended in doses — Do not take all at once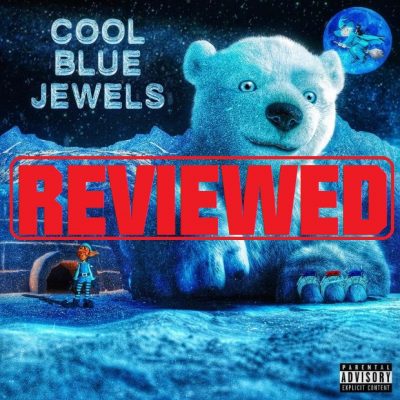 Instagram's infamous "Jodyhighroller" a.k.a rap star Riff Raff collaborated with an old friend, DJ Afterthought on their newest album, "Cool Blue Jewels." With the additional 16 (yes, 16) features, this album sounds like a banger Raff and Afterthought invited all their friends to at Riff Raff's glorious "Codeine Castle."
The album begins with a tequila shot-worthy track in "Long Night," aided by the likes of Wiz Khalifa, Gary Clark Jr. and Mozzy. Riff Raff is still upstairs making mixed drinks at this point and couldn't make it downstairs in time to contribute a verse on "Long Night," but Wiz and Mozzy sub in and welcome all to the party.
John Sisco arrives next featuring on "Waiting For." Easily the best track on the album, the song mixes underlying ambient sonics with traditional trap snare taps for a truly enjoyable sound. The intoxication level rises as "Waiting For" lifts the audience a level higher with its echoing, club-like ambiance.
Party guests Hardo and Chevy Woods arrive at the party on "Do It All," a forgettable track aside from it being Riff Raff's first appearance on his own album. We'll forgive him for "roll[ing] up a blunt in my high school diploma" as he greets his guests.
Unknown artists like Lil Windex — a phenomenal name by the way — and Jimmy Wopo pull up to the palace party on "Downer" and "Easy," the latter employing melodic, distorted chimes into some nice production.
A seasoned artist, Project Pat, shows up next out of Memphis Tennessee on "Stacking." The range of features from newcomers like Ponce De'Leioun to 15-year-plus veterans like Project Pat make Riff Raff's contact list longer than his blunts. Whether you like him or not, networking with the Neon Icon himself (Riff Raff) proves worthwhile.
"Don't Owe You" slaps the life back into the party with a heated, in-your-face hook provided by DJ Afterthought. Riff Raff's exuberance shines brightest on this track as he strings together ridiculous lyrics like, "I coulda played for the Celtics, super selfish when it comes to belt clips" and "It's the white Ray Lewis in a pomegranate Buick." Unfortunately, we've heard too much of Afterthought's repetitive choruses at this point, so the track comes across a little bittersweet.
"Take It There" introduces some nice guitar chords guiding the listener into (yet another) DJ Afterthought hook which we could do without at this point.
The all-night bender gets sloppy through the last three tracks as everyone in attendance craves water, sleep and the end to this wild 13 track, 16 feature album party. "Cool Blue Jewels" feels like a sloppy house party that you got too drunk at not to have a good time. No song stands out as a masterful hit, but who wouldn't have a good time with all their friends and a little bit of nice production in a dark, 808-laced room?  
Thanks to Riff Raff and DJ Afterthought for having us and we'll see you next time from the Neon Icon's "Codeine Castle."
VERDICT: 7/10
While lacking applicability beyond a weekend bender, "Cool Blue Jewels" does exactly what it needs to for its purpose, namely blasting the spaz-rap Riff Raff through your blurry Saturday night. While he could have been slightly more present from track to track, the standout verses on "Don't Owe You" and "Take it There" along with the album's hot start with "Long Night" and "Waiting For" validates "Cool Blue Jewels" credibility. A word to the wise — don't overplay this album and give it a few shots before you queue one of these songs up on Spotify next weekend.
Songs to Check Out:
"Long Night" (feat. Wiz Khalifa, Garry Clark Jr., & Mozzy)

"Waiting For" (feat. John Sisco)

"Stacking" (feat. Project Pat)

"Don't Owe You" (feat. Mozzy)

"Take it There" (feat. Dice SoHo)
Email Jack at [email protected] or follow him on Twitter @96Jackhamm.