Graffiti for peace: SAFI teams up with Artists 4 Israel for Israel Peace Week
AMHERST — Paint fumes and rattles from spray-paint cans invaded the senses of those walking past Goodell Lawn Tuesday, as the University of Massachusetts Amherst's Student Alliance for Israel hosted a spray-painting event featuring the Israeli and peace advocacy group, Artists 4 Israel.
From 10 a.m. to 2 p.m., willing passersby were able to create graffiti art that symbolized what peace, love and happiness meant to them — which resulted in various images of hearts, peace signs and colorful blotches of random colors.
This spectacle of graffiti art and engagement of the UMass community is part of SAFI's celebration of Israel Peace Week, an annual worldwide event meant to promote the positive aspects of Israel. The group also hosted a tabling event in UMass's Campus Center Monday, March 26, and will host three other events this week, including a talk and workshop led by Kids4Peace on Thursday.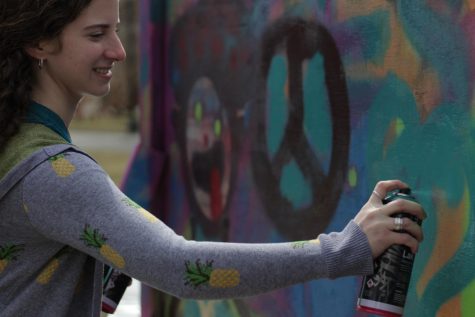 According to SAFI president, sophomore Stephanie Margolis, the event was meant to bring students together through art and create a dialogue about Israel.
"We want to make sure everyone is being heard and has an opportunity to voice their opinions," said Margolis, who has been president of the club since December. "It's a very polarized issue, especially in America and especially on our campus."
Two graffiti artists, Joy Bean and Darius Johnson from Artists 4 Israel were brought in to create brightly colored murals that covered a majority of the wooden boards which acted as canvases for the event. Before their work was masked by the work of others, murals of Sam the Minuteman and a large hand giving the peace sign were displayed.
Bean, who has worked for Artists 4 Israel for five years, says the typical murals he creates tie to things relevant to the campus he is working on and also to the theme of the event.
According to Danielle Margiotta, a Campus Curator for Artists 4 Israel, this use of art to engage people allows organizations like SAFI to connect with people who wouldn't normally take part in Israeli focused events.
Margiotta started working for Artists 4 Israel in January after being abroad in Israel for the latter part of last year. She holds a degree in studio arts, and while she prefers a paintbrush over a spray can, she understands the impact art can have on people.
"We all have different points of views … but if you can bring together a group of people and inspire them to be better, to spread peace, be friends, hold hands, you've definitely achieved the ultimate goal that we're trying to do here," said Margiotta.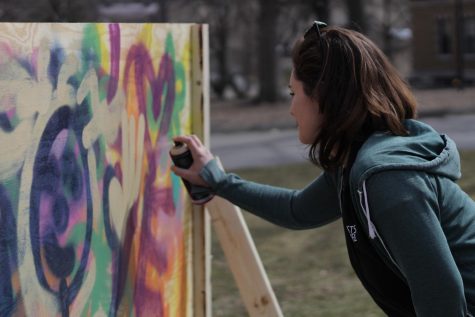 According to Margiotta, the organization also does other forms of outreach work that involves using art as a healing tool for trauma.
One program is Healing Ink. People who have been affected by terror attacks or war can have their scars covered up with a tattoo to help them live past the traumatic event.
"The greatest thing about art is its purpose is to inspire," said Margiotta. "If you can inspire a bunch of people then you've achieved the greatest goal without getting too down to the nitty-gritty."
Email Brian at [email protected] or follow him on Twitter @brianshowket.