Q and A with Jake Tapper
This year's commencement speaker talks about Trump, the media, and the future of today's grads.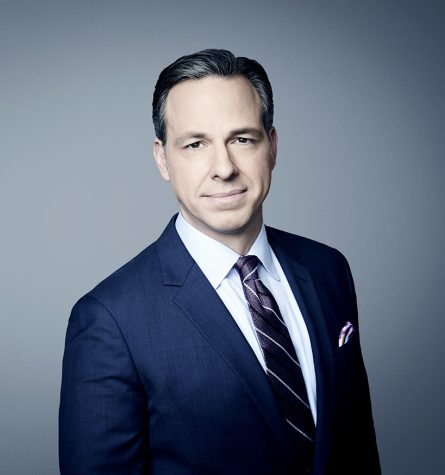 CNN Chief Washington Correspondent Jake Tapper does not remember much of the commencement address at his own graduation from Dartmouth College in 1991. But he's doing his best not to botch this one.
Tapper will be the featured speaker for the Undergraduate Commencement for the University of Massachusetts Amherst's Class of 2018 on Friday, May 11, at 4:30 p.m. at Warren McGuirk Alumni Stadium.
Tapper joined CNN in 2013. He hosts an hour-long weekday TV show, "The Lead with Jake Tapper," and the network's Sunday morning program, "The State of the Union."
Prior to joining CNN, he spent nearly a decade at ABC News, serving in multiple capacities including as leader of the network's 2008 presidential election coverage. He graduated Dartmouth, Magna Cum Laude in 1991, and was a member of the Phi Beta Kappa fraternity.
He spoke with next year's campus news editor Henry Brechter about his speech, the state of the media, and his new political fiction novel, "The Hellfire Club," which debuted on April 24.
Henry Brechter: Have you ever been to the UMass campus before?
Jake Tapper: [Short pause] . . . I don't think so, I hesitate because I went to Dartmouth College and I did a lot of road trips when I was a freshman and a sophomore, but I don't think I ever hit UMass . . . I've heard a lot of great things.
HB: You'll be talking before several thousand undergraduates at next Friday's commencement. What will be your message?
JT: I think one of the things that I'm going to try to do is just give some practical advice about the choices people will have to make in the near future after college. It's tough because I don't really remember the commencement address that I sat through when I graduated from college, but I know some people have heard really good ones, so I'm just trying to figure out what messages to distill, and what is the most important thing to tell people. Again, I don't want to spoil it, but I just hope it's some advice that people can hear and think about when they're along their path, along their journey.
HB: Among the people in the crowd will be plenty of journalism students looking for full-time work in the field for the first time. What do you think some of the advice that you extend to them will be?
JT: This isn't actually part of my speech, but it's advice I gave in a different commencement address, and I don't want to plagiarize myself, but there's a very transactional nature of life, of employment, that is not like anything college students typically have experienced. People want something from you, and you need to give them that thing, and it's honestly just as simple as working hard and giving them a good attitude. And if you do that you will succeed, and if you do not do that, it will be tough. It's pretty basic advice, but it can be difficult to live out when you're 22, 23 years old.
HB: You're at the forefront of this 'war on the media' that we've seen since President Trump took office. How has the way you do your job changed since he was elected?
JT: Well, he's been very obviously been trying to undermine the credibility of any number of American institutions that would serve as a check or a balance on him. He attacks the Department of Justice, he attacks the FBI, he attacks the legislative branch of Congress, he attacks the judiciary, he attacks the media, so it's not just reporters who are under attack, it's everyone in this American experiment.  
"
"It's not just reporters who are under attack, it's everyone in this American experiment."
— Jake Tapper
The way I urge people to respond is to focus on the work, to call out the lies, and cover the debates as fairly as possible. But the most important thing is to rise to the moment, and not follow political leaders down a swirl of insults and nastiness, because that doesn't help anyone.
HB: It's never been harder to be a journalist. What's impressed you most about the work of journalists not just at CNN but across the country in the past two odd years?
JT: First of all, there's been exemplary journalism and a great healthy competition but a collegial competition among all of the journalists covering this administration and the other facets of American society. There's also just amazing journalism being done around the world. It's tough to be a journalist in the U.S., but it's nothing like being a journalist in Egypt, or Saudi Arabia, or Pakistan, so I think the Trump era has been tough for journalism, but it's nothing like what others are experiencing overseas.
HB: Let's talk a little bit about your book, "The Hellfire Club." What made you want to write a novel? How did you have the time with your schedule?
JT: I just thought it would be fun. I was inspired by some historical events that I read about that I thought were interesting and I thought would be fun to write about. The idea of putting my fictitious characters into a setting in 1954, and having them interact with real people like Joe McCarthy and John F. Kennedy appealed to me.
As for time, it was really just an issue of time management, which I learned about in college. Pretty much, if you have a project, plan ahead, try to work on it a little bit each day, at the very least 15 minutes to half an hour every day, and those hours add up. So that's how I did it, I just wrote every day, and that's just really an important lesson for anyone who wants to write a book.
HB: Has the whole writing and publishing process made you want to write another one, or do you think one's good enough?
JT: You know, I don't know. It's only been out for a week, and the reception has been positive, but let's see how it sells first, and if anyone even wants another one.
HB: Are there any other points you want to make before you speak at UMass next week?
JT: I don't want to spoil the speech. I'm still working on it, you know . . . I think if you said that the speech was about how to make it to 49 and have as few regrets as possible, that would be a decent headline for it.
Email Henry at [email protected], or follow him on Twitter @HBrechter.