Nicki Minaj vs. Cardi B: A full timeline
A rundown of the cold war between hip-hop's hottest female rappers.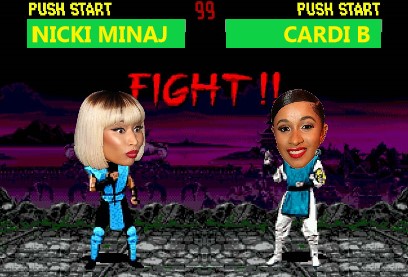 The conflict between Nicki Minaj and Cardi B has escalated into a physical confrontation, all the while splitting rap fans across the aisle and igniting a fierce debate over who is the better artist. Where did this beef originate from? How did it get so bad that Cardi B is throwing her expensive shoes? That's what everyone's trying to find out.
First, we have to go way back:
April 2017 – September 2017: The supposed subliminal shots between the two Billboard-charting rappers won't stop, igniting rumors of beef despite both Nicki's and Cardi's rejections of any bad blood.
August 2017: Nicki Minaj's verse on London on da Track's single "No Flag" aroused speculation that Nicki is throwing shade at newcomer Cardi B:
"Lil b***h I heard these labels tryna make another me/Everything you getting, lil h*e, is cause of me/I heard I'm stopping bags, word to Shaggy, it wasn't me"
Sure, fans automatically assumed Nicki was firing shots at her newest competition, but would she really do that on a song where Cardi's husband Offset also had a verse? Either way, Twitter was thirsty for a feud.
Nicki took to Twitter, denying any references to Cardi B in her verse.
It sure ain't 🤷🏽‍♀️ Wrote this one a cpl months ago too #NoFlag 🚫🏳💨 https://t.co/0rukxOGyXU

— QUEEN (@NICKIMINAJ) August 25, 2017
September 2017: The release of G-Eazy's song "No Limit," on which Cardi B raps, only adds fuel to the fire. Cardi B appears on the morning radio show "The Breakfast Club," where she denies throwing any shade. Cardi stated, "People don't understand that I got beef with 10 b*****s in the hood, and I still be in the hood."
"My career takin' off these h**s jogging in place/Swear these h**s run they mouth, how these h**s out of shape?/Can you stop with all the subs? B***h I ain't Jared/If you really want some smoke, you can pull up, you can get it"
It's not hard to assume that Cardi was purely stunting on people from her past life. However, the fans' desire to see some bad blood only grew.
Sept. 25, 2017: "Bodak Yellow" hits No. 1 on the Billboard 100, after being released in June 2017. Nicki tweets her congratulations to Cardi, bonding over their shared roots in NYC. Briefly, we see the two getting along. 
Congratulations to a fellow NEW YAWKA on a RECORD BREAKING achievement. Bardi, this is the only thing that matters!!! Enjoy it💕💞🎀 @iamcardib

— QUEEN (@NICKIMINAJ) September 25, 2017
October 2017:  The release of Migos' "Motorsport" causes a clash between Nicki and Cardi. Migos drops "Motorsport" featuring both Nicki and Cardi, and despite each artist denying any bad blood, fans seemed set on the idea that they were still dissing each other on the track. Nicki tweeted, and then deleted, "They don't do this to male M.C's."
Nicki brought up a fair point — rap fans seem desperate for beef and conflict between female artists, often pitting the artists against one another.
November 2017: Cardi dances around conflict with Nicki Minaj.
On a radio interview with "The Norte Show" on Capital XTRA, Cardi explains that Nicki's verse changed from the first time she heard the track. Cardi also said of Nicki, "We spoke about things. I don't like getting into detail." The next day, Nicki fires off a tweet that some felt was subtweeting Cardi.
How can you say someone changed their verse & forget to say Quavo TOLD me to remove my singing part (which I loved) & Atlantic told me to remove your name from my verse per your request? So how were those changes gonna happen if I didn't "change" my verse? 😩🤣 #NickiDay #ChunLi

— QUEEN (@NICKIMINAJ) April 12, 2018
April 12, 2018: Nicki responds to Cardi's claims. A week after Cardi B's debut album "Invasion of Privacy" is released,  Nicki Minaj releases "Chun-Li" and "Barbie Tingz," and claims on Beats 1 radio that she felt "ambushed" by Cardi B and Migos.
"The only thing that Cardi did that really hurt my feelings was the first interview after 'Motorsport' came out," Nicki said. "It just really hurt me because the only thing she kept saying was, 'I didn't hear that verse. She changed her verse.'"
The singer continued, "All of them allowed me to look like I lied, and even with the scheduling conflict, she's using my hairdresser now, so even he can attest to the fact that there was a scheduling conflict," she said.
"I really fully supported her and up until this recent interview I had never seen her show me genuine love in an interview," Nicki said, referring to Cardi's conversation with Ebro. 
Aug. 10, 2018: Minaj's album release reignites rumors. Nicki releases "Queen," and the first track "Ganja Burns" brings speculation of her dissing Cardi B. Nicki raps:
"Unlike a lot of these h**s whether wack or lit/At least I can say I wrote every rap I spit"
August 2018: Nicki is interviewed on Beats 1 by Ebro. She acknowledges Cardi B's dislike towards her, saying "She may have taken an issue with things that I've said, but I'm not going to bite my tongue… You gotta have thick skin." This is the first time Nicki admits bad blood between herself and Cardi.
Aug. 19, 2018: Nicki goes off on Travis Scott over "ASTROWORLD" success. The wildly popular, highly anticipated album by Scott snagged the No. 1 spot on Billboards 200 chart, forcing Nicki Minaj's "Queen" to take second place. Taking to Twitter, Nicki criticizes Scott for selling his album included with merch and tour purchases.
Sept. 8, 2018: At New York Fashion Week, news breaks that Cardi B and Nicki got into a physical altercation at the Harper's Bazaar Icons party, followed by numerous uploads of shaky iPhone footage. Cardi is then seen leaving the party with a giant lump on her head, wearing one shoe and a smirk. 
Videos on Twitter showed Nicki Minaj being protected by security as Cardi yells "Play with me b***h…keep f*****g playing with me, play with my f****n' kid b***h…I'll f*ck your a** up!"
TMZ reports that Cardi B went up to Nicki to address various rumors, such as Nicki criticizing Cardi as a mother, and that Cardi was escorted out of the event after the incident got physical.
Later that night, Cardi B made a statement on her Instagram, calling out Nicki Minaj for allegedly judging her personal life.
Cardi stated, "When you mention my child, you choose to like comments about me as a mother, make comments about me as a mother, make comments about my abilities to take care of my daughter is when all bets are f****n off!!"
Sept. 10, 2018: Nicki Minaj addresses the NYFW fight on Queen Radio, her own radio program.
Nicki goes off, expressing how "mortifying" and "humiliating" the shoe-throwing fight was. She dismisses the fight, saying it was a "…disgusting commotion I will never forget."
Nicki also denied rumors that she criticized Cardi B's parenting skills, saying "I would never discuss someone's child and it's so sad for someone to pin that on me because I'm the bad guy and they know people would believe that."
This especially vicious rumor may have caused damage to Nicki's reputation, causing the rapper to feel obligated to clear the air. However, what else could Nicki have said (or done) to Cardi to make her so upset? Will we ever find out?
Despite Nicki's claims, rumors still circulate about exactly what was said before Cardi B infamously threw her shoe at her rival. Now that their bad blood has escalated to a physical fight, fans are begging to know what's next for Cardi B and Nicki Minaj. How will each rapper recover from this drama? It seems Cardi has already begun laughing it off. Should we expect more shady tweets and diss tracks to come? Only time will tell, but this story seems far from over.
Email Nami at [email protected], or follow her on Twitter @tsunamiumami.