UMass Football Coach Whipple suspended
The unpaid suspension will last a full week.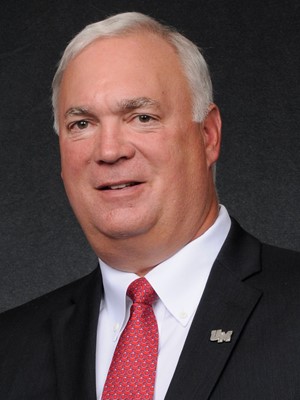 University of Massachusetts Amherst football coach Mark Whipple has been suspended for one week without pay and must attend mandatory sensitivity training after describing a moment from the team's game last weekend as "rape."
After UMass lost to Ohio University, 58-42, over the weekend, Whipple used his press conference to slam the work of the referees, describing the play calling as the "worst" he'd ever seen. When specifying, the longtime coach compared a particular officiating decision to sexual assault.
"We had a chance there 16 down and he rapes us, and they pick up the flag," Whipple said after the game. He was referring to a play from Saturday Sept. 29, during which a penalty that was initially called on Ohio for defensive pass interference was reversed.
Here is Whipple's official statement on his comments and suspension:
"I am deeply sorry for the words I used on Saturday to describe a play in our game. It is unacceptable to make use of the word 'rape' in the way I did and I am very sorry for doing so. It is not a term that should ever be used in the manner I did. It represents a lack of responsibility on my part as the leader of this program and a member of this university's community, and I am disappointed with myself that I made this comparison when commenting after our game."
UMass Athletic Director Ryan Bamford announced Whipple's suspension on Sunday night.
"On behalf of our department, I deeply apologize for the comments made by head coach Mark Whipple on Saturday after our game at Ohio,'' Bamford said in a statement. ''His reference to rape was highly inappropriate, insensitive and inexcusable under any circumstance. Coach Whipple's comments don't reflect the values of this institution, our athletics department or football program. Mark is disappointed in himself and understands his serious error in judgment."
The original transcript posted to Ohio's website after the game did not include the sentence in question. Only when The Athens Messenger published the full transcript Sunday afternoon was the general public made aware of Whipple's comments.
Around campus, the reactions from students varied.
One student, who wished to remain anonymous, said that the coach's punishment was "not enough."
"My question is, how many times does this kind of insensitivity need to go on before something gets done," asked the student, who is a junior studying political science. "If the university actually cared about things like this, [Whipple] would already be getting fired."
Another student, who also wished not to be named, considers the suspension to be "overboard."
"I think the over-sensitivity around these situations is the real problem. People screw up and say offensive things all the time …," said the senior, who studies mechanical engineering. "You're lying if you say you haven't ever said something you wish you could go back in time and change."
The suspension will keep Whipple out of the Minutemen's next game against South Florida on Oct. 6. There has been no further word from UMass Athletics on potential additional discipline.
Whipple, who is 14-40 since returning to UMass in 2014, is currently signed through the 2020 season and makes about $500,000 annually.
Ed Pinkham, defensive coordinator, will coach the team this Saturday.
Email Henry Brechter at [email protected], or follow him on Twitter @hbrechter.