Carrie Underwood doesn't disappoint with new album, "Cry Pretty"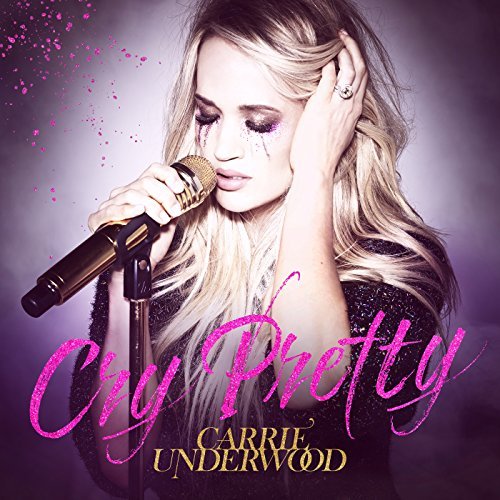 Carrie Underwood is back and better than ever.
After being out of the spotlight for some time, Carrie Underwood is back with new music. The superstar's sixth studio album "Cry Pretty," and was released Sept. 14.
The album consists of 12 tracks, and one bonus track featuring Ludacris. It encompasses the traditional Carrie we know and love, but also features fresh new sounds. Underwood is generally labeled as a country artist, but has always been able to cater to a broader audience with her pop undertones. This album pushes further into the pop genre and incorporates some hip-hop nuances side  by side with classic country-style ballads.
The electronically-charged dance tune, "End Up With You," and the catchy, R&B-inspired "That Song That We Used to Make Love To," are two songs that  stuck out when I listened to the album for the first time.
Underwood was not afraid to try some new things in this album, and she also was not afraid to make some subtle political points. The singer made references to gun violence in "The Bullet" and "Love Wins." Though some may criticize her for not taking a clear stance on gun control, I respect her for calling attention to an important issue in our society. In these two emotional songs, Underwood expresses the damage gun violence inflicts on families and how often these tragedies occur in our nation.
"You can blame it on hate or you can blame it on guns / But mamas ain't supposed to bury their sons," she sings in "The Bullet," adding, "Politics and prejudice / How the hell it'd ever come to this? / When everybody's gotta pick a sided / It don't matter if you're wrong or right," in "Love Wins." "The Bullet" is heart-wrenching, while in "Love Wins," Underwood preaches unity and radiates a refreshing hopefulness. Instead of being super political, she makes the songs feel more personal and paints the listeners a touching picture with her storytelling.
Broken relationships and pain seem to be another theme in this album. In "Spinning Bottles," Underwood describes a relationship destroyed by alcoholism. Then there are the more cliché "Drinking Alone" and "Backsliding," both songs about not being able to get over past relationships.
Drinking with a stranger to get over your broken heart, then calling your ex at at 2 a.m. is a tale as old as time. However, it's tough to belt out these lyrics in your car. Her full-throated high notes will give you a run for your money. "Drinking Alone" is a bit more gritty, while "Backsliding" is filled with sad nostalgia and chronicles the painful cycle of trying to hold onto a relationship that will just never work out.
"Southbound" has a fun, upbeat energy and is sprinkled with honky tonk references, which lighten up the album. It's definitely a song that country fans will play on the beach this summer.
The whole album is very personal, which makes sense since Carrie co-produced it and co-wrote nine of the songs. I felt personally connected to the singer while listening to the album's title track, "Cry Pretty," and the final song, "Kingdom."
"Cry Pretty" was released after the 35-year-old's accident at home last November. She suffered a broken wrist and serious injuries to her face, resulting in a hiatus from the public eye. The lyrics explain that you can try to keep everything together and hide your pain, but you can't "cry pretty."
In "Kingdom," a touching song about her family, Underwood celebrates life's struggles and triumphs with her husband and children by her side.
Underwood knows how to take bad experiences and make them positive. She is back and still as beautiful as ever. This album shows that she is a versatile artist, and I think we can expect more growth in the future. The songs and lyrics offer variety and listeners won't get bored.
With refreshing twists and heartfelt messages throughout, Underwood doesn't disappoint. She recently announced an upcoming tour which is set to begin in May.
Email Katherine Kelley at [email protected] or follow her on Twitter @katkelley26.