Entertainment winners, losers of the week
This is the ninth installment of "Entertainment winners and losers of the week," covering Oct. 8-14.
Jonathan Kermah
Winner: Hip-hop Twitter
Hip-hop Twitter had a field day with the new Quavo album, "Quavo Huncho." Because I haven't listened to the album yet, I won't go as far as to choose the Migos member as my loser pick. But, here are some of the funniest Tweets I've come across.
Loser: Vic Mensa
Is there ever a circumstance where it's okay to speak ill of the dead? While I can't think of any circumstance where it is okay, it's definitely not okay to do it in front of the victim's mother.
While Vic Mensa took a dig at deceased rapper XXXTentacion in his BET Hip-Hop Awards cypher. The controversial lyric, "Your favorite rapper's a domestic abuser," is assumed to be aimed at deceased rapper XXXTentacion, who was accused of domestic violence. At the prerecorded awards show, XXXTentacion's mother was in attendance to receive the rapper's best new artist award. Mensa came out and apologized.
It should be noted that Vic Mensa himself also has a history of domestic violence.
Tiffany Chasse
Winner: Taylor Swift
On Oct. 7, Taylor Swift took to Instagram to talk about politics.
https://www.instagram.com/p/BopoXpYnCes/?hl=en&taken-by=taylorswift
Before now, the star didn't voice her political opinion. Her post not only spiked voter registration, but gained support from various other famous artists, such as Katy Perry.
https://www.instagram.com/p/BotWp5UF09w/?hl=en&taken-by=badgalriri
Over 160,000 new voters registered after Swift's post, 42 percent of whom were between the ages of 18 and 24. Not everyone was happy with her post, *cough cough* President Trump, but many followers supported her stance. Those we look up to have an impact on our decisions, and pop sensations are no exception. I'll see you at the polls!
Loser: Ed Sheeran
The 2018 American Music Awards seemed promising for artist Ed Sheeran. The singer was nominated for six awards including: Artist of the Year, Tour of the Year, Favorite Pop/Rock Male Artist, Favorite Pop/Rock Album, Favorite Pop/Rock Song,and Favorite Adult Contemporary Artist. However, all six awards were given to other candidates.
While it is a privilege to even be nominated for awards of such high praise, getting your hopes up and subsequently let down six times in a row is not an easy task. 
Barbara Talagan
Winner: Lana Del Rey
Singer Lana Del Rey recently got into a Twitter war with rapper and singer Azealia Banks. The feud started when Del Rey criticized Kanye West's recent support of Donald Trump.
Banks replied to Del Rey's post, calling her out for collaborating with ASAP Rocky, who has also been accused of assault. Del Rey responded, "Say it to my face…I won't not f*** you the f*** up. Period."
when Lana Del Rey said "I won't not f**k you the f**k up. Period." I really felt that.

— Jamie Taylor (@JamieTheIcon) October 10, 2018
Loser: Azealia Banks
Sadly, the Twitter war waged on. Azealia responded that she would sue Del Rey for threatening her. Del Rey replied with, "Tell him it's a promise not a threat." The brawl intensified. Banks threatened to perform voodoo on Del Rey's house while she sleeps. These tweets are  not out of the ordinary for Banks, who regularly gets into fights with other celebrities such as Nick Cannon, Rihanna, and Cardi B to name a few.
azealia is killing a chicken and hexing lana right now and lana blocking her evil spells with light magic i'm screaming the witch fight of the decade

— bye (@dyingsince97) October 9, 2018
Hayley Solomon
Winner: Met Gala
The Met Gala just got interesting with Harry Styles, Serena Williams, and Lady Gaga as next year's event co-chairs. The theme for this year's gala is "camp," after the Metropolitan Museum of Art announced that its Costume Institute's fashion exhibit for the spring 2019 will be "Camp: Notes on Fashion." This will be an exciting Met Gala, with many interesting fashion statements.
LADY GAGA, HARRY STYLES, AND SERENA WILLIAMS AS CO-CHAIRS OF A CAMP-THEMED MET GALA IS THE GIFT WE NEED AND DESERVE

— Ashley Spencer (@AshleyySpencer) October 9, 2018
Loser: Kanye West
It's just another week of Kanye West completely embarrassing himself. This time, he took it to the White House. He, Trump and Kid Rock all had lunch in the Oval Office. West went on a tangent that did not make much sense. If you want to watch the breakdown of this catastrophe, watch Jimmy Kimmel's Oct. 12 opening segment.
Donald Trump's day so far:

– Kanye West has profane meltdown next to Donald Trump in Oval Office
– Kid Rock is also at White House
– We're surrounded by garbage
– This is just grotesque
– Stop this shitshow, I want off
– It's still only 1:45pm

— Palmer Report (@PalmerReport) October 11, 2018
Katherine Kelley
Winner: Post Malone's haircut
Post Malone ditched his signature hairstyle for a new do. Some fans are sad to see the look go, while others happily welcome it. I personally think he looks better now (see what I did there).  Either way, I don't think Posty has to worry. People will listen to his music regardless of his haircut. Except maybe Seth Rogen…
Loser: Joe Giudice
"Real Housewives of New Jersey" star Joe Giudice may be getting deported when he finishes serving his sentence for a slew of fraud charges. His undocumented status and criminal record may result in the family heading back to Italy. They have relatives there and it is a beautiful country, so maybe it's not the worst thing?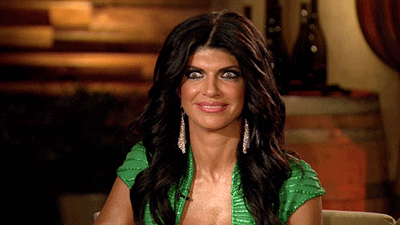 Kacey Connolly
Winner: Brittany Snow
Actress Brittany Snow took to Instagram yesterday in support of World Mental Health Day with a video about her own struggles with anxiety, depression and eating disorders. Snow elaborated on her struggles and gave support to all young men and women in similar circumstances. She even admitted to currently fighting anxiety and depression, despite many years of battling them both. I can imagine that opening up such a personal part of yourself to the world is difficult, but Snow did so with grace and ease, offering a hand to those in need.
Loser: Kim Kardashian West
Not only did Kanye West himself take the liberty to meet with President Trump, but his wife Kim Kardashian West voiced support for her husband. It's bad enough that Kanye West has been on his own wild rampage promoting Trump, trying to "make America great again," but to now incorporate his reality TV star wife into the mix? Maybe Kim Kardashian West should voice an opinion of America's current political platform that isn't just, "I support my husband." Then again, maybe they should both just stay away from politics altogether.
Trevor Wilson
Winner: Denzel Curry
After dropping his critically acclaimed album "TA1300," Denzel Curry has moved into the spotlight as one of hip hop's most talented and unique artists. For someone of such stature, it can be difficult talking about personal issues in the public eye. Curry appeared on "The Breakfast Club," where he made a startling disclosure about his childhood.
After discussing the #MeToo movement on the show, Curry seemed a little distressed and one of the hosts asked him if he himself had ever been molested. Curry replied with, "You know, I'ma be real, I did get molested when I was young." Curry "doesn't like talking about it," for he doesn't "want that to define" him as a person.
Props to Denzel. It can be extremely difficult to talk about sexual abuse, especially in the spotlight. However, we must bring attention to sexual abuse. When a star like Curry opens up, it sparks a national dialogue. Hopefully Curry's confession leads to more artists opening up about sexual abuse.
Hearing TA13OO again knowing Denzel Curry was talking about himself being molested is crazy

— BlackShikamaru (@YourMusicWhore) October 11, 2018
Loser: The Minnesota Timberwolves
Jimmy Butler returned to practice with a bang. After requesting a trade earlier in the off-season, Butler played with maximum intensity as he individually challenged his teammates like Andrew Wiggins and Karl Anthony-Towns.
All-Star Jimmy Butler participated in Minnesota's practice, a session that included him verbally challenging teammates, coaches and front office, league sources told ESPN. Butler was vociferous and emotional at times, targeting Thibodeau/Layden/Towns/Wiggins. Story soon on ESPN.

— Adrian Wojnarowski (@wojespn) October 10, 2018
However, this is just the tip of the iceberg. During the practice, Butler teamed up with the third stringers, insisting that they play against the starting lineup. Lo and behold, Butler beat the Minnesota starters with his own squad made up of players who barely see playing time. During the scrimmage, Butler guarded Anthony-Towns in the paint, forcing him to pass the ball out of the paint.
At one point in a scrimmage, sources said, Butler turned to GM Scott Layden and screamed, "You (bleeping) need me. You can't win without me." Butler left teammates and coaches largely speechless. He dominated the gym in every way. Jimmy's back.

— Adrian Wojnarowski (@wojespn) October 10, 2018
If there's any glimmer of hope for the Timberwolves, it's that Butler seems like he's going to stay.  Hopefully Butler's performance inspires the team to be their best.