Former White House Press Secretary Sean Spicer set to appear at UMass Tuesday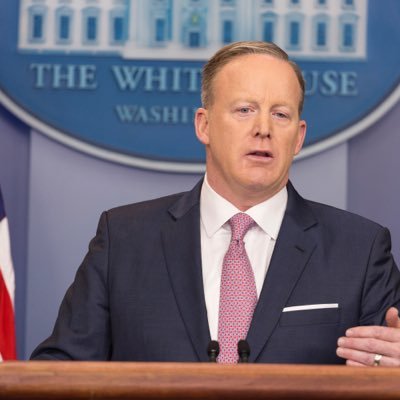 AMHERST — Former White House Press Secretary Sean Spicer is gearing up for an appearance at the University of Massachusetts. The event, hosted by the UMass College Republicans, will take place in the Fine Arts Center at 7 p.m. Tuesday.
A former member of the Trump Administration, Spicer will likely be welcomed to campus by a slew of protestors.
"Plans are in place to staff the event with an appropriate law enforcement presence to address any concerns that may arise. There are no special security protocols that students should know about if they plan to attend the event," the UMass Police Department said in a statement.
Spicer comes to UMass to discuss his recently published memoir, "The Briefing: Politics, the Press, and the President." The Guardian wrote that the book is "a highly readable and often informative effort to defend Trump, restore some of the author's own lost luster, and settle a few scores."
Although heavily criticized, Spicer is open to talking about his controversial past actions, such as claiming Trump's inauguration to have drawn the largest crowd in history, and the reasons behind them. He often acknowledges his mistakes and gives insight into his decision-making process at the time.
Among the reviews of his memoir, however, one aspect of Spicer's ideology stands out in particular: his unwavering loyalty to the president. Even after his sudden departure from the White House, Spicer remains a staunch supporter of the president. This sensitive topic has been mentioned in recent interviews and is sure to stir the crowd at UMass on Tuesday.
In the midst of a contentious political climate in Amherst, some community members are furious with Spicer's invitation to campus. The Western Massachusetts International Socialist Organization is promoting opposition, saying Spicer "deserves no audience, and that we encourage as many students as possible to protest his presence and show that he is not welcome."
It is unclear whether any official protest is to be staged, but UMass Republicans President Nick Consolini welcomes their first-amendment rights.
"I respect my peers' right to protest Mr. Spicer," he said, "I hope they [will] actually come in to hear the speech. It is not every day that you get to hear a former prominent member of a White House administration for free."
Consolini is no stranger to the first amendment; last year, he led the charge to file a lawsuit against the university over a controversial policy that limited free speech to noon to 1 p.m. each day in one location. He stressed the importance of Spicer's appearance to free speech on campus.
"The core idea of a university is having your beliefs and ideas challenged," he said. "Our campus is lacking diversity of ideas in my opinion."
But what if you are a left-leaning member of the community and wish to exercise your free speech?
"I urge students to challenge Mr. Spicer with tough questions … campus is supposed to be a place for debate and different viewpoints," Consolini said.
Consolini defended Spicer's invitation, emphasizing that Spicer is a qualified speaker, having served as both White House communications director and press secretary during his tenure.
"If you are an RSO and have the funding, you should be able to bring speakers to campus," he said. "The UDems or the socialist groups do not receive backlash for the speakers they invite."
Admission is free, and tickets will be reserved on a first-come, first-serve basis.
Email Kyle at [email protected]
Email Matt at [email protected]