Five holiday songs you've probably had enough of
Sometimes complaining about Christmas songs is just as fun as singing along
Christmas cheer can be a nice feeling– unless, like me,  you're a Grinch.

It's not like I go around wishing everyone a terrible holiday or try to steal all their belongings while they sleep. But anyone who knows me can expect an obvious eye roll when I hear classic holiday songs on the radio. I do make an exception for Wham!'s "Last Christmas," though. I get holly jolly to that song all-year round.

After years of built-up annoyance and cynicism for these "classics," I have decided to finally use my pending journalism degree for good and compile a list of holiday songs that deserve to be turned into the coal.

Mariah Carey's "All I Want for Christmas is You"
This shouldn't be a surprise to anyone. 

Whether you're able to sing along to it or not, "All I Want for Christmas Is You" embodies many of the tropes that make Christmas tunes such a nuisance:
There's an annoyingly catchy chorus that even your mom likes to sing during car rides.

It tries to counter materialism but it's just a product meant to capitalize on the holiday season.

It has the sound of sleigh bells.

It tries to paint a picture that Christmas is all about love and caring for people when we all know corporations have turned it into a period of spending too much money on presents.

It has the word Christmas in it.
To make matters worse, Carey's hit jingle is one of the most prevalent and overplayed holiday songs. Last year, the 24-year-old holiday hit peaked at Number 9 on Billboard's Hot 100. This was its first time in the Top 10 since it was released in 1994. Having reached that new milestone, "All I Want for Christmas is You" is only going up from here and there isn't much we can do to stop it.

Unless we boycott it.

Justin Bieber's "Mistletoe"

"Mistletoe" was released during a simpler time in Bieber's career. Teenage girls were  enamored by his boyish charms and pop hits like "Baby." At the time, the 17-year-old Canadian singer was in his in prime and as a result, a Christmas album was released to capitalize on his raging success.

As the main single off of Bieber's lone Christmas album, "Under the Mistletoe," the song falls victim to the same tropes that plague "All I want for Christmas is You." It even has those sleigh bell noises.

In a way, "Mistletoe" carries a nostalgic charm. It encapsulates the innocence Bieber once possessed. He was the good, clean-cut boy your suburban mom would have loved for you to marry. Now he has tattoos, a mugshot and a viral video of him mocking the Spanish language while singing his own song.

Every Holiday Song Pentatonix Puts Out

I hate Pentatonix. Yes, gay people can also hate Pentatonix. We all don't like the same things.

Granted, I'm not the biggest fan of a capella, but Pentatonix has a special place in my cold heart. The sleek, clean sound they possess makes them boring to my ears. It's the type of sound you'd hear from those pop bands who just seem a little too perfect. It's to the point where I find myself bored while listening to them.

In layman's terms, they're too mainstream for my taste. This is made even more evident by the fact that they have released three Christmas albums since 2014 –  a genre of music that seems to be more about rehashing old hits and making a quick buck instead of making art.

Lou Monte's "Dominic the Donkey"
Unlike every other song on this list, "Dominic the Donkey" doesn't try to be a serious, heartfelt ode to the holidays. Instead, it willingly makes an "ass" of itself. While I like the irony, I still don't want to listen to it. Maybe if I was five years old again.
Once you listen to these satirical songs a few times, you've had your fill. It's like hearing the same joke over and over but in the form of a song. It gets old and annoying after a while.

Bing Crosby and The Andrew Sisters' "Mele Kalikimaka"
Things get a little personal with this song.

I think this ode to Christmas in Hawaii is a perfectly fine piece of music. The Hawaiian influence makes it stand out from many other songs that rock the holiday playlists around this time of year.

I do have some gripes with the constant portrayal of Hawaii as a beautiful vacation destination for affluent Americans while many are left ignorant of the land's history and the U.S. occupation of it. That's a story for another time though, I'm just here to complain about Christmas music at the moment.

My gripes with the song all stem from when I was in my high school's chorus. This was when I first heard the song and eventually had to sing it. If there's one thing I hate more than Christmas music, it's the memories of singing with my chorus class. Instead of transporting me to a "bright, Hawaiian Christmas day," I'm transported back to the misery that was high school and singing off-key to many songs I hated out of spite.

Email Brian at [email protected] or follow him on Twitter @BrianShowket
About the Contributor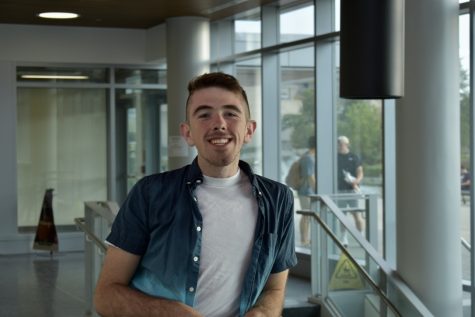 Brian Choquet, Campus News Editor
"The hero of my tale–whom I love with all the power of my soul, whom I have tried to portray in all its beauty, who has been, is, and always will be...