Future, Gunna and Ty Dolla $ign Are Mullins Center Bound
Blarney concert tickets go on sale this Friday.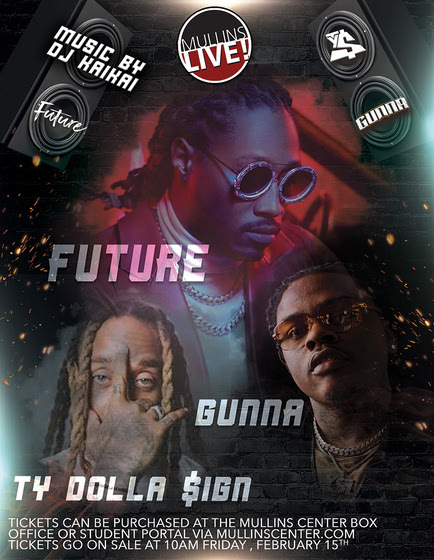 On Wednesday, Feb. 13th UMass students received an email from Student Affairs and Campus Life, and presumably thousands of group chats rang out notifications of the screenshot sent throughout campus. The email contained the flyer for the Fifth Annual Mullins Live! Concert, or more commonly known to students as the blarney concert, where it is common practice to arrive decked out in Saint Patrick's Day gear.
This year, the concert will feature Future, Gunna and Ty Dolla $ign. On Jan. 18, Future released his newest album "THE WIZRD" which debuted at no. 1 on the Billboard 200. Gunna's upcoming album "Drip Drown 2," is expected to be released on Feb. 22 just eight days before the blarney concert. Ty Dolla $ign was featured on Post Malone's 2018 album "Beerbongs and Bentleys," in a fan favorite song called "Psycho."
Tickets to the blarney concert are $10 and the Mullins Center Box Office will begin selling tickets at 10 a.m. on Friday, Feb. 15. This year, students will also have the option to buy tickets online, for an additional $3 processing fee. On February 25th, the price of tickets will increase to $15. Students will be able to buy one ticket per Ucard, and if they want to buy tickets online, they can get ahead by activating their student portal prior to February 15. Any student can head to the box office Monday through Friday from 10 a.m. to 6 p.m. to save $3 on the processing fee.
Email Meghan at [email protected] or Follow her on Twitter @meghan_carney_