Offset tries to find a balance between fame and family on "Father of 4"
Offset separates himself from his fellow Migos artist's solo efforts by tapping into his emotional side.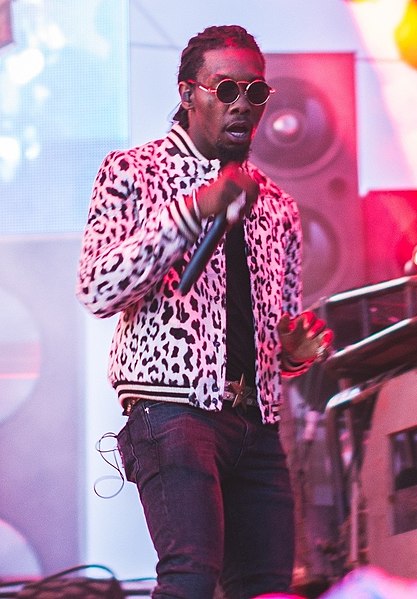 Atlanta rapper Offset, the most public Migos member, has had a tumultuous few months. This all circulates around the cheating rumors and split with his wife and mother of his daughter, Cardi B. As Offset made a number of public and online apologies to Cardi, making a fool of himself in the eyes of the public and media, he continued to push back his album's release date. With the couple eventually reconciling, he finally felt it was time to drop the third and final solo effort from the Migos.
At times, "Father of 4" feels like a redemption album for Offset, providing some of the more personal moments from any Migos project to date. One could draw comparisons to Jay-Z's "4:44" album, yet it comes off as a more watered down version, as Offset doesn't have the lyrical ability or focus to deliver at that level. Offset spends half the track list addressing his family, the struggle of his childhood and the new threats he faces now that he's famous. The production on these tracks is more laid back and melodic than were used to seeing from a Migos album, which allows Offset to step up and be the main focus. Offset separates himself from his fellow Migos artist's solo efforts by tapping into his emotional side and showing his humanity. Making this the most compelling release from the group since "Culture."
The rest of the album reverts back to more of the traditional Migos sound and song structure. Offset doesn't switch up his flow much here, at times sounding more lethargic and dull than ever. He often reverts to rapping about typical trap content as well. Although, on a few tracks, he changes his focus to more mature topics, showing his commitment to overall growth as an artist.
Metro Boomin and Southside provide cloudy and aggressive beats on this half of the album, but many of the cuts sound too similar and it creates a monotonous feel. While there are a number of entertaining tracks and a few solid features, this is where Offset falls victim to the over saturation of the Migos recent sound. Below, I'll break down the most significant tracks from both sides of "Father of 4."
Offset Gets Personal
"Father of 4" (ft. Big Rube)
The album opens up with Offset rapping about his four children and addresses how each of them affected him during different times in his life. Offset sounds sincere here and makes it clear that his children are what's most important to him. The beat is layered with gorgeous piano notes and light drums that compliment Offset's flow well. This track sets the tone and shows Offset is willing to open up to his fans.
"North Star" (ft. CeeLo Green)
Offset's powerful vocals to open and close this track are shocking, yet beautiful, and represent his ability to step out his comfort zone. Offset's two verses here focus on the various people trying to bring him down and how that affected his personal life. He raps, "I got scars under my sleeve, The blogs is after me, They tryna capture me, They lyin' about the h*es, it's f*ckin' my b*tch up mentally." CeeLo Green provides a great performance as he sings the chorus and bridge with a church choir in the background. This provides one of the more memorable moments on the album.
"Don't Lose Me"
This is Offset at his most vulnerable as he addresses almost losing Cardi and is a direct apology to his wife and daughter Kulture. Although I do appreciate the sentiment behind this track, the introduction is extremely cringe-worthy as we here Offset reuse the apology he gave to Cardi on his Instagram back in December. This could've been completely scratched and the track would've been just as genuine. Offset doesn't rap about anything too groundbreaking but the chorus exemplifies his pain, "You told me, Don't use me (Don't use you), KK, all beauty, When I'm lookin' down at her, it's you and me."
"Red Room"
The lead single on the album had a lot of people buzzing and was a sign that Offset was willing to branch out to new topics. The production is relatively low key with classic Migos high hats over light and fluttering synths. Offset touches upon his family life growing up, violence in his neighborhood, and the betrayal of people close to him. My main complaint is that his flow and cadence are a little too flat for me, taking away from the emotion of the track. Despite this, Offset is at his peak lyrical performance here and represents why he had the best solo Migos effort. As the second to last track, this acts as a strong closer to the album.
Offset Goes Back to the Trap
"Tats On My Face"
This track delivers one of the catchiest choruses on the project over upbeat production that provides an energetic three-minute ride. Offset keeps it simple here rapping on the chorus, "Tats on my face, This Backwood an eighth, You're trash, you're waste, I was on the Nawf smoking on shake." If you're a Migos fan you can already hear his flow from those four bars. These lyrics and rap scheme can be found on any of their tracks over the last couple of years. Despite this, Offset is able to hold it together with enough of a varied flow in the second verse to keep it interesting.
"Wild Wild West" (ft. Gunna)
Metro Boomin killed the production here with one of the hardest songs on the album. At around the one minute mark, Offset picks the tempo up in his sole verse and delivers a rapid flow that provides one of his best moments on the album. This is something I think he should've done more throughout the project. Gunna rides the hypnotic beat in the second verse, complimenting Offset well. The lyrical content here is nothing to write home about, this is simply a headbanger.
"Legacy" (ft. Travis Scott and 21 Savage)
The features here are definitely the most attractive on the project and really make this track. Offset delivers a decent chorus and two verses that have a couple of memorable moments. He ends his first verse with, "I'm from the bando, my daddy had abandoned me, Momma tried to cover up and bandage me, I'm the first one to lead the whole legacy." Travis's verse isn't his best but it provides a nice change of pace that is much needed after three solo Offset tracks in the middle of the project. 21 Savage is the stand out here with his trademark aggressive and graphic trap bars. Overall, a solid track, but with these three heavyweights, it could've competed for the best song on the album.
"On Fleek" (ft. Quavo)
This is probably my least favorite track and sounds like it could've ended up on Quavo's solo album."Made Men" and "Underrated," two tracks earlier on the album, have a similar vibe and lack substance and originality. The beat here has too much of a generic trap feel and is only saved from complete despair by the occasional flute heard in the background. Offset and Quavo don't bring much to the track either with a couple of lackadaisical verses and a forgettable hook. This could've easily been a throwaway as it provides nothing aside from the lone Migos feature on the album.
Verdict: 6.5 out of 10
What this album does more than anything is show Offset's willingness to branch out as an artist and address the faults in his life. While the personal side of this album isn't as fleshed out as it could be, it is still impressive. To attempt something like this is rare for rappers in the new generation, and I hope with this release that it becomes a trend. When Offset does go back to his typical trap style, there are hit's and misses, which has been consistent with the Migos for basically their entire career. While the "Father of 4" is a tale of two halves, the highlights are able to outshine the lowlights.
Email Oliver at [email protected].