UMass NAACP becomes only active college chapter in New England, still seeks RSO status
The group failed to receive RSO status when they first applied, but are now fighting the decision.
March 22, 2019
AMHERST– Despite its legacy as a prominent civil rights organization, the National Association for the Advancement of Colored People (NAACP) has been absent from the University of Massachusetts campus, and the New ENgland college sphere as a whole; a surprising fact to many.
The surprised include UMass junior Tanisha Exantus. With what seemed like a given, Exantus only realized it after her friend, Ivis Batista, mentioned wanting to start one at UMass last year.
"That's one of the biggest pillars for people of color in general," said Exantus, noting how UMass is even home to the W.E.B. Du Bois Center. "So I was really shocked to see that UMass didn't have a chapter."
With Exantus' support, along with the encouragement of many other students of color, Batista spent 2018 organizing and leading the group to become an officially recognized chapter by the NAACP as of Feb. 15. The group is the only active  NAACP college chapter in New England, according to NAACP Youth and College Division's field organizer, Derrick Lewis II, in an email.
While there are many cultural groups that serve students of color at UMass, Batista and Exantus wanted to follow NAACP's rich history as an advocacy group and become a home for action for students.
"It's not just about our culture anymore," said Exantus, who originally lived in Haiti before moving to the U.S. when she was nine years old. "It's also about who we are and our identity on campus and being able to advocate for that when we feel that we've been wronged."
This point is intensified when taking into account the turbulent few months of high-profile, racially charged incidents that affected UMass in its fall 2018 semester. Both Batista and Exantus note that the group's creation wasn't meant as a response to these events, but its timing exemplified the need for a safe place for students who felt unwelcomed on their own campus.
After just their first meeting at the end of last year, someone came up to Batista to tell her that their one meeting was the safest they'd felt all semester.
"You could tell that people really liked having the space and the environment where they, people of color specifically, really did feel like, 'Okay, I can come here and have an open conversation about how I feel about certain topics,'" Exantus added.
For Batista, NAACP was a way to help her find a home at her old school, the University of Kentucky, and wanted to bring that same environment to the similarly-sized UMass when she transferred here last spring – especially at a campus where 27 percent of undergraduates identify as people of color. This percentage grows smaller for graduate students, faculty and staff.
"That's what I really wanted to create, this safe space where you can be anything and anyone here and not feel like you're an outsider," Batista said. "I'm constantly looking to make sure I'm not looking like a threat, that I'm smiling, making sure I'm not in anyone's way, but when I'm at e-board meetings or general body meetings, I feel so much safer… I feel like I can be who I am."
Students of color at predominately white institutions (PWI) can often find themselves feeling like "others" at a campus that is meant to feel like home. At a school with almost 22,000 undergraduates, students of color only make up 27 percent of the student population. This number shrinks for graduate students, faculty and staff.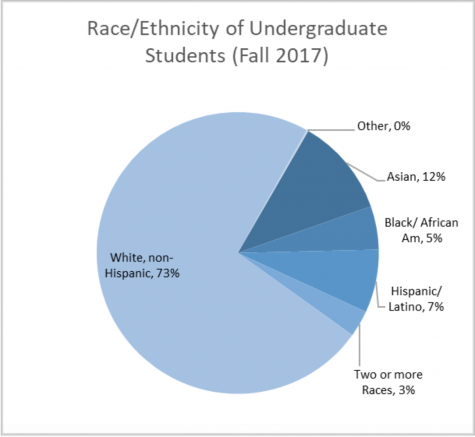 This can be a culture shock to some students who come from cities and towns predominantly made up of people of color. Factors like these can also become issues of concerns for prospective college students who have to keep terms like "PWI" and "historically black colleges and universities" (HBCU) in mind when applying to schools, according to Batista.
"We're at a PWI so every day we're 'other,'" said Batista, who hails from a town largely made-up of Afro-Dominicans. "[We're] creating this space where you're walking in and everybody basically looks like you or everyone has the same ideas as you, so this space feels like a space for those people."
At their first general body meeting of the semester, the group – circled up inside the Latin American Cultural Center – laughed and discussed prominent people of color who've been neglected or went unrecognized in mainstream cultures. Reaching over a dozen attendees, they attracted new members, including sophomore legal studies major, Edosa Osemwegie.
"I always wanted to join the NAACP, but basically, at my old school, there was no clubs like the NAACP so hearing that there was [a] chapter at UMass, I wanted to join," said Osemwegie, who transferred from Suffolk University last semester.
Recruiting people hasn't been a challenge for Batista or Exantus, but they find themselves having to fight the misconception that NAACP is something from the past or only meant for older adults.
Despite that misconception, NAACP officials view youth involvement as critical to the movement.
"We are in a long term struggle for equity, equality and justice for all," Lewis said. "It is important for NAACP chapters to be present and open to youth involvement because they are our future leaders. The youth has always been on the front line and we must continue to support and encourage them to have and use their voice by any means."
Becoming an official NAACP chapter was only the group's first hurdle. They're now stuck in the appeal process for becoming a registered student organization (RSO) at UMass after originally being rejected earlier this semester. 
The group has successfully operated for the past few months without being an RSO – finding meeting spaces in various spaces around campus and recruiting members through social media and word of mouth – but the status would give them helpful benefits. This includes receiving funding.
"If we don't get accepted, we'll just keep pushing because, at the end of the day, this is something that is really needed on campus," Batista said.
Receiving RSO status is just one of many goals the group has, though. Batista wants to make NAACP a prominent part of the campus community and, eventually, become a tradition for students of color – similarly to how it is at universities in the south.
"When you come onto a PWI, or any campus, even an HBCU, the first things you join are [the Black Student Union] and NAACP," Batista said. "So that you can find people of color that look like you and people that have the same interests as you. I want NAACP to be that for this campus."
Email Brian at [email protected] or follow him on Twitter @BrianShowket