UMass for the Kids: Dogs, Dancing, and a Day of Hope
FTK will round off fundraising efforts with a 12-hour dance marathon
Matt Berg, Assistant News Editor
April 10, 2019
AMHERST — From dogs to dancing, UMass for the Kids (FTK) knows how to have fun when it comes to raising money for Baystate Children's Hospital in Springfield.
Throughout April, FTK, the largest student-run philanthropy group on campus which comprises of many members of Greek life, plans on reaching their goal of $300,000 by bringing the campus community together.
Events around campus include a Dog Kissing Booth, a benefit concert and the largest event, the Dance Marathon. Last year, the group raised $212,000 from the combined efforts.
Wednesday marked the second annual Day of Hope that FTK has hosted in support of Baystate. The goal of this year's Day of Hope was to raise $42,000 in 24 hours to help fund multiple items at the hospital. Zachary Sturm, president of FTK and a senior sports management major, described it as a shopping list.
"They say look, any sort of money that comes in this year is going to go towards these items, and they give us the actual fiscal cost of them," Sturm said. "One of the biggest items we saw on the list this year is the Giraffe OmniBed."
Acting as an incubator, the Giraffe OmniBed provides a reduced-stress environment for premature and ill babies, simulating conditions similar to a mother's womb.
"It acts almost as a mother kangaroo's pouch," Sturm said. "It keeps the baby warm and safe and it provides hope, which is why we brought the Giraffe OmniBed and the Day of Hope together. This bed brings hope to all the families that strive to have another day with their child and to grow up and have a childhood that we have all had in our lives."
Those passing by the Integrated Learning Center on April 3 had the opportunity to take part in the Dog Kissing Booth. FTK brought various "good boys" to encourage passersby to donate to the cause. From 1 p.m. to 3 p.m., German shepherd Kato showed his affection. After Kato, black labrador Tucker took over the show for an hour, doing his part for the kids at Baystate.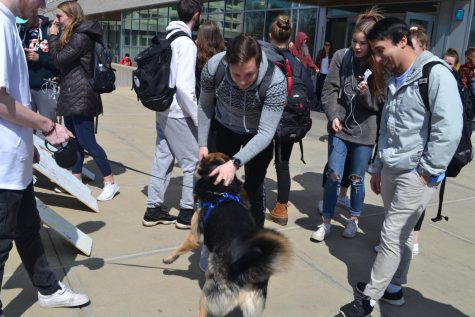 Although the dogs proved to be a big hit with large crowds surrounding the dogs, the group has planned other forms of entertainment to attract people.
This Saturday, Theta Chi will host a concert featuring Ricco Cocchi, JWU and Heatcheck. Kappa Kappa Gamma will be serving grilled cheese during the concert, which will go from 10 p.m. to 1 a.m. Tickets are $10 in advance.
For 12 hours, anyone with happy feet can pay a $10 fee to join FTK's 13th annual Dance Marathon. The effort to raise $42,000 for the Day of Hope is the last significant push before the Marathon, which has proved to be the group's most successful fundraiser year after year. Over the past four years, the event has helped to raise over $490,000.
According to the UMass Office of Fraternities and Sororities website, the Dance Marathon is held "honoring families associated with the hospital and celebrating the culmination of the group's annual fundraising efforts with a 12-hour dance party featuring campus-based entertainment."
"I'm really excited for the dance marathon," said Jesse Chisholm, a freshman legal studies major. "It's going to be a lot of fun, and we're hoping to raise a lot of money. I'm going to try to dance for at least six hours."
The Dance Marathon will take place from 10 a.m. to 10 p.m on April 13 at the Mullins Center.