"Booksmart" sneak peek: interview with Olivia Wilde, Kaitlyn Dever, Beanie Feldstein, Katie Silberman
Offering a fresh perspective on the high school experience, "Booksmart" explores themes that are relevant to today's high school generation: sexuality, acceptance and friendship.
With every new generation that seems impossible to define, a coming-of-age movie is bound to attempt to capture the spirit of modern-day adolescence.
In Olivia Wilde's directorial debut, "Booksmart," rising actresses Kaitlyn Dever and Beanie Feldstein explore what it's like to grow up with the expectations of balancing school work, friendship and social life through their genius yet slightly snobby characters Amy (Dever) and Molly (Feldstein).
Offering a fresh perspective on the high school experience, "Booksmart" explores themes that are relevant to today's high school generation: sexuality, acceptance and friendship. After discovering that their classmates simultaneously partied and studied well enough to be accepted into top colleges, best friends Amy and Molly embark on a quest to find the rowdiest party on the final night of classes, a redemption of their self-admitted mundane high school experience.
Wilde, Dever, Feldstein and screenwriter Katie Silberman fielded questions from 11 journalists from nine schools across the Commonwealth in Boston on April 12, discussing what the movie is all about. Schools represented included Boston College, Boston University, Emerson College, Framingham State University, Harvard College, MIT, Simmons College, Tufts University and of course, the University of Massachusetts Amherst.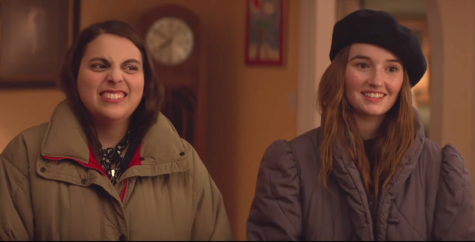 Taking the first question, Wilde spoke of the intentions that she had as the movie's director. The movie addresses the misconceptions that high school students often have of each other, only to realize that people are not what you originally judged them to be.
"Our greatest goal was to kind of question the judgement that we all have at the age, and it's natural," Wilde explained. "High school is war. The stakes are very high, and it becomes challenging to not put people in categories, because you're doing it to feel safe."
"Everyone is complicated, everyone is dealing with pain and challenges of their own, and it's probably not about you. It's this idea that maybe we're constructing this paradigm ourselves, and it's not actually that bad."
As a lesbian, Amy struggles throughout the night to explore her sexuality as she pursues Ryan, another senior. Amy's awkwardness haunts her, foiling her opportunities to strike up conversation with her love interest. Instead of approaching Ryan, Amy watches her from afar while Molly pressures her to make a move.
Unlike in many other movies with LGBTQ+ lead characters, Amy's obstacles are not created by her sexuality; she simply doesn't know how to go about approaching Ryan. Awkwardness, insecurity and self-doubt plague her more than anything, making Amy a relatable character for the majority of high schoolers exploring intimacy for the first time.
"What makes me so honored and proud to be a part of this movie is that it so beautifully represents the generation that we're all living in right now," Dever explained. "[Amy] is so much more than her sexuality."
"This film so beautifully shows these girls having their first experiences," Feldstein added. "My character happens to be with a guy and her character with a girl, but I loved the way it captured that nervousness and excitement and awkwardness and all of that."
Where other movies, notably "Love, Simon," revolve around the difficulties of coming out among peers, "Booksmart" addresses Amy's sexuality casually. Wilde noted the importance of the showing the young queer experience, but in a light-hearted manner instead of as the central conflict.
"I loved having the opportunity to tell a story where [being queer] wasn't the main event," she said. "It isn't a coming out story, it's a love story. Her character happens to be queer, and her character doesn't, but they're both going through it, having crushes and discovering themselves. We loved not making [being queer] an issue."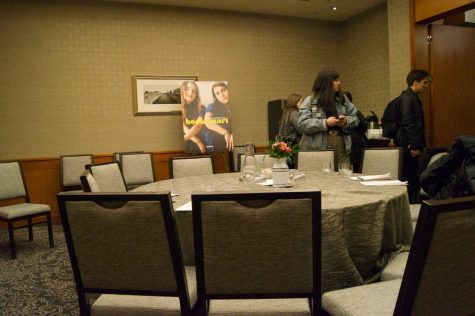 Joey Lorant/Amherst WireSilberman highlighted the significance of casting multiple queer characters, accurately representing members of a generation that refuse to be tethered down by a single label.
"A lot of times in high school movies there's one of everyone," said Silberman. "There's one queer character, and that becomes their defining feature. In this movie, there's so many that they each get to have their own defining features outside of their sexuality, which is another representation of this generation where it's a quality of theirs, but not the thing that needs to be first about their story."
"Booksmart" is reminiscent of the many coming-of-age films that preceded it, with Wilde drawing inspiration from films that shaped her view of comedy and adolescence. What makes it unique, however, is that it casts two female leads to go with a female director and four female screenwriters. The movie can be considered a modern "Superbad," but with female leads and less female objectification.
"Superbad" wasn't exactly what came to Wilde's mind when deciding on her first movie, though. Throughout her entire career in the film industry, Wilde always wondered, "'Where's my Breakfast Club?'"
"My dream was to make a generational anthem. I was really inspired by movies like the Breakfast Club, Dazed and Confused, Clueless, Fast Times of Ridgemont High, so that had always been a dream for me."
As high schoolers who endured the hardships associated with school, Amy and Molly's bond throughout the movie is undeniable. That friendship, however, was not something that could be conjured on a Hollywood movie set just to be abandoned once the actresses stepped off.
If one thing is difficult to fake, it's friendship. Dever and Feldstein's connection was apparent during the interview, with Feldstein reaching for Dever's hand multiple times. The two erupted in laughter when Feldstein's hand missed her co-star's, landing on her leg. The actresses, who had never met prior to the casting, knew that forming a genuine friendship was essential to making a believable story.
"Kaitlyn and I were living together while we were prepping them film, so by the time we were shooting the film, we were in each other's laps sharing food," Feldstein said. "There was so much love and trust there that I feel like we just layered Molly and Amy on top of this foundation that we created."
"You also can't fake chemistry I think, so it was very easy to love Beanie," said Dever. "It was all about doing normal, real-life things … It was all about going to get breakfast together in the morning, driving to get gas together and listening to the Kacey Musgraves album."
The two specifically referenced Musgraves' "Space Cowboy" as being their favorite to listen to while driving around.
Though they have been acting for over a decade, both Dever and Feldstein had their fears with leading a major film headed by Hollywood veteran Wilde. Appearing in "Last Man Standing" and "Short Term 12," 22-year-old Dever is no stranger to the spotlight. Neither is Feldstein, best known for her role in "Lady Bird." Nonetheless, their friendship gave them the courage to undertake roles larger than both had ever pursued before.
"It was really nice to have Beanie's hand to hold throughout the whole process because we've never led a film before, and that's super scary," Dever said. "And I think it's amazing to always have that best friend to go through something scary with.
"Any time I got scared, I looked at Kaitlyn and felt better," Feldstein added.
Numerous times throughout the interview, Wilde expressed her admiration and compassion for the lead actresses. Apparently, she was not alone in her awe – the all-star cast and producers shared an infatuation of the women.
"When they got on set and worked with them, everyone from Mike O'Brien, Jason [Sudeikis], Will [Ferrell], Lisa [Kudrow], were like 'Oh my God I'm in love with these girls,'" Wilde said. "They were all so excited and inspired by them and, like, real comedy experts being like 'Holy s***. They're amazing.'"
All four of the women discussed their plans for the future, either working on new television shows or movies. When questioned on her first directorial experience and her future plans, Wilde spoke with a visible energy.
"I definitely want to direct again soon; I love it so much," she said. "I'm hooked. It was the best experience of my life, and I love acting and will continue to do it, but I'm excited to jump on another project with this lady right here (Silberstein). We're creating another project right now which is another female two-hander, which we're very excited about."
Dually excited, Feldstein added, "Kaitlyn is doing a Netflix series with Toni [Collette] and Merritt Wever that I am so excited about."
Coming out in the fall, 'Unbelievable' is a drama miniseries following Dever's character Marie, who was charged with lying about having been raped after recanting her story. Two detectives, played by Collette and Wever, take it upon themselves to find the truth behind the case. The series is based on a true story.
"I just want to continue doing stories that are really important to me and allowing voices to be heard that are sort of buried," said Dever. "I'm very excited about ["Unbelievable"], and also just continuing to work with women. I want to keep working with the ladies."
Feldstein is also working on a project of her own. After filming for "Booksmart," Feldstein flew to London to film "How to Build a Girl," in which she plays the lead character Johanna Morrigan who's attempting to reinvent herself as a music critic to save her poverty-stricken family.
"It's written by this U.K. feminist icon named Cat Moran, and it's loosely based off of her life. It's another female-driven comedy, coming-of-age that feels different."
"Booksmart" comes out in theaters on May 24.
Follow Matt on Twitter @MattBerg33.
About the Contributor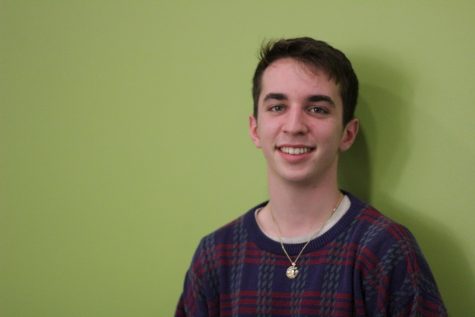 Matt Berg, Assistant Campus News Editor
"Three words: Vice President Oprah." -Obama

Email Matt at [email protected] or follow him on Twitter @mattberg33