App of the week for college students: UMass Bus Track
Understanding the bus system in a short time.
Whether on campus or off, the UMass Bus Track comes in handy for any student or faculty member that is navigating their way around the Pioneer Valley. It's fairly simple to use and understand, however, make sure to have the location services on while using the app. 
When first opening the app, a map of the surrounding environment is displayed and a search bar pops up on the bottom of the screen that says "Search for Directions: Where to?" From there, enter the desired bus stop and various routes will be displayed.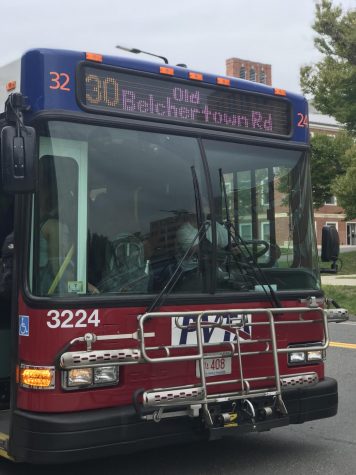 It'll first show when the next bus is, how far of a walk to the nearest bus stop, what bus number to take, and the green hexagon icon displays the time it arrives. By clicking the little "i" icon, more information can be found such as where to wait and the bus' name. The blue hexagons indicate the different spots the bus will stop at. 
If planning ahead, there is a clock icon within the same search bar that display later routes. It has options where bus schedules can "start at" a specified time, or when it will "arrive at." Bus stops that are frequented can be saved by tapping on the star symbol. 
The app also offers schedules of each bus running in the Pioneer Valley in downloadable PDF versions. If looking for a certain bus stop but unsure of the name, there's an alphabetized list under "stops" in the sidebar. In the sidebar, "routes" of each bus can be found as well. The "map" option also shows all the routes and stops of the buses. 
When planning ahead for classes though, take in account that the bus is typically late by a few minutes. During the winter, however, it can be late by more than 10 minutes.
Email Shannon at [email protected]