Are e-cigarettes actually 'safe?'
More vaping-related illnesses and deaths are being reported, bringing into question the safety of e-cigarette devices.
E-cigarettes have been dubbed as the 'safer' alternative to cigarettes, but with six confirmed deaths and hundreds more hospitalized from vaping-related diseases, are they truly a safe alternative?
E-cigarettes have been on the market for more than 15 years, but in 2018 Juul became so popular that it took three-quarters of the e-cigarette market (and subsequently created the adjective 'juuling'). Instead of targeting adults trying to quit smoking, e-cigarette companies began attracting young adults that don't smoke.
According to the Center for Disease Control, over 3.6 million high school students used an e-cigarette in the past 30 days last year. Twenty percent of Massachusetts high school students reported vaping in the past 30 days compared to 3.3 percent of adults, making vaping among high school students six times higher than that of adults. 
Long-term effects of using e-cigarettes are still unclear; Michigan banned flavored e-cigarettes to protect young adults from the potentially harmful effects of vaping. San Francisco has banned the sale of e-cigarettes in the city, citing the FDA's "refusal to follow the law."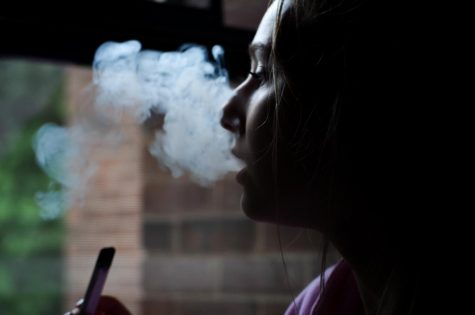 The CDC has been investigating cases across the U.S. related to pulmonary diseases caused by vaping. As of Sept. 6, 2019, there have been six confirmed deaths and over 450 cases of "lung illness associated with the use of e-cigarettes."
It's not only the health risks that are unknown, but the physical devices have some uncertainty to them as well. In June, a 17-year-old from Nevada was rushed to the emergency room after his e-cigarette exploded, causing severe damage to his face and mouth.
Injuries and even two deaths have been caused by faulty e-cigarettes. A study conducted by the British Medical Journal found that more than 2,000 e-cigarette explosion and burn injuries sent users to the emergency room from 2015 to 2017.
So what makes e-cigarettes and vaping so attractive to young adults?
"Vaping makes me feel buzzed and chill," said a sophomore at the University of Massachusetts Amherst. The student, who wishes to remain anonymous, classifies themselves as someone who has occasionally vaped since high school. 
"It's convenient," says a senior at UMass. "I don't have to walk down the street to a sketchy corner or go out into the woods to smoke, which makes me feel safer." The student said they've been vaping for about three years and doesn't think it's had any significant impact on their physical health, although it's hard for them to say definitively.
When asked if they thought vaping is safer than smoking a cigarette, both students said no. 
"Not anymore at least," said the sophomore."I feel like with smoking a cigarette, we at least have some research so you know what you're doing to your body; but vaping is so new we really don't know what it does. With all these people being hospitalized with lung problems from vaping, it's become pretty sketchy." 
"I don't think vaping is safer. I would rather smoke a real cigarette," the senior said.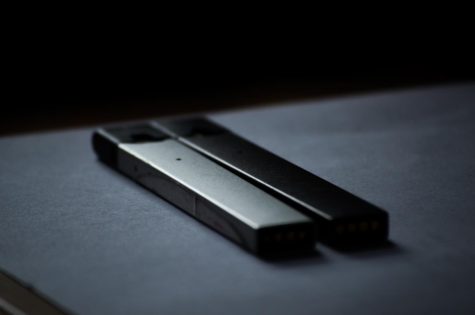 Symptoms of vaping-related illnesses include, but are not limited to: coughing, shortness of breath, chest pain, nausea, vomiting, diarrhea, fatigue, fever or weight loss.
UMass has been a tobacco and smoke free campus since July 1, 2013, joining 1,500 colleges and universities in the endeavor. 
"Vaping is a topic that Tobacco Free UMass, and the university, takes seriously. It was a focus of ours last academic year and continues to be one for this academic year. We have been performing campus outreach and education both in person and through our social media," a representative for Tobacco Free UMass said.  "We are changing our signage on campus this year so that it explicitly states that we are 'a tobacco-free, smoke-free, and vape-free campus.'"
The policy applies to all individuals on campus including students, staff, faculty, visitors and  contractors. The policy also applies to all university property, land, and buildings, including residential housing, parking lots, athletic fields and vehicles on university grounds. 
The UMass tobacco and smoke free commitment hopes to promote an environment free of tobacco influence, prevent tobacco initiation and use, provide aid to all campus community members in cessation and promote voluntary compliance on campus. 
Resources on how to quit smoking can be found here.
You can email Amelia at [email protected]