HBO's "Euphoria" does everything right when it comes to costume design
The themes tackled in the series might hit audiences in their feelings, but the onscreen styling hits even harder.
Fashion is cyclical. Prominent individuals, whether they be designers or influencers, find themselves in the role of arbiter of taste. By way of originality and inspiration, they set trends through personal taste and create aesthetics that become widely adopted by the fashion community. 
Contemporary broadcast entertainment, such as "Euphoria," pivots, taking these trends and interpreting them for wardrobe and costume design. The fashion reflected in entertainment eventually trickles down to audiences, who in turn adapt and further develop the looks until a new trend is born, thus forwarding the fashion cycle.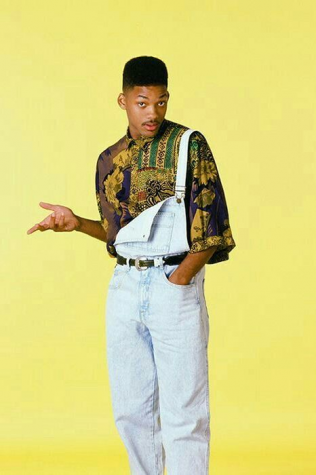 It's been seen before, "The Fresh Prince of Bel-Air" is a great example as it acts as a highlight reel featuring Will Smith wrapped in those nostalgic 90s prints. Smith even took the next step for himself and dropped a 26-piece collection dubbed "Bel-Air Athletics" earlier this month.
Not all fashion design carries the same effect, certain productions can feature fashion that seems staged, appearing like someone behind the scenes is coordinating what they're wearing. When this occurs it can feel like a character's fashion is objectively trying to represent an idea or emotion, rather than reflecting their identity. "Euphoria" avoids this through its wardrobe design, the motive behind each outfit is associated with a character's specific mindset or emotion at a specific point in the plot.
Created by show-runner Sam Levinson, "Euphoria" is an eight-episode series that aired on HBO back in June of 2019. Executive produced by Drake, Tmira Yardeni and Ron Leshem, the show served as an adaptation to an Israeli series of the same name.
The plot centers around Rue, a 17-year-old high school student, played by Zendaya Maree Stoermer Coleman, who is fresh out of rehab carrying ulterior motives regarding her sobriety. As Rue navigates her teenage landscape teeming with anxieties and addictions she is joined by a cast of characters, each with their accompanying struggles and inquisitions into their identities.
Heidi Bivens was the costume designer for "Euphoria." This isn't her first production either, she's worked on other productions such as Harmony Korine's "Spring Breakers" and "Beach Bum," as well as, Jonah Hill's "Mid90s," all of which were praised for their genuine and in-tune stylistic depictions. Each one of these films delivered authenticity and realism through the looks found on screen.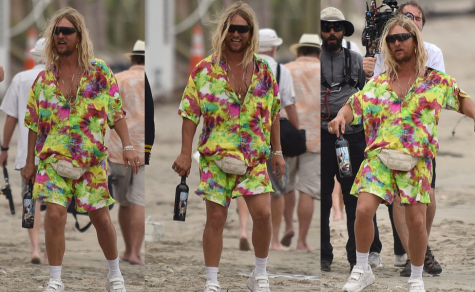 In an interview with Fashionista, Bivens shared that her research for "Euphoria" entailed sitting outside high schools to observe what teens were wearing, to get a feeling for the kinds of clothes and stores they had access to. This helped Bivens in embedding a sense of realism into the series, that aimed to accurately reflect what teenagers were wearing in 2019. The stylist did have some help, as throughout the planning stages Bivens had multiple collaborative fittings with each actor where she would apply input towards costumes and at points have actors wear their personally-owned clothing on set.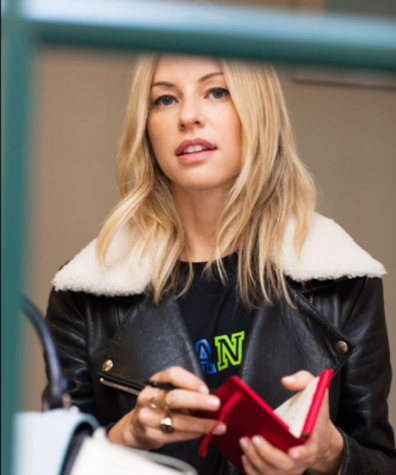 Her combination of industry experience and insightful research results in a fashion design that finds its footing in reality and references current trends while slinging looks that feel pertinent to each character, and more broadly, the demographic their meant to represent. In a time-piece, like "Euphoria," the wardrobe can make or break the immersion of what you are watching. You want it to feel like the directors placed a camera in that specific time and hit record, rather than construct a set on a soundstage in an attempt to replicate. This is easier said than done, but a wardrobe that accurately reflects a specific period's fashion serves to establish a connection between an audience and film.
"Euphoria," from personal observation, is meticulously receptive to the fashion zeitgeist present under Millennial and Gen-Z generations, which includes trends such as streetwear and a resurfacing vintage market. The costume design produces an honest resemblance to the fashion found in today's high schools and college campuses in an effortless manner. The attire has captivated audiences' attention, in the sense that viewers can relate to the way the cast dress as if it were one of their friends. Like previous films Bivens has worked on, "Euphoria" generated online commentary and analyzation from fashion and entertainment communities alike. The series finds realism through an effective wardrobe and in our day-and-age of online shopping, audiences now have the opportunity to purchase the coveted garments that catch their eyes on-screen.
In episode one, entitled "Pilot," we are introduced to Rue's drug dealer, Fezco. Fez, for short, is a high school drop-out who creates a living by operating a convenience store that doubles as a front. In this scene, while talking to Rue at a party, Fez is seen in air force ones, a pair of jeans, and a coogi-esque sweater.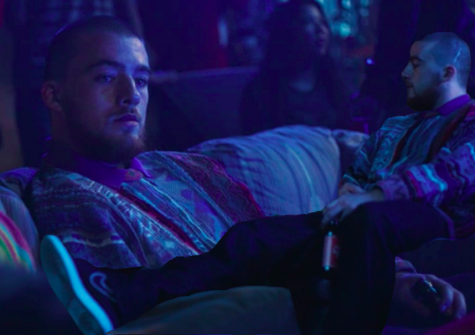 The accompanying silhouette appears seemingly flawless, as it incorporates a slim-fit found in the jeans that perfectly stacks on top of the profile of the Nike air force one. It's overall cozy, vintage oriented, and exudes confidence in patterns, colors and textures. The style is comparable to outfits rocked by the likes of Jadakiss and the Notorious B.I.G. while living in New York City during the early to mid-1990s, which has been modernly adopted by notable musicians such as the late Mac Miller.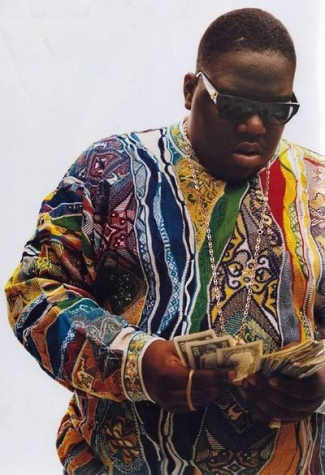 You can browse Coogi sweaters at https://coogi.com/collections/men/sweater
In this screenshot, Rue is wearing an oversized burgundy zip up along with an equally sized tye-dye tee that features an alien with a soccer ball. From first glance, this tee evokes nostalgic feelings that throw it back to the early 2000s through its use of a word art-esque graphic and of bright color. It might appear like it's from a youth soccer league, but this tee was a piece found in Gosha Rubchinskiy's SS18 collection. This implementation of the Moscow designer's shirt gives a clever and subtle nod to streetwear in the 21st century.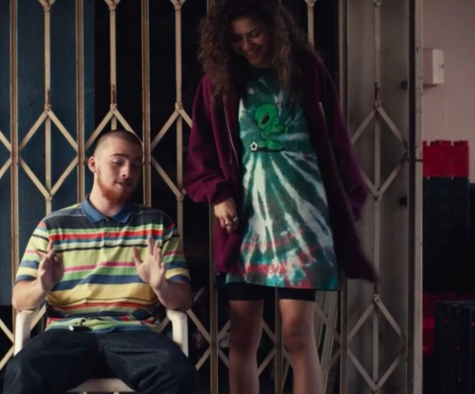 The fit speaks to Rue's character pretty clearly, as it's in fashion, but not mainstream per se, and most importantly, cozy and effortless. A color palette consisting of burgundy and green creates a flow between the zip-up sweater and shirt. It could be classified as a subtle flex. The silhouette perfectly balances the lengths of the sweater and shirt while maintaining a breathable bagginess.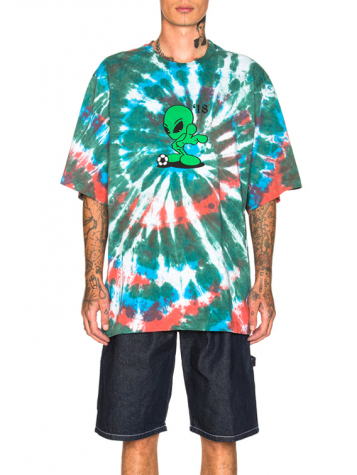 Behind the fashion, there's deeper implied character symbolism tied to Rue's choice in burgundy zip-up. When first seeing the outfit, the thought could be made that Rue's choice of sweater simply reflects a lack of care in regards to her appearance or a choice of form over fashion, but it's later revealed that Rue's true motivation for wearing the sweater stems from her relationship with her father, who is absent from the series for reasons revealed later on.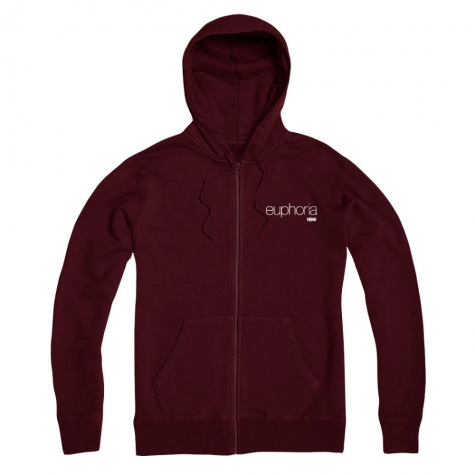 You can find the tee at https://www.shoptagr.com/shop/dover-street-market/dover-street-market/gosha-rubchinskiy-oversized-alien-t-shirt-(tie-dye)
The zip-up at https://shop.hbo.com/products/maroon-zip-up-hoodie-from-euphoria
Jules, played by Hunter Schafer, arguably has the most adventurous and outgoing style in the series. It's written into her character that she watches anime such as "Sailor Moon" and as a result, is inspired by the fashion found in the animated show. This entails a wardrobe comprising of unique and inspired graphics, with heavy application of pattern, pastel oriented color palettes and experimentation that's achieved through a tasteful blend of vintage and designer pieces. 
In this shot, Jules is styled in an Orange Streetwise Knit sweater, from Iggy, which has a front graphic pulled from Martin Bell's 1984 documentary, "Streetwise." The detailed knit graphics flow between a yellow and brown checkered pattern in blocks across the front and back of the sweater. Notable brands and fashion designers such as Virgil Abloh and Supreme have also deployed this use of an elaborate knit graphic in previous collections.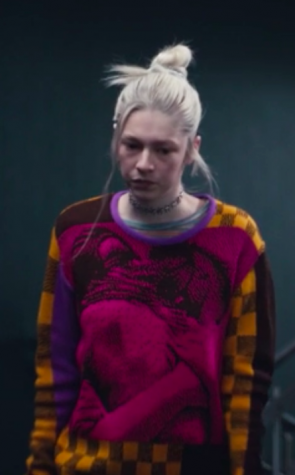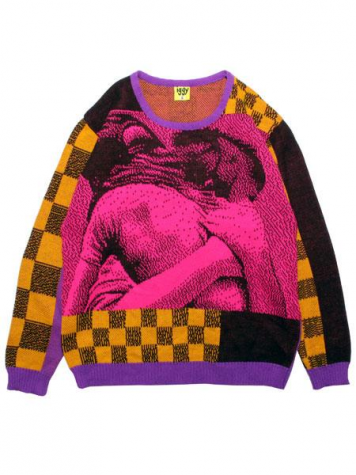 You can find the Iggy sweater at https://www.iggy.nyc/product-page/orange-streetwise-knit
"Euphoria" is another trophy for Heidi Bivens' case. The wardrobe she's created is unblemished and precise. On-screen, it offers a sense of reality and familiarity to a compelling and gritty drama teenage. The fits in "Euphoria" feel worn-in, like they've been through multiple experiences and washes. While on each character, the fashion design acts to tell a second, more subtle, story of each character. Through the implementation of current trends found in youth culture, Bivens takes the extra step in delivering costume design that carries authenticity by its genuine take on Millenial and Gen Z fashion. With fashion's tendency to be cyclical the question presents itself, where does the cycle start? Do we dress Hollywood, or does Hollywood dress us?
Email Shane at [email protected] or follow him on Twitter @shaeguilll.