Straight Sex ignite audiences with their final string of shows
The bands transformed an Amherst College lounge into a DIY rock show
On leap day 2020, students from the Five College Consortium gathered at Amherst College. They congregated for a DIY show within Marsh House, the college's music and arts-themed dorm. Inside the building's lounge, the concert transformed the space into a quaint venue. 
Arriving around 8:45 p.m. and taking a look around, the crowd was surprisingly scant. The instruments sat between two columns at the center of the venue. Adorned with many of the typical DIY decorations,  twinkling white string lights were wrapped around the columns while orange ones covered the drumkit's bass drum. A red light sat on the floor illuminating the space where the bands would soon stand. Most curious was a film projector that sat in front atop a speaker and displayed a series of moving shapes and colors on the wall behind the instruments. 
Finally,  around 8:50 p.m. the first band walked on 'stage.' They were a female duo called Shrimp Mash, who were playing their first gig together as a band that evening. They stood in the light of the film projector and the sound of the film winding through the machine complimented their set. To start off their set they played a song that was about someone begging their mother for a dodo bird. This song and many others were at times rather unconventional, comprised of chaotic, but somehow peaceful electronic keyboard beats. Accompanying this was placid guitar and the two members' harmonious vocals. Their performance was chill and quite charming as they would occasionally make a mistake, but just smile and laugh with each other and continue playing. A volunteer was even called up from the crowd to play the electronic drumbeat for one of their songs. They looked like they were having a good time which is one of my favorite things not only about their performance, but DIY as a whole.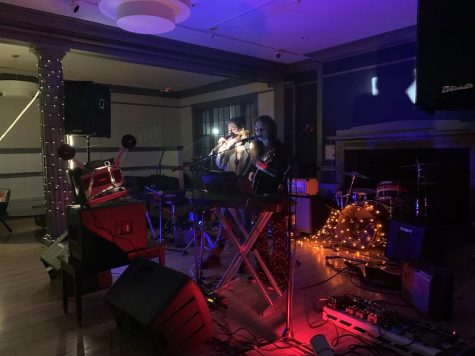 The next band was Straight Sex, a girl fronted rock band. During the transition between performances, while the band tuned up and prepared their instruments, upbeat disco music filled the room. This was quite a shift from the music prior and set the tone for the rest of the show.
Straight Sex immediately hyped up the crowd. At this point in the night, it seemed the room had filled up and it was clear who most were there for. Gone were Shrimp Mash's chill, peaceful, melodic tunes, replaced by strong bass lines and loud guitar riffs. No longer were people swaying back and forth, holding their phone flashlights above their heads. Now they were thrashing, bouncing, and there was plenty of headbanging. 
For their second song, they played my personal favorite, "Song for Vanwyngarden," which was surprising. I expected them to play it last as it is most people in the band's favorite as well. Kat Heidelberger, the singer for Straight Sex, said many note  the song sounds like "Scooby-Doo." The song opens with a catchy guitar riff that just makes you want to move. Guitarist, Joey Distasio informed me that the song is about indie rock band MGMT and the title is a reference to their singer, Andrew Vanwyngarden. There is a myriad of references to MGMT's work throughout the track. Several of their song titles are mentioned such as "the youth," "kids," and "weekend wars." The song references MGMT's time at Wesleyan University as well. The song is inspired by MGMT's album "Congratulations" which is one of Distasio's favorite albums. He said that he always wanted to craft a hero-worship song like the tracks "Song for Dan Treacy" or "Brian Eno" which both appear on "Congratulations." Song For Vanwyngarden ends powerfully with a build-up, a pause, and then a break down with an insanely strong guitar solo. 
Straight Sex started back in fall 2018 when Distasio, wanted to make a band when he moved into the area for grad school. He made a Facebook post to which drummer, Corey Camara responded. Distasio then jammed with Camara's friends and the rest is history. Distasio changed his Tinder profile to an ad for band members through which they found their other guitarist, Chris Whearty. 
Distasio said that he writes most of their songs, but that their process is quite collaborative. Lyrics are mostly Heidelberger's creation as Distasio said she is much more poetic than him. Straight Sex's genre is difficult to pinpoint, they even had trouble defining it themselves. According to them, their music fits under the "general psych umbrella." 
They said that their message is "not to take yourself too seriously." "We generally just like to cultivate specific feelings musically," they said.  Adding, "We often all talk about the visuals that come to mind when listening to what we come up with." For instance, Distasio said that their song "Slimy Sunday" sounds like a "lazy, rainy Sunday tune." He noted, "The thing we really hope for is that we managed to transport you into that headspace."
After only playing for about 20 minutes the band said that they only had "one song left" which was met with many disappointed sighs. This song was titled "Hoitecathy 1-6,"  a new song from their upcoming album "Hoitecathy." Heidelberger said that this song takes the listener on a "real journey." This singular song unexpectedly lasted for 10-15 minutes. Similar to Bohemian Rhapsody by how the rhythm and tone of the song changed constantly.  Overall, the song seemed to be much more hardened and rock-based than their previous music. The crowd could not stop moving. When the song eventually came to an end it was met with an uproar of cheers and applause, closing out their set on a great note. 
The show was closed out by Carinae, a psychedelic rock band from Hadley. Their high-pitched vocals and wavy instrumentals were a departure from Straight Sex's sound.
Sadly, this was one of Straight Sex's final shows. In a couple of months, they will be going on an "indefinite hiatus." This is due to the physical distance between the band members; half live in Amherst and the other around Boston. They will be ending their run on a high note with the release of their new album which coincides with their final show on April 3rd. 
What's Distasio's favorite part of the band? "For me personally it was beyond the music, it was really the fact that I became such good friends with everyone in the band, which is something that will last a lot longer than April 3rd." 
You can find Straight Sex on Spotify, Bandcamp, or Instagram. 
Email David at [email protected]