The Fantastic Life of Young Frozone
Astghik Dion, Photo/Assistant Entertainment Editor
April 7, 2020
"Why do this? But I never find an answer to that. I just keep doing it. And I think that's a wonderful thing, I hope I never get an answer to that."
An obstacle that almost every artist with immigrant parents in the United States faces regardless of the field they are in, is making their parents believe in their vision. It took 20-year-old Yaw Amp getting temporarily kicked out of college during his sophomore year for his parents to truly see how serious making music is to him. 
Yaw -also known as Young Frozone- is a hip-hop artist from Worcester, Massachusetts studying communications here at UMass, "it was either that or journalism, 'cus if I'm not a rapper, then I'd like to be a sports media personality, something like ESPN," said Amp.
Being at home can make one feel too comfortable, too complacent, and with school being out of the way for Yaw right now, music is the only thing left, making a change of scenery that much more important for him.
"If I stay in Massachusetts forever, I never breakthrough 'cus I feel so complacent," he said. "But I would never think of staying anywhere else. I do want to be a Massachusetts rapper, I want to rep. Mass. As far as the Worcester rap scene, now that I can see it, I think it could be so much more."
In recent years, Yaw has become a part of that "so much more." Music has become a part of his daily routine: eat, sleep, make music and repeat. Hearing the impassioned way in which he discusses his craft would make one believe he has been immersed within the industry all his life, yet this isn't the reality. 
It wasn't until 2016 when a wave of coincidences crashed into Amp's life, one reason after another all pointing him into making rap music. The first being an auto-tune app on Android called "Tune Me."
"Me and my boy Andrew were just at his house waiting for a basketball game, making song after song on the app," he said. "One of them got popular with a cult-like following at my school, it was called 'Black Curry.'"
What initially began as diss tracks between friends just for fun turned to Yaw performing in front of his whole high school for a talent show, which he won. At this point however, he had never fully written a song, which brings us to sign number two. 
In the summertime of 2016, he joined a college readiness program called "Upward Bound," where he attended a history of hip-hop class taught by a former rapper, where the idea of making rapping a career first brewed in his mind. 
The program would prove to be a sole source of inspiration for him at the time. "In that same program I was in a poetry elective which turned out to be a study of Kendrick Lamar's 'To Pimp A  Butterfly' – my all-time favorite album," he said. "These things just kept happening, and then at the end of that summer program my counselor kind of noticed what was going on with me. He gave me a notebook that I still have to this day, and after I got that notebook I was like I might as well start writing rhymes."
It was at this same program where he later received his musical moniker, "Young Frozone." He was called back to work for them and taught his own rap elective in which everyone went around and said their rap name. 
"Then they were like 'what's your rap name?' I was like s***, I don't want to say my real rap name cus it's not that cool, so I said Young Frozone," he said. "One of my first songs was called 'Young Frozone', just randomly. That's the first time Young Frozone was ever invented, then it came back up in that elective and I was just like I have to do something with the persona and make it a persona."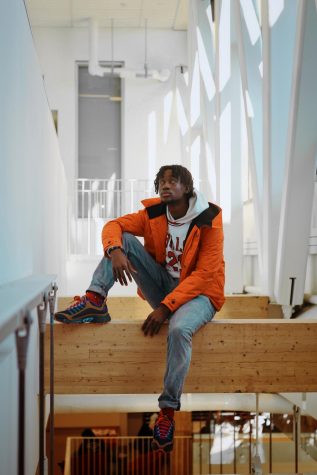 And that is exactly what he did. His entire mixtape released in November of 2019 is centered around the theme of the "The Fantastic Life of Young Frozone." 
The tape was originally meant to be merely an EP of more "fun, trap-based songs." However, Amp soon got fed up with what he was doing, he got bored and turned to other forms of inspiration.
"At the same time, I was also watching the 'Wu-Tang' series on Hulu and I was feeling exactly what they're feeling the same energy," he said. "I was like,  I need some beats like this."
The beats he was looking for proved to be difficult to find, and just as he was about to give up, a dusty beat on SoundCloud with a "Dragon Ball Z" sample fell into his lap, and he knew it was a wrap. 
"All I needed was lyrics, I didn't have any inspiration," he said. "Then, I heard this Raekwon song, 'Guillotine.' Inspectah Deck started with 'poisonous paragraphs' and then he just went off." 
This would serve to inspire his first, and favorite song on the mixtape, "Frozone's Theme." Altogether the project was made within his first semester of sophomore year and features fellow UMass artists Kid Fob and Josue.
A couple of months after the release of the mixtape, Amp joined forces with Josue yet again for their single, "Don't Blink," where as most of his songs, Amp's flow is more reminiscent of old-school, east-coast hip-hop rather than the cadence typically seen in MA rappers today. It's not trying to be New York or Chicago drill, it's something uniquely true to himself.
"
If you think about a sculpture, I'm a stone still being etched."
 "With all due humbleness, I'm not trying to sound cocky, but there's not a lot of people that can write the way I write. The way I write, I tend to just focus on poetry, the relationship between words," he said. "I try to make as many connections between words as I can, I try to not just say words. That stylistically sets me apart. I didn't listen to too many artists coming up, my favorite rappers are Kanye and Kendrick and I don't rap like any of them I don't believe. I can't really rap like any of them. Even myself I don't believe I have a style yet, I just rap. So, I think that's what sets me apart at the moment, if you think about a sculpture, I'm a stone still being etched."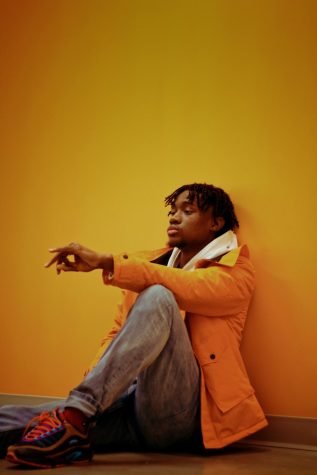 Growing up for Amp is defined by the artists that were played at that time. Eminem when he was really young, then came Lil Wayne, but life changed when Ye entered his life. 
"Young adolescence was straight Kanye West, that was it, music was synonymous with him," he said. "Until, I started listening to Kendrick Lamar. At first I didn't even like Kendrick Lamar, I thought he was kind of boring but then after I listened to Pimp ["To Pimp a Butterfly"], got into the rest of his work, music just became Kanye and Kendrick. Even to this day it's kind of still like that, but now there's a lot more artists in the mix."
Amp has always been more drawn to lyrical rap, music with more substance rather than music made just for fun, but coming to UMass allowed him to appreciate the more simplistic styles of rap alongside the music he knew and loved.
"Collaborating with my friends and day after day listening to a Playboi Carti type beat or something like that on YouTube, that's really made me appreciate the simplistic form of rap," he said. "When it's simpler there's more room for other components of rapping. You could get simpler with your lyrics and get crazier with your flow. Coming to UMass, that's something I was able to grow into more."
Just as the UMass community has taught Yaw about music, it has also embraced and spread his music proudly. Yet, as much as he appreciates it, Yaw does not let the support of his peers make him cocky, he merely sees it as a drive to go harder. 
"Between me and my core group of friends that I talk to about creative things, we always talk about conquering UMass, that's at the top of the agenda. So to hear you say that I'm making progress in that, that's why I'm like bro you're bugging," he laughed. "I don't see it, there's too much to do that I haven't done."
Yaw can point to the release of his mixtape as the first time the support was fully tangible, even from people that he didn't know. Yet, he still believes he's nowhere near where he needs to be, "by the end of it I want it to be like you say UMass, you think of Yaw – by the end of all this, that's what it should be," he said. 
Yaw admits it's not an easy road to find success as an artist and has already felt the weight of the challenges that come with the journey. Self-questioning being the most prevalent. 
"The mood swings are crazy, one day you're on some stuff and you're like I'm the dopest dude alive, the next day it's like man I got nothing in me. Some days it's not a big thing but everything runs through my mind, and one of the things that run through my mind is life would be so much easier if I didn't do this. Why do this? But I never find an answer to that. I just keep doing it. And I think that's a wonderful thing, I hope I never get an answer to that."
Being an artist also means having your brain run lightyears ahead of others, with project planning for the next year, next decade…etc. It is enough to exhaust anyone's mental capacity, but he knows he is built for it.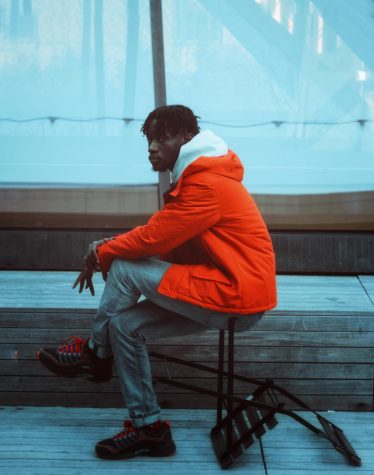 "I fully believe I have the talent and I will have the fan base and structure to make money off this," he said. "I just want to be able to make money by rapping, that's as simple as it gets. That would be the best life for me, also if I'm in a place where I make money off rap, have loyal fans but there's still people sleeping, that's the best life. And they invite me to a whole bunch of celebrity basketball games to play in, that would be lit."
The next project from Yaw that you should keep your eyes peeled for is a mixtape that will be dropping in April, "State of the Game."
"I'm trying to balance the songs just for fun with the meaningful stuff, stuff I could play for my mom."
Listen and connect to Yaw Amp aka Young Frozone below.
Email Astghik at [email protected] or follow her on Twitter @astghikjourn