25 years ago, Mobb Deep's "The Infamous" radiated black Air Force 1 energy before it was cool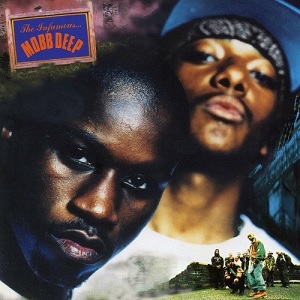 If you're from certain communities or if you've been deep into Twitter memes in the last year, the phrase "Black Air Force activity" might ring a bell. 
For the unassuming sneakerhead, Nike's Air Force 1 in an all-black colorway is nothing more than a low-value sneaker that one might buy for activities that might get their shoes dirty. But for those who know, it's understood that someone who willingly walks out of the house with black Air Force 1s is absolutely up to no good. They feed off danger and chaos and simply can't be trusted. If you are currently rocking black Air Force 1s, take a second and question what got you to this moment. 
Mobb Deep and their second album "The Infamous" was the epitome of black Air Force 1 energy two decades before it was popular on Twitter.
While I was unable to uncover any evidence of duo Havoc and Prodigy rocking black Air Forces, on the album's intro track, Prodigy does rap about stomping out their rivals in black Timberlands, which arguably might be worse.
1995 was loaded with legendary hip-hop albums. On the west coast, Tupac released his third album, the befittingly titled "Me Against the World," one month into serving his prison sentence and within six months of being shot five times. In Atlanta, Goodie Mob released the unapologetically southern album "Soul Food," where Cee-Lo Green and the rest of the Dungeon crew proved that the "Dirty South" had something to say. Even the midwest brought out gems with Bone Thugs-n-Harmony's "E. 1999 Eternal," in which the Cleveland rap group blended rap and melody seamlessly well before Nelly and Drake. 
"The Infamous" was without a doubt one of the most important albums from the east coast in 1995 next to Raekwon's "Only Built 4 Cuban Linx." What truly sets these albums apart from the other regions is just how gritty and borderline sinister the production sounds.
Along with the Wu-tang Clan's group and solo records, Mobb Deep's "The Infamous" was the grim, foreboding yin to the bright lights of Bad Boy Records' yang. Don't get me wrong, I don't listen to "Ready to Die" questioning if sh*t was sweet with The Notorious B.I.G and Puff Daddy back in the day, seeing that "Suicidal Thoughts" is far from sweet. But, there's just this undeniable Hollywood glitz and glam to some of their music in the 90s that was instrumental in their rise to the top.
When I think of visuals of Biggie, I think of the "Juicy" music video with him lounging by the pool with a bunch of video vixens sipping champagne and toasting to making it past the hardships of his past life. The element of danger is of the past. When I hear songs like "Juicy" and "Big Poppa" I get the urge to dance and sing like a drunk white girl during Karaoke night at the bar. Bad Boy even sampled Diana Ross on "Mo Money Mo Problems," which sonically is the exact opposite of black Air Force 1 energy.
When I hear "The Infamous," that urge to dance is quickly replaced with two reactions:
Nod my head vigorously 

Fear for my life
After a relatively unsuccessful debut album at the tail end of their teen years, Havoc and Prodigy being dropped from their first record label, 4th & Broadway, birthed the sound that would lead to a certified hip-hop classic. The combination of Havoc's hollowed, somewhere between sinister and depressing production (with assistance from A Tribe Called Quest's Q-Tip), and the duo's cutthroat lyricism, debasing life in the Queensbridge public housing of New York City, create a feeling that I can only describe as bout-that-life-ness.
It's almost as if dark clouds hover above as the deep, ominous chords open the album on "The Start of Your Ending (41st Side)," immediately making it clear that "The Infamous" isn't one for the feint of heart. And while lyrics like "Word to my unborn you get scolded" and "We do damage to limbs / In '91, stomping you out with black Timbs" sound menacing over the grim instrumental, it's what Prodigy has to say on "(The Infamous Prelude)" that follows that solidified that Mobb Deep was really 'bout that life. 
There's no beat. No gunshot sound effects. No showmanship in Prodigy's deadpan delivery. It's simply a warning that Mobb Deep is not the duo to test on the streets. His closing lines "I'ma have to get on some old high school sh*t, start punching n***** in they faces for living" still rings in my ears more than any rapped lyric on the album. Who punches someone in their face just for a living? Negativity at its most pure.
What continues to mystify me about "The Infamous" beyond the undisputed bout-that-life-ness and black Air Force 1 activity radiated is the fact that "Shook Ones, Pt. II"–without a doubt the duo's most recognizable song (ranked in Rolling Stone's top 50 hip-hop songs of all time and is)–comes FIFTEENTH on the album's tracklist. And somehow, the album keeps the momentum strong throughout the buildup to the undeniable climax. 
While I love the more confrontational tracks oozing of negativity along with this build-up to "Shook Ones, Pt. II," it's the tracks that shed light on the realities of street life that add the real meat to the album with phenomenal storytelling.
"Temperature's Rising" reads like an open letter to a member of the crew on the run from the police after committing murder.
The Q-Tip assisted "Drink Away the Pain (Situations)" reflects on alcoholism by personifying alcoholic drinks from Tanqueray to Hennessy as toxic romantic partners. Q-Tip rhymes about staging a robbery with a whole crew of personified clothing brands, likely revealing how the urge to look fly can lead to a life of crime in the streets. 
But it's "Up North Trip" where Prodigy best exemplifies the internal pain that comes with black Air Force 1 activity and street life.
"Then I pause… and ask God why


Did he put me on this Earth just so I could die


I sit back and build on all the things I did wrong

Why I'm still breathin, and all my friends gone


I try not to dwell on the subject for a while


Cause I might get stuck in this corrupt lifestyle


But my, heart pumps foul blood through my arteries" – Prodigy, "Up North Trip" 
Following "The Infamous," Mobb Deep went on to put out many great albums for the next 15 years that followed, but none that sonically and lyrically oozed of negativity and coldness quite like this magnum opus. That doesn't mean that they themselves ever lost their black Air Force 1 energy. Just look to the duo sparking a beef with Tupac and later Jay-Z, or nearly fumbling the tour money bag by nearly disbanding over drunk Twitter fingers in 2012.
Of course, I could dedicate a large portion of my word count to one of the most iconic hip-hop songs of all time in "Shook Ones, Pt. II," but I'll just assume if you've gotten this far in the article, you are already aware of its greatness. And if you haven't heard the original, you've probably heard at least one rapper try and freestyle on one of the greatest rap instrumentals ever. But no one can capture the cutthroat aura of Prodigy and Havoc on the original. 
If "Rock you in your face, stab your brain with your nose bone" isn't black Air Force activity, I don't know what is.