No one's upset with The Hails' debut
From Spotify success, to an EP concept and working remotely the five-piece shines in an exploration of new sounds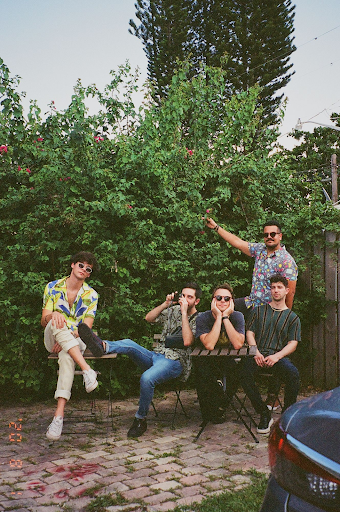 In the midst of a pandemic, The Hails aren't slowing down. The Florida based five-piece met as students at the University of Florida. Lead vocalist Robbie Kingsley, guitarist and back-up vocalist Franco Solari, guitarist Dylan McCue, bassist Andre Escobar and drummer Zach Levy began their musical climb in 2015, playing house shows before gaining traction after releasing their successful single "Younger." Since then, The Hails have sporadically put out singles, played shows and briefly toured before the world shut down. Now, The Hails are gliding from singles to a full body of work with their debut EP "He Seems Upset," which drops on Aug. 25.
The inception began last October. "The timeline of the concept of the EP started not until we crossed paths with our current managers Benji and Andrew,"  McCue said from his room in Florida during the virtual press conference. "We'd rented this Airbnb in Virginia to write more music," he continued, "They met us in this Airbnb, heard the music and agreed to work with us and then said 'You guys should do an EP.'" 
For a band who had only released singles, they found themselves excited to make a statement with their music and release a larger body of work, but it wasn't without its difficulties. When it came to challenges Kingsley said, "Really just working remote, a lot of it got strung together as we were in different cities. Like the wait time on getting mixes back always sucks." Kingsley brought up having one producer in LA and bandmate Solari out in DC. "It always felt like we were just adding more to it. Finally, we reached a point where we were at eight songs saying 'This feels alright.'" said Kingsley. 
The boys did admit their luck; most of their necessary recordings were completed by January. "We did some last few things at my apartment in DC and that was like the week before the entire world shut down," said Solari. Even though they were in different cities, The Hails had been used to working apart. "When we graduated we all kinda scattered." Solari pointed out, "We had been living this socially distanced lifestyle making music for like a year kinda before we were forced to. So in a weird way, I kinda feel like we had been preparing for this before we had to do it now." 
After drawing a line in the sand, they had a finite tracklist of eight songs. Some were singles they'd already put out like "Denial" and "Situations" others were new additions like "Sippin on the Daylight." 
Sippin on the Daylight
While rubbing his hands together, Kingsley looked from the window back to the webcam and said, "We were originally thinking about putting Sippin out on its own," he continued, "We could've had Sippin out by last Summer." When talk of an EP began, they put the song on hold. With the first few notes of "Sippin on the Daylight," there are hints of  80's synth grooves. The instrumental track alone pairs a perfectly timed drumbeat with a sick recognizable guitar riff that complements the synth. When married with Kingsley's effortlessly smooth vocals, you get a work of art. 
Denial
"Sippin on the Daylight" has an almost seamless transition into the more electronically-based "Denial." The band considered the track a risk.  "When we did that crazy well, I'm not going to say it's crazy, electronic breakdown section, we kinda went more electronic-y on that one," said Escobar. Even with the electronic, a killer acoustic bass line still shines through. "Denial" maintains the bouncy and upbeat nature of the first track, the type of indie/alternative pop that fans know and love, while exhibiting a new direction for the group. 
Situations
"Situations" is a single that was released back in May. In comparison to the other records, "Situations" has sat with listeners the longest, making it an easier pill to swallow. Out of the eight, it definitely feels the most like a Hails record, but still fits nicely among the new tracks. It goes in the same direction of the new sound but wades on the safer side. The guitar riff feels inspired by The Strokes, which Kingsley admits, is one of many inspirations for their music, while Solari admitted he'd listened to less than ten of The Strokes songs.
Empty Castles
"Empty Castles" puts an abrupt, but welcomed hold on the upbeat rhythms of prior tracks. It draws a line between the first half of the EP and the latter, with merely a guitar and echoey vocals. However, it's no longer Kingsley's smooth vocals, but rather Solari's velvet belts and subtle runs. Solari performed background vocals on previous records, but this is the first time his vocals stand on their own. "I guess around the time 'Younger' started doing what it did, it became a shift of like, 'Oh this is something people actually care about,' and then personally, I started feeling like, 'How can I make a bigger contribution?'" Solari said. 
Heartbeat
"Heartbeat" begins the latter half of the EP. "You can listen from 'Heartbeat' all the way through to 'Younger' and it's like one continuous medley," said Solari, and it couldn't be more true. There is a similar pace in the songs, even if the boys took them in different directions.   It goes back to the boys' indie/alternative pop roots, with those distinct guitar riffs they do so well. This was something that came more organically. "It wasn't something we really planned, it was something that just came together and we were like 'wow' it was a magic moment for us," Solari said. 
Heartbeat Pt. 2
Out of all the tracks on the EP, "Heartbeat Pt. 2" stands out the most. "If you would've told me in a vacuum 'Yeah you're just gonna throw a remix of your own song on the middle of the tracklist' I would've been heavily against that, but then I just heard it," said Kingsley. "Heartbeat Pt. 2," produced solely by Solari on his own, drastically shifts from any previous work. The remix picks up right where "Heartbeat" leaves off, going into vocals by Solari before the bass drops and the beat kicks in. This song has the most groove and danceability but in a new way.
Flatlines (Interlude)
"Flatlines" is a track that gives listeners a chance to breathe. The boys had some interesting ways of describing the track when asked what they see when they hear it. "LSD," McCue joked. "I think of someone getting flushed down the toilet and like slowly sinking," Solari said with a slight chuckle. "I feel like it's a breath of fresh air. Just understanding everything that you just heard," said Escobar. Kingsley on the other hand, pulled out his phone and put it to his ear because he couldn't remember the melody and then said, "It definitely feels like floating, ya know?" 
Younger 
One of their most successful singles, with over 4 million streams on Spotify, a fitting  end to their debut release with the track "Younger." Newly mastered, "Younger" sounds crisper and more defined, but still has the same charm as the original single. "Younger" felt like an homage to the fans or a full-circle moment for the guys. "It felt like a nice bow on the first era of The Hails, I guess," Kingsley said. "This is the song that has given us any type of fighting chance as a band." There's a beautiful sentiment in that, closing a chapter with where it all began. 
"He Seems Upset" debuts a new and experimental sound, but at its core still feels like The Hails. The new wave of synth and groove was definitely going a bit out of their comfort zone, but still going in a direction they've always wanted to. "We've all always loved that type of music, we've all been fairly eclectic with our music taste," McCue began, "It's just that we've all grew up on instruments obviously, so that was what we were comfortable making when we first started." It seems now that The Hails have matured as a group, coming into this project with a very 'why not?' mentality, a mentality that has proven to do well for them. "He Seems Upset" is an exploration of new synths and electronics, while still making room for the classic instrument based sound they grew up on. With this blend, The Hails keeps listeners engaged with every track. 
Stream "He Seems Upset" on all platforms now.
Email Nasya at [email protected] or follow her on Twitter @nasblackshear