Why you should give Selena Gomez's Rare Beauty a try
The perfect collection for those who want a "natural look"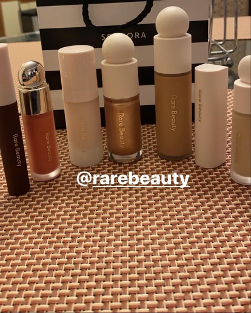 With every celebrity and influencer dropping a beauty line, it may be hard to find the diamonds in the rough. While the makeup lines of Kylie Jenner and Rihanna have taken prime real estate in the makeup world, lines from others like Jaclyn Hill and Millie Bobby Brown have taken some tumbles. Next up to the plate? Selena Gomez, with her Sephora exclusive collection "Rare Beauty." The collection, which went live on September 3, consists of face, eyes, brows and lip products, as well as miscellaneous beauty tools. After buying most of the collection, (excluding the brow products and eyeliner), and trying it out for a few days, here's what I think. 
Coverage and Shade Range
It's 2020. If your shade range isn't inclusive, you're doing something wrong. Rihanna broke ground when she chose to release 40 shades for Fenty Beauty, but Selena Gomez has taken it one step further. Rare Beauty in its debut has put out 48 matching foundations and concealers, providing endless opportunities for makeup lovers to find a shade that works for them.
I think it's safe to say that when you're buying a foundation or concealer, you want it to have decent coverage. The "Liquid Touch Weightless Foundation" has just the right amount of coverage. Whether you love a natural look or full glam, the coverage is medium but definitely buildable. Unlike most foundations, Rare Beauty chose a doe-foot applicator, rather than a pump, but personally I felt that made applying the product a lot easier. This was the same for the "Liquid Touch Brightening Concealer," a doe-foot applicator atop a wand. I also applaud the coverage of the concealer; a little bit definitely goes a long way and leaves you with a nice highlighted glow. Neither products had the flaw of oxidizing in a way that made me look orange or poorly toned.
Texture and Pigment
Personally, I've never been a fan of makeup that makes my skin feel heavy or cakey, so Rare Beauty was right up my alley. What really drew me to the collection was that all the products were liquid; not a powder in sight. Since they're all liquid, every product was super easy to blend and left a very natural finish depending on the amount of product used. While the products were on, I never felt like I was wearing a lot of makeup, but rather just extenuating my own features. Plus, not a lot of product would transfer onto my mask, which is always a must-have during these pandemic days. My favorite textures had to be the "With Gratitude Dewy Lip Balm" and the "Lip Souffle Matte Cream Lipstick." The lip balm felt so hydrating on the lips and even when it dried my lips never felt unmoisturized or chapped. The liquid lipstick though was a game-changer. I've always been a massive fan of the Kylie Jenner lip kits, but hated how much they dried out my lips. I was excited to see Rare Beauty carrying my favorite lip color, a true brown, that happened to be a liquid lippy. When I put it on, it felt like butter and never once did it feel like my lips were begging for moisture! 
I feel the ultimate goal of this collection was "a little bit goes a long way." Whether it was a few dabs of foundation or a couple spots of concealer, the tiniest amount would do the trick. This was certainly true for the "Soft Pinch Liquid Blush," as I quickly learned after putting far more on than I needed, not realizing how bright and pigmented it was. The blush, along with the "Positive Light Liquid Luminizer Highlight," really only needs the slightest dab, so they're more of a "scrape the applicator before you put it on" type of product. The same goes for the tinted lip balm; the slightest dab on the lips and a little rub can bring just the right amount of color in.  
Price
Aside from wanting to know what the products are like, everyone wants to know the price. Seeing that it's a Sephora exclusive collection as well as a celebrity brand, you are going to pay more than your average drugstore line. The collection ranges from $14-$29, with low-end items being a beauty sponge, concealer brush and travel size primer. The middle priced items are the lip balm, concealer and eyeliner, while the blush, highlight, foundation and other face products sit on the higher end. Rare Beauty, in comparison to most high-end brands, seems fairly priced for the amount of product, coverage and pigment the user would be getting.
All in all, Rare Beauty by Selena Gomez is a collection worth giving a try. Gomez definitely catered to a more natural-look crowd, but still made versatile products that could be used for full-glam. The collection is lightweight and fun, but certainly has room to grow. I personally cannot wait until they release more eye products or different blush and lip colors. You can get "Rare Beauty" by Selena Gomez now at a Sephora near you. 
Email Nasya Blackshear at nbl[email protected] and follow her on Twitter at @nasblackshear.