Bryson Tiller is Back: "Anniversary" Makes Long-Awaited Arrival
Seeking redemption, Tiller shares emotional collection after hiatus
Considered as an influential artist to some and an unknown figure to others, Bryson Tiller has been characterized as a hidden gem throughout the music industry, with the potential to break through as he steadily gains recognition. Out of Louisville, Tiller emerged into the spotlight by debuting his initial mixtape "Killer Instinct Vol 1.," then received significant praise following the release of his hit single "Don't," which remains arguably the most recognized and popular song of his career. After reaching No. 13 on the Billboard Hot 100, Tiller found his true rhythm and continued to publish music, with the release of his debut album "Trapsoul" in October 2015. 
After having a few years of experience under his belt, Tiller skyrocketed and didn't look back, resulting in a Grammy nomination for his single, "Exchange," winning two BET Awards and releasing another successful album in 2017, which reached No. 1 on the Billboard 200 charts. Just as Tiller finally reached the superstar level he always strived for, he went silent for almost three years,  releasing only two singles in 2019. Was Tiller's career just going to remain at a three-star status? Such thoughts came to a halt on Friday, October 2, with the exciting news of Tiller's third album, "Anniversary," which would commemorate the five year anniversary of his debut album.
Bryson Tiller portrays a dazed, tranquil manner through his album cover art, with blurred colors catching the eye. The simple font of the album's title suggests an homage to the artist's origins, as he dedicates his newest work to his many years of hard work and overcoming his struggles with depression. Tiller radiates mellow vibes through his work that become apparent beyond the cover. 
An R&B artist at heart, Tiller showcases his amazing talents by combining his soulful, dream-like singing with an upbeat rap style. The ten track album expresses the artist's deepest emotions about love and becoming his best self, allowing his listeners to connect with him. After listening to the entire album, I interpreted Tiller's main goal to adventure into life's most questionable moments and what they truly represent, especially today during a time with so much uncertainty and confusion. 
Tiller opens the collection with "Years Go By,"  providing a clear timeline between his released albums, as well as anticipating the hopeful energy directed towards the album's potential success. His confession of anxiety and nervous thoughts are shown in the beginning verses, "Thought we might be able to relax right now (Now) / Pressure on me whenever I'm flatlined down." The sacrifices being made by Tiller are clearly demonstrated with his passionate vocals and apologetic lyrics, speaking the truth that he has believed for so long. Tiller's perfect combination of smooth and sporadic phrases emphasize his ability to switch his emotions quickly and effectively.
If only Tiller could join forces with a voice that complements his own, and that's where Drake comes in. The gifted duo's piece "Outta Time" is the highlight of the album, with lyrics like "Things were never the way we made 'em out to be/ How we thought they were / Lately I'm not sure / One thing for sure is when we're together / We're toxic as ever." Drake's stellar opening verse debating whether he should stay with his lover or go is followed by Tiller repeating this pattern. I love the meaning behind "Outta Time" as it uncovers the issue of toxicity in relationships as a determinant of ending things. "Next to You" closes the door on a well-rounded album for Tiller, emphasizing the difficulty of being apart from someone you love: "Oh, I've gotta get next to you / But you're so far away / Searching for a heart another world away / You're all I." The instrumental features present in this track set the tone for Tiller to confess his genuine thoughts. Tiller utilizes the creations of "lo-fi music," which features sounds that do not work well individually, but when combined with other sounds, they become harmonious and deliver a specific aesthetic. He includes subtle and soothing beats in his songs that do not overpower the lyrics, as well as the bass tones found in rap music. Tiller's creations have such calming powers that make listeners feel the passion beneath the album.
My favorites of the ten-feature album include "Inhale," "Always Forever" and "Keep Doing What You're Doing." Tiller builds upon his intentions of confessing love and desire which he sets the style for throughout the album. He sings in a way that imitates a conversation between two people, with the lyrics gradually gliding along. Despite a lack of vocal power and range,  Tiller demonstrates pure affection and sentiment which replicate this absence. The addition of piano in many of the hits intensifies the subtle mood and feelings generated by the music, taking listeners into a trance only known by Tiller himself. A trend that can be recognized throughout the album was Tiller including important people who have inspired him during his career, such as his grandmother. Referred to as "Mamaw," Tiller honors his idol by adding her own warm, comforting voicemails to him.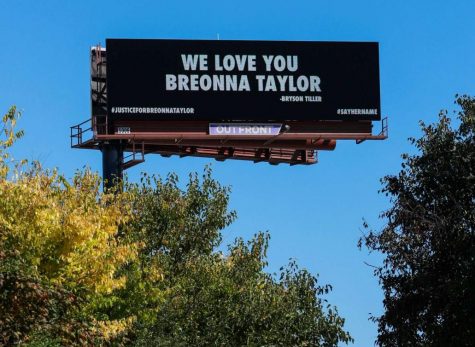 Prior to releasing the album, Tiller paid tribute to Breonna Taylor and his roots to Louisville amongst the tragedies at the hands of police brutality, which affects Tiller on a deeper level. Using purchased billboards to promote "Anniversary," Tiller used them to honor Taylor and spread heartwarming messages throughout Louisville and surrounding communities.
As an avid Bryson Tiller fanatic, I'm very impressed with the quality of his latest album. After receiving mixed reviews from critics about his previous album "True to Self," Tiller proved to engage with the negativity surrounding his name and turn it into something worth listening to. Switching between his authentic R&B and classic hip-hop styles lifts the overall feeling of the album so it keeps listeners alert and unaware of what the next songs may feature. Collaborating with Drake in "Outta Time" definitely attracts all types of music lovers, The artist clearly has the respect and admiration from the Canadian rapper. Tiller's release of the deluxe version of "Trapsoul" was a clever decision, it reminded fans what they'd been missing for such an extensive period of time, so why not remind them of his supreme talent? Originally discovering Bryson Tiller through Spotify a few years ago, I've slowly acquired a new taste for music that suits his techniques. Music on the radio usually does not resonate with Tiller's work, but music listeners of all genres will have something to look forward to in "Anniversary."
"Anniversary" is streaming now.
Email Sean at [email protected] or follow him on Twitter @seanpdunham