Yungblud debuts "Weird"
The British revolutionary talks new album, fans and his global digital tour
Photoshoots and press conferences may seem out of the ordinary for some, but for Dominic Harrison, more commonly known as Yungblud, it's just an average Monday. Harrison arrived fashionably late saying, "I just came from a shoot and it ran over, but they gave me a bottle of Prosecco, so f****** cheers man," as he tapped his camera with the freshly opened bottle.
Sat on the floor of his new and unfurnished home, nails painted to match his strawberry red hair that's pushed back by his glasses, the British rocker was eager to talk about his sophomore record "Weird" which hit airwaves on Dec. 4. "F*** me there's so many people on this call, I'm mad for it. I love it," he said with a grin. 
Harrison stepped onto the music scene in 2017 after his debut single "King Charles" at the ripe age of 20. Now 23, the singer-songwriter's had an explosive three years, putting a few EPs, a debut album and some massive artist collaborations under his belt. Not to mention his upcoming comic book and a clothing line that's in the works. So with his career accelerating at full force and the whole world bursting into flames, what's a better time to put out a new record? "I want this album to be an album for the weirdest years of our lives," he exclaimed.
At 13 tracks and roughly 43 minutes, "Weird" is an album for the fans according to Harrison. "My first album was so angry because people had been not understanding who I truly was my whole life," Harrison said. "After that came out it was like 'holy f*** man there's actually a lot of people who're f****** like me' and this second album is about those people," he continued. It's an album that's definitely meant to spark conversation, the cover art a sight to behold. Seven different poses, each of Harrison, each stylistically different, but somehow still unified.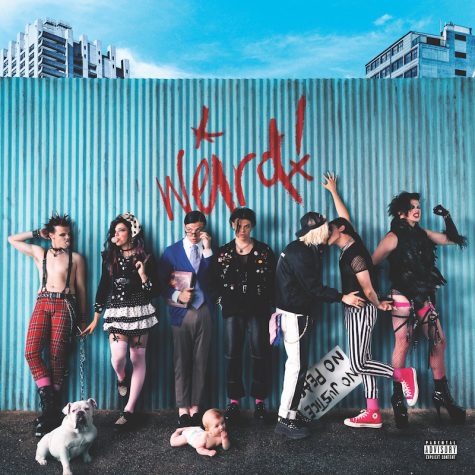 The album covers everything from sexuality and gender identity to love and heartbreak. "At the end of the day, no one can prepare you for this s***, but if we're going into together then it's gonna be easier if we get knocked down," he said with a passion in his voice. The record starts with "teresa" a song about a fan whose boyfriend passed away. In the editors' notes on Apple Music Harrison said, "I wanted to write a song about this girl and her boyfriend being on the other side, watching over her. But there was also a resemblance between me and my fanbase—that no matter what happens to us, we're always looking out for each other." 
Up next are fan favorites "cotton candy" and "strawberry lipstick." Both tackling a form of liberation, for "cotton candy" it's sexual liberation, and for "strawberry lipstick" it's the liberation of yourself. From "strawberry lipstick" the record moves on to "mars," a track Harrison played for us at the beginning of the conference about a young trans girl from Maryland. "She told me she kinda saved up and studied hard so that she could get her parents to a YB show she thought 'If I can get my parents to a YB show, then people may see other kids like me,'" he began. "So the parents came to the Yungblud show with her and they saw people exactly like her and after the show, they went for a burger and they accepted her as their daughter.
Following "mars" is "superdeadfriends" a track he wrote about drugs and the peers he's lost to using drugs. Even though it's an album for the fans, Harrison managed to sneak "love song" in for himself. "This me-first f****** love song man I never sing about love and I s*** myself when I was gonna sing about love. I was like 'Oh f***, I'm singing about emotions now f***,'" said the rocker. After love song is "god save me, but don't drown me out" a single he released early this year that deals with learning how to help yourself out of the trenches. Next is "ice cream man" a song Harrison's been playing on the road for about two years, but never made it onto a record until now. This transitions into the title track "weird!" with a quotable chorus, "We're in a weird time of life / Don't wreck your brain, it'll be alright."
The next track "charity" follows suit with the declaration of being yourself, a large theme throughout the album. This leads into "acting like that" featuring Harrison's good friend Machine Gun Kelly. MGK is the only feature on Harrison's album this go around, but he felt that this song displayed his relationship with MGK perfectly. Second, to last is "it's quiet in Beverly hills" a reflection on his time spent in L.A. "Hollywood is full of bollocks, you know what I mean?" said Harrison. Closing out the album is "the freak show." Harrison admitted, "'freak show' was a bastard to finish. I wanted it to sound like Eminem meets Panic! At the Disco meets Queen meets f****** My Chemical Romance." And he doesn't disappoint, "the freak show" is beautifully mixed to achieve the exact sound he described. 
With killer new tracks, Harrison decided to take his show on the road. Obviously, it's 2020 so live shows are still a no-go, but Harrison, like others, has chosen digital touring, but with a little twist. Unlike most artists, Harrison has individual tour dates for individual cities. "I always operate best when I've got something to kick against and not being able to play live gave me something to kick against. So I can't wait to come to your city and play," he said while putting the last sentence in air quotes. The Weird Time of Life Tour, which started Nov. 17, will kick off in London and make its way to the states before closing out in L.A. on Dec. 7. 
"This album is so f****** important to me," he said and it can be heard in every track. The careful time and effort put into making the record and telling the stories of the people who got him where he is today. "It's always about the message, about bringing people into the world of what Yungblud stands," Harrison began. "Not necessarily just buy my albums and love my albums, it's about if I can f****** get people from all walks of life who never thought they would be together, together then my job is done." 
"Weird" is out now streaming on all platforms.
Email Nasya at [email protected] or follow her on Twitter @nasblackshear.