Don't forget about Khris Middleton
It's easy to get caught up in the amazing story of Finals MVP Giannis Antetokounmpo and everything that comes with it, but give Middleton his flowers too — he's earned it.
There have been some fantastic pieces written about Giannis Antetokounmpo. It's well deserved and watching him win the finals and see the waterworks begin was emotional and cathartic as someone who isn't even directly involved or invested in Bucks history. As Antetokounmpo will often say himself, he hasn't done it alone and it took a collective effort and a true star trio to emerge. Jrue Holiday showed off his defensive prowess in a clutch Game Five strip and lob. Middleton also got his fair share of credit for his 40-point explosion in Game Four to help knot the series at two games apiece. In all the features though for Antetokounmpo, the two-time MVP, it feels like people can forget about how far Middleton has also come to reach this mountaintop right next to him.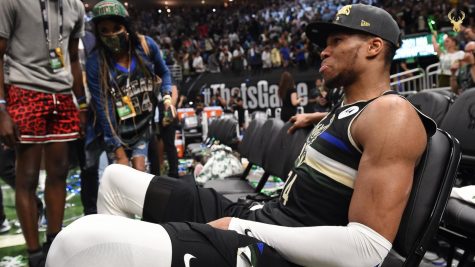 "I mean, my teammates, first, my coaches and everybody else in the organization, their opinion matters to me the most," said Middleton in a post-game interview after Game 4. "I really, I'm sorry, I don't care what you guys write or what you guys think, whether it's good or bad. But for my teammates to have the confidence in me, trust in me, that's most important of all."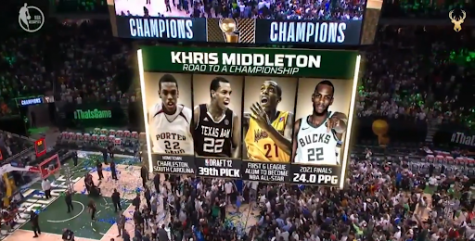 Middleton's journey to the NBA and within it has come with its fair share of pitfalls and setbacks. Even when he was as young as 12 years old and driving five hours to Atlanta from South Carolina in order to play AAU basketball and work on his game against elite talent. Regardless of this work, scouts and coaches overlooked him due to his lack of athleticism. Dave Odom, the then-head coach of South Carolina, lost interest when he found out he couldn't dunk and described him as someone who "looked and played young."
Middleton was able to get noticed by Texas A&M through DVDs of his own highlights and would put together two solid seasons to start his collegiate career before tearing his meniscus. This injury seeped into Middleton's mental state and caused him to play more scared.
"He was skittish," then-head coach Billy Kennedy said in an ESPN feature. "He played not to get hurt." Regardless, Detroit Pistons general manager Joe Dumars believed in him and thought he just "played at his own pace." The Pistons would select him with the 39th overall pick.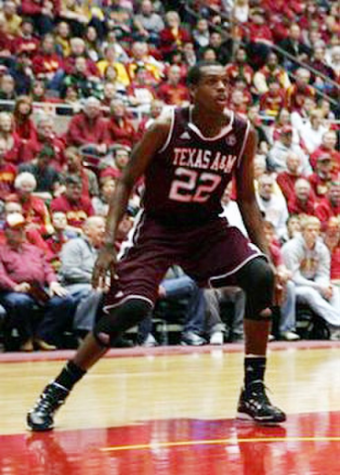 This led to an even bigger concern for teams who looked at Middleton. Due to his naturally prying, scanning playstyle and his laid back personality, teams started to label him as someone who didn't care that much.
"He looked so low motor," said then-Pistons assistant Steve Hetzel in the same interview. Even Dumars, who was once in his corner, was critical of him and told him to "turn it up".
The meniscus injury made Middleton fall behind other rookies, Kyle Singler and Kim English. This made him even more determined to battle them with a certain fire come practice time. This same fuel would pop up again in Milwaukee when he and Antetokounmpo duked it out to figure out who the alpha dog was. Regardless of this practice intensity though, Middleton would be sent down to the D-League and obsess over film to get better. Unrelated to him, the Bucks and Pistons would talk through a trade with one another involving the swaps of scorers Brandon Jennings and Brandon Knight. Middleton was used in the trade as a chip to allow salaries to work in the trade. It was the dawn of a new era.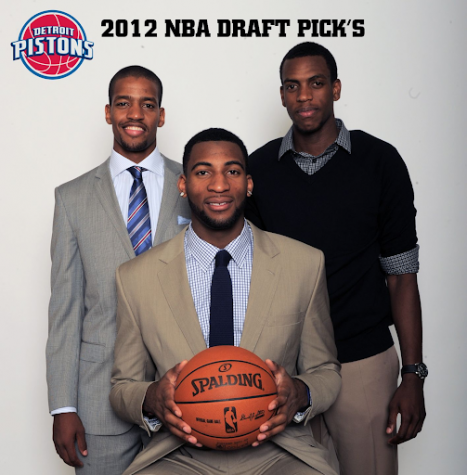 Things weren't easy for him in Milwaukee though, and his mannerisms would follow him. Head coach Jason Kidd would say he "sucked" in front of the team. He also demanded that he speak up which helped Middleton become a more natural leader. Kidd wanted more three-pointers too and as Middleton's game grew, he encountered another obstacle. He slipped on a wet spot in practice and tore his hamstring off the bone. Middleton was essentially immobilized and had to rely on family and childhood friend Travis Smith to help him get through this rough patch.
To Middleton though, it didn't matter. He changed his diet and training regimen. He would make it back to the team before contracting strep throat during the playoffs and playing through it, harming his on-court product in the process. He had to have his throat drained of pus and blood after games. He worked harder in the offseason to clean up his diet and remove Lucky Charms while getting his conditioning up for a long playoff run, their ultimate goal. He wouldn't do it alone though, and the importance of his relationship with Antetokounmpo helped supplement these aspirations.
In Middleton's first season as a Buck, Milwaukee finished with an abysmal 15-67 record. Regardless, the connection was established with Antetokounmpo early.
"As terrible as we were, that was one of my favorite years," said Middleton in the same ESPN feature. "We knew there was something — that someday, we could play at a high level."
They learned how to feed off of each other's energy in a productive way. "People expect us to be more buddy-buddy, but it's not like that," Middleton continued later in the feature. "We're friends. We respect each other. We need each other."
This symbiotic relationship kickstarted when Middleton got dealt to the Bucks. "At first, friendly competition, a guy like him from Detroit and I just got drafted," Antetokounmpo said in a piece on USA today. "We just tried to get on the floor, going at one another in practices. But throughout the time, there was a lot of times that he proved that he's going to do whatever it takes to help the team win. That's the type of guy that you want next to you."
"I'm not going to say exactly what he said but I told him, 'Hey, the day you retire, is going to be the toughest day in my career because like I've been with you the whole time.' … It's great seeing this guy, man, the way we started, the way we are, the way he started and the way that he is right now." continued Antetokounmpo about Middleton.
After years of putting his head down and tirelessly working, things have finally started to come to fruition for the fantastic forward. Since the 2017-2018 NBA season, Middleton has averaged at least 18 points per game every season, earned two all-star selections and has become the perfect fit next to the paint-aggressive Antetokounmpo.
"It's a lot of hard work that paid off for Khris," Antetokounmpo said after Game 4. "I know how great he is. I feel sometimes he doesn't get appreciated enough. He's a great freaking player. He scored 40 in the NBA Finals, and he wasn't an All-Star this year."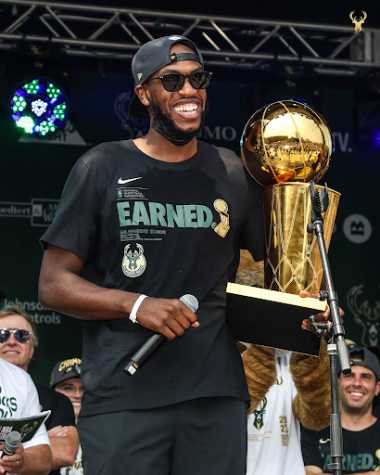 It also shows up in how much his peers respect and admire him. "He scores from all three levels on the court," versatile forward Jae Crowder said in the same piece. "Does a great job mixing it, from his 3-point shots to his midrange to his floaters at the rim. I just think just him scoring at three levels just makes him a tougher cover. He's able to put the ball in the hole."
"He's just very talented," added defensive jackknife Mikal Bridges. "An All-Star, Olympian now, he's really good. He just has a lot to his game. He's smart, so [you] just kind of can't foul him. He's going to get the foul, too. He's crafty with that. You've just got to make it tough for him."
Most importantly, Middleton has finally attained the goal he sought so hard to get his whole life. Between his humble beginnings and down-to-earth playstyle, fiery competitive spirit, desire to win and his tightly-woven relationship with Antetokounmpo, everything has come to a head that he's worked to achieve. As Middleton coddled the Larry O'Brien Trophy in his arms as the culmination of his labor, Antetokounmpo made sure to thank everyone who's helped him on his journey on live television, then immediately turned to Middleton.
"Khris, we did it huh? We [expletive] did it! We [expletive] did it!"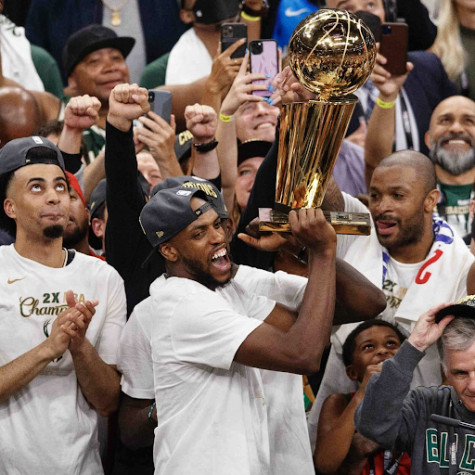 Email Taylor at [email protected] or follow him on Twitter @PlaybookLee.