NFL Opening Night: A rematch that comes with an entirely new context
In 2016, the Tampa Bay Buccaneers were flexed into a Sunday Night Football game against the Dallas Cowboys in hopes of a playoff matchup. It would end up being the most important game of the Jameis Winston era.
Jameis Winston was taken with the first overall pick in 2015. He was promptly voted to the 2016 Pro Bowl as an alternate and a season statline of 4,042 passing yards, 22 touchdown passes and 15 interceptions. It wasn't a stellar season by any means, but it was a solid foundation to be built upon. It definitely wasn't anything like the star player who used to dominate at Florida State University where he threw 40 touchdowns and 10 interceptions in 2013. Great things were supposed to come with Winston, and Tampa Bay knew this. They fired head coach Lovie Smith and hired Dirk Koetter to build the future with Winston. Their first season together was off to a decent start, with the Buccaneers scraping together an 8-5 start on the backs of their defense and a five game winning streak. This hot streak led to them being flexed into a Sunday Night Football appearance, their first since October 19, 2020 against the Seattle Seahawks.
At the same time, the Dallas Cowboys had managed an incredible 11-2 record which was tied with the New England Patriots for being the best in the league. This was despite missing their star quarterback, Tony Romo, who had missed the early portion of the season due to a collarbone injury. Rookie fourth round quarterback Dak Prescott ran away with the job while star rookie running back Ezekiel Elliott helped to form a formidable and efficient duo.
It didn't matter though. Up to this point, the Buccaneers hadn't made the playoffs for eight straight seasons and it was time to deliver to the Tampa Bay fanbase. The Buccaneers were barely holding onto the 6th seed in the playoffs and were only a game behind the Atlanta Falcons–who would go on to make it to the Super Bowl–for first place in NFC South. This was undoubtedly the biggest game of the Jameis Winston era in Tampa Bay thus far. Would the young quarterback be able to deliver a playoff bid after the Buccaneers invested so much into him?
There were some key inactives for this game. Promising young pass rusher DeMarcus Lawrence was out for the game and Buccaneers right tackle Demar Dotson was also inactive, with Gosder Cherilus stepping in for him. The Buccaneers defense was on a pretty decent hot streak coming into this game, leaning on core pieces Lavonte David, Brent Grimes, rookie Vernon Hargreaves III, Kwon Alexander, Gerald McCoy. They had 14 takeaways over a five game stretch and held opposing quarterbacks to a 62.5 passer rating, ranking highest and lowest in the league respectively.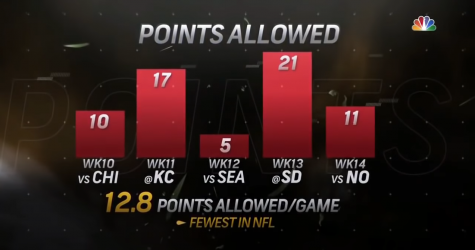 The Cowboys opened up the game with a short-burst attack with touches by former all-pro Dez Bryant, the sly and shifty Terrance Williams, and long-time tight end Jason Witten, who had a knack for getting open on third down and a bunch of strong runs from Elliott. However, the drive would be dispirited by a missed field goal from former pro bowl kicker Dan Bailey, giving Winston a chance to answer.
The Buccaneers would lean heavily on running back Doug Martin though on the following drive. Martin, who was infamously nicknamed "Muscle Hamster", was fresh off of a 2015 campaign where he ran for 1,402 yards and 6 touchdowns on his way to being named a first-team all-pro. It was clear that the Buccaneers fully intended to rely on Martin controlling the pace of this game. It also happens that the Buccaneers five game winning streak coincided with the return of Doug Martin from a hamstring injury. Winston only threw a few passes on this drive, but he was able to give Mike Evans an opportunity where he could draw defensive pass interference and the Buccaneers were able to get off to a 3-0 lead.
Prescott answered with a surgical drive with seven completions but they also fell short in the red zone and had to settle for a field goal. The Buccaneers are in good shape, their defense slowing down the explosive Dallas offense. As long as the Buccaneer offense can stay afloat, they can rely on their defense for another game. Winston drops back, surveys the field, and gets stripped.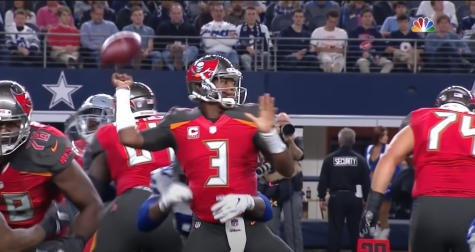 The Cowboys immediately take advantage, and five plays later Ezekiel Elliott is in the endzone and in the midst of one of the most iconic celebrations in Cowboys history. The Buccaneers quickly fizzle out on their next drive and punt the ball after going three and out. However, it wasn't without effort as Winston flashed some of his raw talent by escaping the pocket and putting the ball just a little out of the reach of backup running back Charles Sims III. The Cowboys would once again drive down the field in a surgical manner including a 21 yard laser on a bootleg from Prescott to Brice Butler.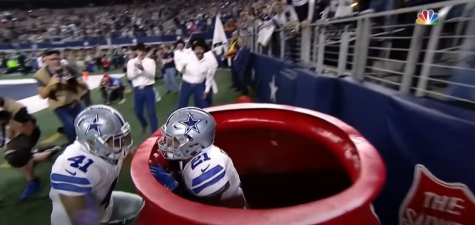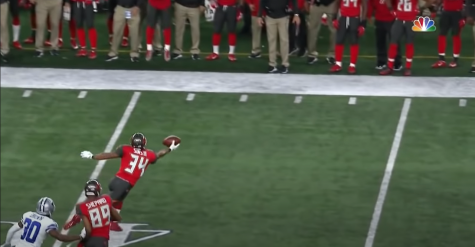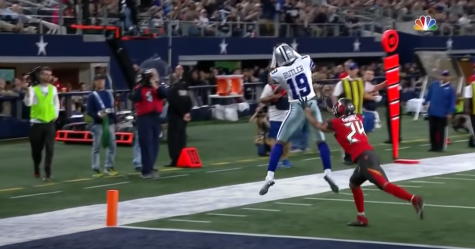 The Buccaneers at this point are down 17-3, the Cowboys are rolling, and the moment seems to have gotten too big for Tampa Bay. Winston flashes that stardom once again and drives the Buccaneers down the field in a little under three minutes and gets them to the Dallas eight yard line. Winston's inconsistency and passion strikes and he foolishly headbutts a Dallas defensive player in an attempt to help 'fend' for his teammate. This unnecessary roughness penalty sends the Buccaneers back 15 yards and essentially ends the flow of their drive, resulting in another field goal attempt to bring the game closer at 17-6. The Cowboys respond with an end-of-the-half field goal drive that Bailey misses again, and both teams head for the locker room.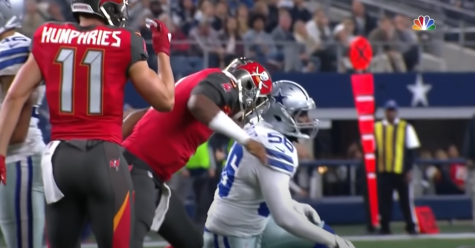 To open the half, the Buccaneers get the ball, run a few plays and get to about midfield and a third-and-one situation. Everyone expects them to run the ball and get the first down but Winston keeps it on a bootleg and uncorks a beautiful deep bomb to Adam Humphries for a 42-yard touchdown. A shot in the arm for the Buccaneers and it leaves things back in the hands of their defense. The defense holds up their end of the bargain and after four plays the Cowboys are once again giving the ball back to the Buccaneers. Winston takes this opportunity and runs with it.
The Buccaneers start at their own 19 yard line. They go on an 11 play, four minute and 43 second drive all the way to the Cowboys endzone to take a three point lead. Winston was marvelous on this drive, going seven for seven on passes, hitting four different receivers but connecting, especially with tight end Cameron Brate, who had three catches on this drive for 49 yards and the touchdown to cap it off. The Buccaneers playoff hopes hadn't vanished quite yet.
The Cowboys put together a solid and mechanical drive but once again the Buccaneers defense holds up when they need to and force a field goal, leaving the game even at 20 points each, with Winston and the Tampa offense coming out once more.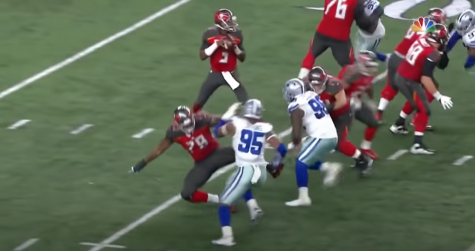 Winston drops back and has absolutely no chance. Lawrence was inactive for this game, leaving a spot open on the line for David Irving, who struck while the iron was hot. He starts this drive by ragdolling replacement right tackle Gosder Cherilus and sacking Winston for a six yard loss. Then, the Buccaneers get stifled on a screen pass. Faced with a third and long, Winston tries to reach into his bag of tricks again but snowballs an otherwise disappointing drive and sails a pass deep to the left that gets intercepted, putting the Cowboys offense in tremendous position. David Irving once again gets to the backfield and puts a hand on Winston. A tie game, one that involved a second half comeback, jeopardized by a needless risk.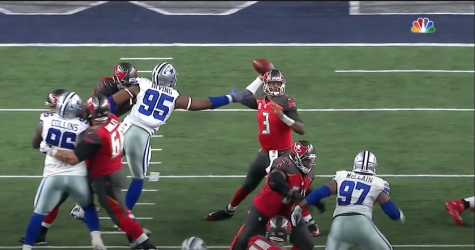 The Buccaneers defense holds up yet again, holding Dallas to a field goal and putting Tampa Bay in a 23-20 game. The Buccaneers go three-and-out including a batted pass by Irving, who continues to make his mark on this fourth quarter. Dallas quickly turns the ball over after Witten fumbles the ball after a hit by Kwon Alexander, giving the offense great field position. The Buccaneers offense stalls once more, failing to get even a field goal, putting the Tampa Bay defense back on the field. The Cowboys offense relies on a heavy dose of Elliott, who runs for 52 yards on this drive to help the Cowboys get another field goal and take a 26-20 lead with three minutes left.
A man possessed; That's what David Irving is. Despite Tampa's best efforts to block him, he kicks off yet another drive with a huge defensive play, tossing aside Cherilus for another sack. After a second down incompletion, Winston is left to deal with a lengthy third and 18 situation, steps up in the pocket, and has Evans break open on a deep route that just may be a house call. The ball is thrown a little too far, and the Buccaneers offense once again has to trot off the field. Another miscue sends Tampa Bay off course.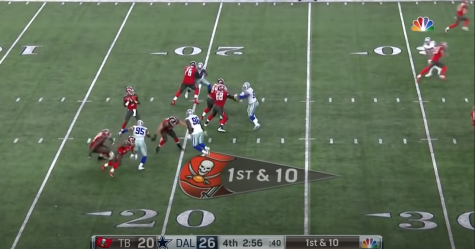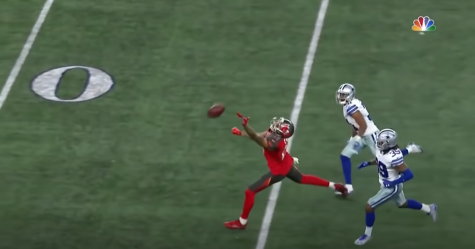 Despite everything that has happened up until this point. Winston is able to lead one more potentially game-winning drive, down six points, with 96 seconds to work with and no timeouts. Years of miserable Tampa Bay football could come to an end, and a playoff drought that was approaching a decade in length was there to be vanquished. Great players come up with great plays in great moments, and this was Winston's chance. The drive starts with a quick pass to Brate who has had his fair share of moments in this game. Winston goes to him again, incomplete. The situation feels more desperate. Winston rolls out right, fumbles the ball. The Buccaneers fortunately fall on it, but the clock is winding. Third down and 12 yards to go, Irving makes another disruption and the ball falls incomplete towards Evans. Fourth down now, game on the line, Winston rolls out right, tries to find one more big play in him. The ball is intercepted by Orlando Scandrick and the Cowboys walk away with a 12-2 record and the Buccaneers lose a game that was well within their grasp.
With everything finished and over with, Winston ends the game with 247 yards and two touchdowns, while accumulating four sacks taken, three interceptions, and two fumbles with one of them being lost. The quarterback had his fair share of highs and big plays but too often it felt like he was one snap away from another bad play or flawed effort that set Tampa Bay further back than he could make up for.
The Buccaneers would go on to lose the next game and win the final one, ending the season at 9-7 and missing the playoffs for another season. The Cowboys would go on to lose in the Divisional round. The Buccaneers would regress for a couple of seasons, Winston would continue to struggle despite the hiring of Bruce Arians, and he would eventually put up his infamous "30 for 30" season with 33 touchdown passes and 30 interceptions. They wouldn't come close to the playoffs again until they signed a 43 year old quarterback named Tom Brady.
As both of these teams look to kick off the 2021-2022 NFL season proper, they can look back at how things have changed. Jameis Winston is hoping to reclaim his role as a starter for the New Orleans Saints, replacing Hall of Famer Drew Brees. The Cowboys first found their future in Prescott and Elliott and now still look to them to lead their team alongside star receivers CeeDee Lamb and Amari Cooper. The Buccaneers retooled at quarterback on a 7-9 roster, won a Super Bowl, then became one of the few Super Bowl-winning teams to return all 22 starters. Now, they look to show the nation they're aiming to go back to back.
https://www.instagram.com/p/CTkvj-4rrK-/
Email Taylor at [email protected].