The New Orleans Saints dismantle the Patriots at Gillette Stadium
Led by a dominant defensive performance, the Saints displayed Patriots quarterback Mac Jones' youth and inexperience.
The Patriots of old are long gone, and Sunday was a painful reminder of that reality. The new-look Patriots struggled to gel together once more and after a plethora of mistakes, fell flat and tumbled to a 1-2 record to start the season.
It was soul-crushingly symbolic that on a day where the Patriots honor legendary receiver Julian Edelman, whose career was cut short due to nagging injury problems, another Patriots legend, running back James White, got hurt and had to get carted off the field. As one of the last links to the Patriots' old winning ways lay on the ground, the crowd drowned in silence in a game that would be accompanied by a lot of it.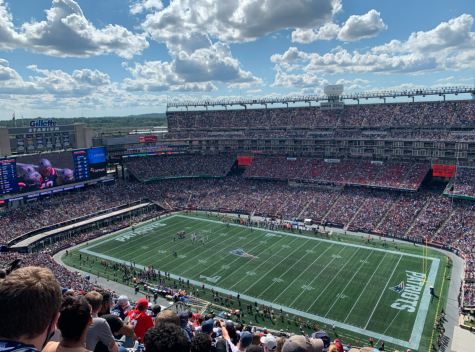 The Saints were able to pressure Jones consistently and force him into routine check down passes that rarely led to chunk plays. One of these quarterback hits would result in an interception thrown to Saints cornerback P.J. Williams, who would take it all the way inside of the 10 yard line. Saints quarterback Jameis Winston would finish this drive off with a contested catch jump ball thrown to receiver Marquez Callaway, whilst having Patriots safety Kyle Dugger draped on his back. Meanwhile, drives would continue to stall for New England throughout the entire first half, leading to a total of three points heading into the half. If not for a couple of missed field goals from backup Saints kicker Aldrick Rosas, the game would've been even more lopsided.
The second half would largely bring more of the same, kicked off by a terrible drop from Patriots tight end Jonnu Smith being tipped into Saints safety Malcolm Jenkins' hands for a pick six. This would be Jenkins' second ever pick six in Gillette Stadium, dating back to his days in Philadelphia. On the next drive, Smith would drop another ball on third down, drawing boos from the crowd. Both teams would rally some small drives for a while before the Patriots finally broke through for their first touchdown of the game, a jump ball for Patriots receiver Kendrick Bourne, who had his best game as a Patriot yet.
The crowd had finally gotten back into it, the stadium was rocking, and the Patriots defense was able to get the Saints to a third and seven with eight minutes left in the fourth quarter. Unfortunately, Saints receiver Deonte Harris would come down with a big catch on the sideline and the Saints would go on to orchestrate an almost seven minute touchdown drive to ice the game. Jones would continue to show his fighting spirit and get the Patriots down to the 25 yard line before throwing a pick to Saints cornerback Marshon Lattimore to end the game.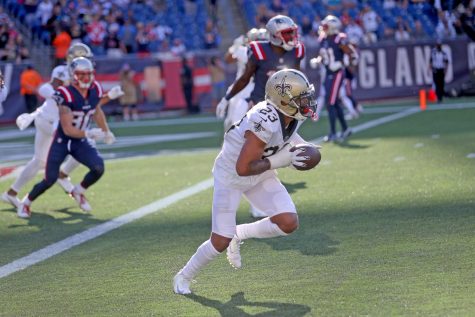 For the most part, the Patriots utterly failed to execute. There were small silver linings, such as Patriots receiver Jakobi Meyers totalling 94 receiving yards, Bourne breaking out with a 96 yard game, Patriots outside linebacker Matt Judon showing out with 2.5 sacks and Jones showing incredible fight and determination, but the game was otherwise disheartening. Turnovers and special teams miscues kept putting the defense in bad positions and Smith's nightmarish game is something everyone would like to forget. Jones ended up as the top rusher for New England ahead of running backs Damien Harris, J.J. Taylor and Brandon Bolden. Top to bottom, the Patriots got outplayed, and now have to deal with a week-long media circus building up to the most anticipated Patriots game of the season, the Tampa Bay Buccaneers and their quarterback, Tom Brady.
Email Taylor at [email protected] or follow him on Twitter @playbooklee.