The owl is no longer wise without his G.O.A.T.
The most anticipated game of the year is here.
Tom Brady returns to Foxborough this Sunday with his Tampa Bay Buccaneers to face off against Bill Belichick and the New England Patriots. 
The last time we saw Brady was in Foxborough for the AFC Wild Card Game against the Tennessee Titans. Brady's last throw as a Patriot was a pick six to former Patriots cornerback Logan Ryan. 
After that game it was clear that this would be the end of Brady's partnership with the Patriots. The offseason came and we saw the tragic breakup of Brady and Belichick, leading Brady to take his talents to Tampa and put on Buccaneer red. The Patriots would go in a different direction and sign Cam Newton to be their new quarterback.
Fast forward a year, and Brady has taken his Buccaneers to the Super Bowl and won the damn thing. Meanwhile Belichick and his Patriots went 7-9 and missed the playoffs for the first time in 10 years. 
Those Buccaneers have brought the gang back together to go for another run at the Lombardi as defending champs. On the other hand, the Patriots have revamped their offense and defense and are led by rookie quarterback Mac Jones. 
The Buccaneers come off a tough loss against the Los Angeles Rams, and the Patriots come off their worst loss of the season against the New Orleans Saints. A Buccaneers loss means a pissed off Brady is coming to town. Since the Buccaneers got Brady, they are 3-1 after coming off a loss, and have only lost back to back games to the Rams and Kansas City Chiefs. For Belichick, he needs this win the most on Sunday. Belichick needs to get his team back on track after two disappointing losses at home this season. Above all, he needs to get one over Brady. Since Brady's departure, Belichick is 8-10, and has a record of 62-74 with any other quarterback that's not named Brady. If Belichick wins on Sunday, it will not only give his team a confidence boost, but will also give Belichick the chance to say it's more about the coach than the quarterback. This Sunday's matchup could be a make or break game for the Patriots season.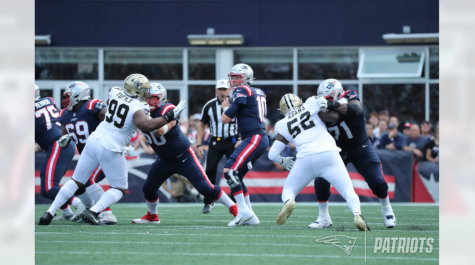 Jones has to be prepared to take another beating against this Buccaneers pass rush. This is a Buccaneers defense that made their presence known to Chiefs quarterback Patrick Mahomes in the Super Bowl. Although the Buccaneers have only got three sacks to their credit this season, the Patriots should be prepared for a lot of blitz packages on their rookie quarterback. Jones has been sacked six times and hit on 22 occasions. If left tackle Trent Brown is not available on Sunday, Jones might be spending most of the game on the ground. 
In addition to struggling to protect their quarterback, the Patriots offense has struggled to get into the endzone this season. The Patriots have spent a lot of money on their receivers and tight ends this offseason. Despite this, the Patriots have only four touchdowns, and most of their scoring has been done by kicker Nick Folk. Offensive coordinator Josh McDaniels has to be prepared with a gameplan to get this offense going.
The Patriots defense will have their hands full dealing with the amount of weapons the Buccaneers have.  The Buccaneers have averaged 7.7 passing yards per game this season, while the Patriots defense have given up 6.7 passing yards per game. This is a Buccaneers team that loves to pass the ball, and have scored 10 touchdowns from passing the ball. Patriots cornerback J.C. Jackson will have to deal with Buccaneers receiver Mike Evans the entire game, leaving patriots cornerback Jalen Mills to deal with buccaneers receiver Chris Godwin, and patriots slot corner Jonathan Jones with buccaneers receiver Antonio Brown. We can't forget about the other guy returning to Foxborough, buccaneers tight end Rob Gronkowski. Gronkowski, who took a hard hit to the ribs last Sunday, did not participate in practice this week, and it leaves the question of whether he will play this Sunday. If he does, the Patriots will experience what every other team experienced when they had Gronkowski, who covers #87.
The biggest question going into the game is what type of reception Pats Nation will give Brady. There is a mix of Brady loyalists and Belichick loyalists. When Brady takes the field, does his trademark run up and shouts "Let's Go!" will the reaction be the same as when he donned Patriot blue? Brady has the chance to set records that night. Brady is 68 yards away from becoming the all-time passing leader. He can also become the third quarterback in NFL history to beat all 32 teams with a win on Sunday night to join the likes of hall of famers Peyton Manning and Brett Favre. Most importantly, he can get another one over Belichick and show he was the driving force behind the success.