The student of Travis Scott: Review of Don Toliver's "Life of a DON"
With booming ratings and the confidence to prove it, the Texas native debuts his highly-anticipated sophomore album
Sean Dunham, Music/Entertainment Editor
October 21, 2021
Singer-songwriter and rapper Don Toliver released his latest album, "Life of a DON" on Friday, Oct. 8. Following the launch of his successful project "Heaven or Hell" in March 2020, the artist's new collection has quite the expectations to live up to.
Originating from Houston, Texas, the 27-year-old rose to fame in 2018 with his first major label mixtape, "Donny Womack," but more notably collaborated with fellow H-Town native, Travis Scott. Toliver later signed to Scott's self-founded record label, "Cactus Jack," confirming his place in rap music, while creating friendships with Scott and other artists such as Sheck Wes, Gunna, Nav, and Kevin Gates. From being featured at the "Astroworld Festival" to going viral on Tik Tok for his song "No Idea," Toliver continues to rack up career achievements and prove his star potential, which is clearly visible throughout "Life of a DON".
With sixteen songs on the tracklist, Toliver shows off his wide range of musical abilities by combining soulful and upbeat rhythms in each tune. As if his own versatility was not enough to attract listeners, "Life of a DON" features well-known artists such as Scott (just as I expected), Kali Uchis, Baby Keem, HVN, and SoFaygo.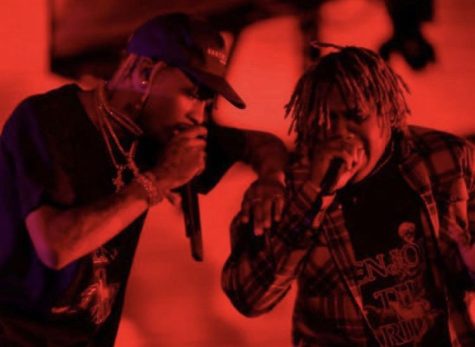 To start things off, the opening track, "XSCAPE," delivers a mellow beat that slowly develops into something better, to the point where you feel as if the upcoming songs will be exciting to hear. The lyric, "And I know that it gets old and it gets cold" is repeated frequently, but Toliver's use of both high and low pitches press its meaning into his audiences' minds. 
"5X" and "Way Bigger" are definitely inspired by Scott's past work on "Astroworld" with Toliver's talent of fast-rapping appearing on the tracks, along with the reliance on instrumentals. It seems like Toliver abandoned his passionate approach for these opening songs and focused more on electric beats, but nonetheless, he delivered with a strong start.
While listening to the album, I found myself in a content trance during the middle portion, especially during the next five songs. "Flocky Flocky" eventually brings out Toliver's stunning vocals, as well as a great verse from Travis Scott. Released as a lead single on May 4, "What You Need" has been a fan-favorite, as Toliver reveals his feelings for a girl and confesses that he would do anything to be with her. His vocals are perfectly paired with futuristic sounds that just slightly undertone his voice. Next, "Double Standards" preaches to improve yourself, not because of what others think, but because of how you want to see yourself thrive. Words cannot describe how much I love the following track, "Swangin' on Westheimer," as Toliver sings with true beauty and the beat is slow, yet oddly hypnotizing. Telling the story of a past love affair, this is easily a song that can be put on repeat and will not get old. To round out the fantastic five, "Drugs N Hella Melodies," another previous single, is highlighted by the duo of Toliver and Kali Uchis, making for a song that explodes with chemistry and dreamy vocals. Paired with a sensational music video, the melodies are outstanding and will take listeners to another level.
Returning to his popular party-type style, Toliver's next two tracks, "2AM" and "Company, Pt. 2" are worthy of being played during a thrilling night, or even a midnight drive to boost your spirits. However, the album fails to extend the overall momentum generated by previous songs, as "OUTERSPACE," "Get Throwed," and "Smoke" are too auto-tuned sounding and repeat spacey verses more than needed. The guest appearance of SoFaygo could have been prepared better, which could be useful information for Toliver's future projects. 
On that note, "Life of a DON" ends with an exceptional finish, with the track "You" featuring Toliver and Scott's best vocals. Also, the guitar instrumentals that escalate in pitch towards the end of the song are addicting to listen to. Representing tracks fifteen and sixteen, "Crossfaded" and "BOGUS" are two more upbeat songs on the album that are more personal songs to Toliver, as his lone voice speaks volume for the meaningful lyrics. 
Despite a few disappointing songs on the album, "Life of a DON" is definitely an overall triumph, crafted by the musical genius Toliver. His sincere emotion and feelings are felt in certain songs that resonate with audiences of all preferences. The producers' careful selection of featured guests worked well, specifically those of Scott and HVN due to their homage to the city of Houston. Some of my favorite tracks from Toliver's set are "5X," "What You Need," "Swangin' on Westheimer," "Drugs N Hella Melodies," and "You". I admire Toliver's determination and hard work to get to where he is now, as his legacy is absolutely here to stay. Music with multiple purposes, like the ability to raise adrenaline or de-stress, stands out to me and "Life of a DON" is an album that I will definitely add to my personal listening library.
Rating: 7.5/10
"Life of a DON" is streaming now on all platforms.
Email Sean at [email protected] or follow him on Twitter @seanpdunham.