The Everlasting Impact of "The Butt Fumble"
On November 22, 2012, the course of NFL history would change forever and Patriots fans could not be anymore thankful.
Everybody has one painfully embarrassing moment they'd like to take back. Fortunately for most of us, that moment wasn't aired on national television during Thanksgiving for the world to see. Unfortunately for former New York Jets quarterback Mark Sanchez, this one was.
It's hard to believe, but once upon a time the Jets could give the New England Patriots a headache every now and then behind their stout defense and all-time cornerback Darrelle Revis. The Jets went to back to back AFC Championship games in 2009 and 2010, and even knocked out the Patriots in the 2010 Divisional Round in an upset victory that spawned this iconic interview.
The Jets would go on to put up a disappointing 2011 season despite being 8-5 before losing their last three games in a row. They looked to redeem themselves in 2012 and it was make or break for Sanchez, a former fifth overall pick, who had largely struggled despite the team's success. Revis tore his ACL early in the season however, derailing the season early.
By the time their thanksgiving matchup came up with the Patriots, they were 4-6 and staring down the barrel of a losing season. Meanwhile, the Patriots rolled to a 7-3 record and looked primed for another Super Bowl run.
The Jets defense came out prepared out of the gate, giving the Jets offense a couple chances to take the lead. Sanchez and the strong New York running game led by running back Shonn Greene got the Jets into field goal range before Sanchez's disastrous night kicked off. Sanchez threw an interception to Patriots defensive back Steve Gregory, a name he'd become familiar with.
Tom Brady would lead a typical nickel-and-dime drive to spot the Patriots a seven point lead, capitalizing on Sanchez's mistake. One mistake is far from a primetime embarrassment though, especially when Sanchez has a chance to make up for it immediately after. Sanchez leans on the run game one more time, the Jets get into New England territory, but this time Green fumbles on 4th-and-1, recovered by Gregory, yet another costly mistake for the Jets.
Brady hit Patriots running back Shane Vereen on the very next play, good for a rapid-fire 83-yard touchdown to extend the lead to 14-0. At this point, the game is getting out of the Jets hands and as the old adage says, when it rains, it pours.
After a quick slant route, Sanchez turns to hand the ball off on the next play. This time though, there's no running back to hand it off to. Forced to make something out of nothing, Sanchez attempts to run up the middle before Patriots nose tackle Vince Wilfork pushes Jets lineman Brandon Moore back.
At this point, Sanchez has nowhere to go and it all comes comically crashing down. He runs into Brandon Moore's backside face-first and fumbles the ball which Gregory scoops up and scores, completing his own personal hat trick. The Patriots would go up 21-0 before the ensuing kickoff was fumbled into Edelman's hands, quickly turning into a 28-0 blowout on primetime television. Within a minute and five seconds, the Patriots scored 21 points, giving the Jets no chance at a come-from-behind victory.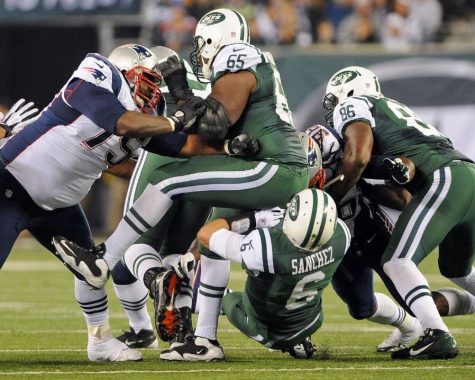 The worst was yet to come though because within minutes, social media had already done their job and coined it "The Butt Fumble". It quickly became one of the most infamous plays in NFL history, and was the winner of "worst plays of the week" voting polls for weeks afterwards before having to be retired from competition by ESPN. It even has its own Wikipedia page.
The Jets have since gone 59-94, good for a 38% winning percentage, and they currently hold the longest playoff drought in the NFL at 10 years, double the next worst team at five. Since then the Jets have gone through 13 different starting quarterbacks and three different head coaches.
Sanchez bounced around between the Eagles, Cowboys and then-Redskins as a perennial backup and occasional emergency starter and played his last season in 2018. Sanchez still keeps a good attitude about it all and he is currently an NFL game analyst for FOX while also co-hosting The Exchange podcast with former Jets center Nick Mangold.
So if you're with family and friends this Thanksgiving, struggling to come up with something to be thankful for, just remember the Butt Fumble, because it could always be worse.