Tom Brady not only embodied greatness, he changed its very definition
Brady's legacy not only shifted the scales and altered how we measure greatness, but his obsession with honing his craft raised the standard for generations of players to come.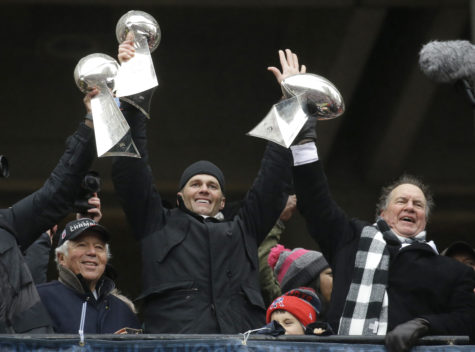 The first time I ever saw Tom Brady play was in Super Bowl XLVI against the New York Giants, the second time he would lose to them in the championship. I don't remember much from that game, but I do remember putting on an old New York Giants receiver Victor Cruz jersey my dad had used as a prop and writing "Sucks" underneath the nameplate. I was smart enough to at least know who the enemy was.
It was February 2012. The Patriots would go on to take linebacker Dont'a Hightower and right end Chandler Jones in the first draft class I ever saw as a football fan. The Patriots would continue to retool and restock with young talent and free agents. From there on out, I would go on to see seven straight AFC championship appearances in a row, including four Super Bowl appearances, with three of them ending with a mountaintop view.
It's an old cliché in sports that as a player gets older, Father Time comes knocking on their door. Former Detroit Lions receiver Calvin Johnson was drafted in 2007, played out his entire career, waited the obligated five years before getting NFL Hall of Fame consideration and was then inducted on his first ballot- all before Brady retired. In fact, Brady has played against and with both former Vikings cornerback Antoine Winfield Sr. and his son Antoine Winfield Jr. is mind-boggling.
The standard was being a top four team in the NFL as I was growing up. I never saw losing teams, bad cultures or bad coaches my entire childhood. The Patriots were expected to win championships every single season and each regular season loss was not seen as a setback for making the playoffs, it was seen as a setback for attaining the first seed in the playoffs. As I was being raised, Brady was the beacon of comparison for the level of dedication I would need to put in to be truly successful at something.
Brady's uncanny ability to just deliver in the clutch, regardless of the situation, was something I took for granted. That comfortable feeling in the most dire of situations that as long as he had the ball, the Patriots were going to come away with a win 99 times out of 100. I never realized what that uneasiness felt like with the game on the line was like until Brady moved on and left us with an aged-out Cam Newton and a rookie Mac Jones.
Brady turned run-of-the-mill players into household names. Receiver Danny Amendola went from an injury-prone player who never had more than 700 yards in a season to "Playoff Danny" with Brady at the helm, putting up more touchdowns in the 2014 postseason than the entire regular season. Brady turned undrafted receiver Kenbrell Thompkins into a northeastern hero for a week.
He also formed a relationship with an unheralded seventh-rounder, so proficient in the playoffs, that people have reconsidered what the requirements for the Hall of Fame should be. Whether he was throwing to castoffs, draft busts or home-grown stars, Brady produced and kept the Patriots in contention for every game, every single year. That was the standard he helped set as a leader in New England, and one that the remaining veterans try to maintain without him.
As much as I will always love and cherish the successes, the endless-effort losses are what will stick with me the most. The 2015 AFC Championship loss to the Denver Broncos where he took 20 quarterback hits and passed the ball 56 times despite having pass rushers Von Miller and Demarcus Ware in the backfield every snap. Each trip to the Red Zone felt grueling and punishing. So punishing that the Patriots routinely left points on the field because they felt they wouldn't make it that close again.
The 2018 Super Bowl loss to the Philadelphia Eagles where one Brandon Graham strip-sack completely erased Brady's second record-breaking Super Bowl in a row. It was heartbreaking and infuriating to watch the Patriots lose a Super Bowl where Brady was at his absolute best. They were also cruel reminders that nothing is guaranteed even with Number 12 at the helm.
The Patriots went from a floundering team for decades on the brink of relocation to one that dominated for two straight decades. It wasn't all a direct cause of Brady but the way players talk about his leadership style speaks volumes about his impact in the locker room. Brady shifted not only the culture of the New England Patriots but how people approach the GOAT conversation in football.
Brady's own childhood idol, 49ers quarterback Joe Montana, was the undisputed greatest with four championships. Brady nearly doubled that with seven and played with an unprecedented longevity and an absurd 76.4 winning percentage. Any quarterback from here on out will be compared to a new standard, and that standard is the absurd resume of the greatest quarterback to ever do it.
Brady was more than just the greatest quarterback in NFL history. He was a cultural icon and a face of sport. If you didn't know football, you at least knew who Brady was. If you didn't know him, you knew his fashion model wife Gisele Bündchen. Whenever Brady won or lost in the playoffs, people knew. If Brady was not playing in the Super Bowl, it was a noticeable difference. There are people who define generations of athletes and continue to inspire younger ones. The only difference is Brady would outduel some of those same kids that grew up watching him.
Email Taylor at [email protected] or follow him on Twitter: @playbooklee