A look at what the Los Angeles Rams accomplished winning Super Bowl 56, and how their past has contributed to its meaning
After a little over two decades of wasted seasons and falling short, the Rams finally reached football's summit again, fulfilling multiple players' legacies in the process.
Three years ago, the newly-minted Los Angeles Rams were in the Super Bowl playing the Tom Brady-led New England Patriots in what would eventually become the lowest scoring Super Bowl in NFL history. As the confetti rained down in Mercedes-Benz Stadium, Rams receiver Robert Woods squatted down, muttering to himself. There was nothing to celebrate though, as the Rams had just fallen short of their ultimate goal, not knowing when they would ever get another chance.
Fast forward ahead, and the script has completely flipped. Woods didn't even get to play in this year's Super Bowl, sitting on the sideline akin to how a young Cooper Kupp once did back then. Kupp has since evolved his game into a supercharged version of what he once was, becoming the best receiver in football in the process. Just like the franchise itself, this Rams team is chock-full of stories coming full circle and hard work being rewarded after years of effort.
From 2005 to 2016, the then-St. Louis Rams were the epitome of a downtrodden franchise. They had an abysmal .315 winning percentage with a record of 60-131-1. They were far removed from the Super Bowl-winning years of the Greatest Show on Turf led by once-MVP quarterback Kurt Warner and once-MVP running back Marshall Faulk. This dynamic backfield duo was no longer flanked by Hall of Fame receiver Isaac Bruce and future Hall of Famer Torry Holt. This left the franchise to be carried on the back of workhorse running back Steven Jackson.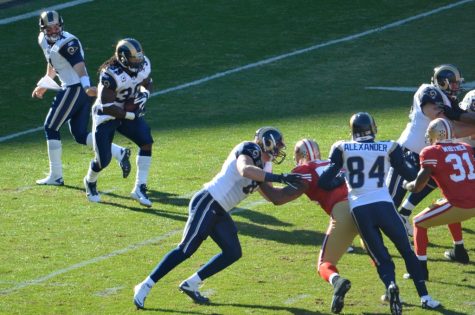 In an eight-season span from 2005 to 2012, Jackson averaged 1574 yards from scrimmage. In this same time span, the Rams won 28.5% of their games, including 3-13, 2-14, 1-15 and 2-14, 1-15 seasons all in consecutive years. Jackson experienced nine total wins in five seasons, just barely good enough for a winning season back when the season was still 16 games in length. He was a Hall of Fame talent left toiling away on teams and staffs until it was too late.
Years later, it looked like Jackson was a cautionary tale for another talented running back in Todd Gurley. After 7-9 and 4-12 seasons where Gurley had more than 1,000 yards from scrimmage in both, it seemed more than likely that another talented player would rot in St. Louis. That was until quarterback Jared Goff and new Head Coach Sean McVay entered the picture.
Sometimes, all it takes for a player is a new situation with a new scheme around him. McVay managed to create both at the same time, implementing an offensive scheme heavily centered around play action passing and zone-running. The Rams ran play action 29% of the time that season, good for second in the NFL. Zone running involves a lot more emphasis on the linemen moving laterally and opening up lanes for the running back to read. This greater emphasis on running the ball also naturally opens up the play action passing game too, making life easier on then-sophomore quarterback Jared Goff who would make his first pro bowl that season.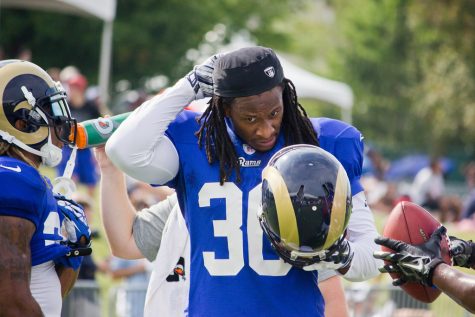 Gurley took advantage of the change in situation, putting up a remarkable 2,093 yards from scrimmage in 2017, taking home the Offensive Player of the Year award in the process. After an early exit in the playoffs, the Rams loaded up in 2018 in a failed attempt to win it all, learning valuable personnel lessons along the way.
The Rams failed attempt in 2018 stung for multiple reasons. For starters, after another electric 2018 season, Gurley started to trail off towards the end of the season. There were rumors all of a sudden that Gurley had an "arthritic knee" and suddenly, just like that, the electricity and bounce to Gurley's game disappeared and he was just a shell of his former award-winning self. A stark difference compared to the durable Jackson who reigned prior, neither getting a chance to see what the top looked like.
Compounding onto that, Goff regressed, his touchdown percentage dipping as well. Veteran corner Aqib Talib was gone, and playmaking corner Marcus Peters was traded midseason. In order to fill this gap, the Rams traded for disgruntled superstar Jalen Ramsey from the Jacksonville Jaguars. People questioned whether they paid too much for an unhappy player, but the Rams front office has long committed to an aggressive team-building style. After a disappointing 9-7 finish, it seemed like the infamous "Super Bowl Hangover" had done them in, and their Super Bowl window slammed shut.
This is where their innovative team-building style was put on display. The Rams have put a far greater emphasis on bringing in high-quality players to fit their core, typically using high draft picks in order to acquire these players. They sent two first-round picks and a third-rounder to the Detroit Lions for quarterback Matthew Stafford. They also sent two first-round picks for the aforementioned Jalen Ramsey to the Jaguars. The Rams polished it all off by sending second and third-round picks to the Broncos for the 32-year-old Von Miller, yet another move as part of a win-now roster.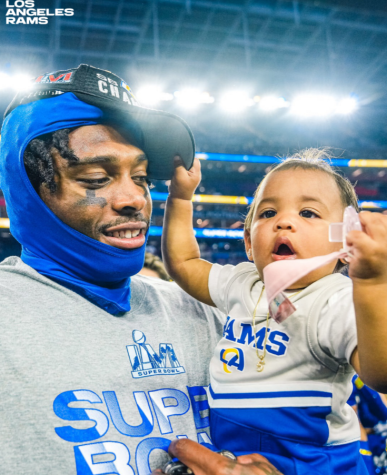 Sending all these high picks for guaranteed stars is a great idea in theory, but it just further ramps up the importance of drafting well in the later rounds. This is where the Rams' ability to develop players and play them to their strengths becomes apparent. They know how to take these young draft picks and play them to the strengths of their defense behind certain core players. Aside from trading for star players and drafting well, the Rams do an incredible job in free agency. Whether it be signing quality free-agents like then-36-year-old tackle Andrew Whitworth, picking receiver Odell Beckham up midseason after being cut by the browns, signing edge-rusher Leonard Floyd after disappointing in Chicago, or coaxing 37-year-old safety Eric Weddle out of retirement to play for the first time since 2019, the Rams know how to plug the holes on their roster.
This all couldn't be done without the two most important players on their roster though. Super Bowl MVP Cooper Kupp was able to go from a third-round draft pick who had his wife work full-time to help support his dream in college to the Offensive Player of the Year with a ridiculous 2,425 yards combined in the regular season and playoffs. When the Rams needed a play to be made, Kupp consistently delivered, able to finally help his team win a ring after missing the playoffs in their first Super Bowl run.
To cap it all off, all that's really left is the face of the Rams franchise, defensive tackle Aaron Donald. From making a pro bowl in his rookie season, to collecting seven straight first-team all pro selections and winning three Defensive Player of the Year awards, Donald has been nothing short of legendary. From stopping Marshawn Lynch on fourth down in a meaningless game to halting Samaje Perine dead in his tracks in the biggest game of his life, nothing has ever changed aside from the stakes.
Aaron Donald has been a dominant game-wrecker for as long as he's been a Ram. He's been an easy Defensive MVP vote on an annual basis. He's seen what it's like to be on bottom-tier rosters and he's seen what it's like to taste football immortality only to have it taken away from him. Most importantly though, he's seen the last box for his career finally get ticked off, Super Bowl champion.