Women tell their stories: the 1 in 3 campaign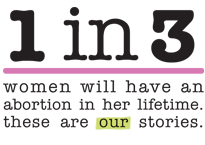 Hang on for a minute...we're trying to find some more stories you might like.
by Kelsey Jordan
One in three women will have an abortion in her lifetime, and now women are telling their stories online, as part of the  1 in 3 Campaign, launched in 2011 by Advocates for Youth, an organization that advocates and educates  about reproductive and sexual health.
As a space for women to share their stories, the 1 in 3 Campaign aims to reduce stigma around abortion, and raise awareness around reproductive health issues. It also counters the common misconception that all women regret having had an abortion.
The women who contribute to the campaign range in age from the early teens to the late seventies and come from diverse ethnic backgrounds and locations. Together, over 500 women have shared their stories, and the site may have an an impact on mainstream media;  read New York Magazine's 26 Women Share Their Abortion Stories.
"I think it's important to feel like you have a safe space to share your story around difficult and personal issues and it helps combat the limitation people may feel around abortion such as: fear of stigmatization, fear of parents finding out and feeling alone," said UMass Amherst senior public health major Christina Staffiere. "I think it's also a great way to find out about resources."
The site also provides resources for reproductive justice activists to bring the 1 in 3 Campaign to their college campuses. The resources section provides a campus activist toolkit where students can start a 1 in 3 chapter.
The stories posted on the website have also been collected in paperback, Kindle, Nook and iBookstore copies. The book, which was published this year, was used to commemorate the 40th anniversary of Roe vs. Wade, the Supreme Court decision that legalized abortion. The 1 in 3 Campaign also sells buttons, posters, and T-shirts and uses social media  to spread its message.
"This is an empowering way for women to share their story," said UMass Amherst student and reproductive justice activist Sarah Duey. Duey is a member of VOX: Students for Reproductive Justice, a registered student organization at UMass that raises awareness about reproductive health and access to related health care. "I could tell that the women were becoming empowered in the span of the videos, nobody was taking their story, they were telling it for themselves."
Half of the pregnancies in the United States each year are unintended, and half of these, 1.3 million, are ended in abortion. Nearly 60 percent of American women who have abortions are in their twenties. According to the National Abortion Federation, 87 percent of counties in the United States have no identifiable abortion provider, and this percentage is even greater in rural areas. Fifty-seven percent of women who choose to have an abortion are from low-income communities where resources such as family planning services and access to contraceptives are limited.
The 1 in 3 Campaign asks who has the right to determine what type of health care women should have access to, a question many women have already answered.