Halloween has arrived: Pull together a quick costume for today's festivities
If you're still on the search for a Halloween costume, look no further
As an October baby, I was born in the midst of the season's crisp fall air and the color-changing leaves. Being born so close to Halloween may explain my obsession with the holiday. I'm in love with everything about Halloween, and I have been ever since I could talk. Lighting my pumpkin-scented candles, watching all the classic horror movies and wearing cozy hoodies are only a small part of what makes this time of the year feel so special to me. Since I take this holiday seriously, I have compiled a list of costumes. If you're still in need of a costume, keep reading for inspiration. 
When it comes to looking for costumes, I prefer finding each piece of the outfit separately, as opposed to buying a costume set from a Halloween store. By collecting separate pieces, you can pull together a costume quickly while adding your own personal flair. This method could also prove to be more affordable since separate pieces can be collected from thrift stores or personal closets. Many of the items you find could be reused for future outfits.
Beetlejuice and Lydia
"Beetlejuice," a 1988s fantasy-comedy film starring Micheal Keaton and Winona Ryder, provides inspiration for a classic Halloween costume, especially with its mystical and insane aesthetic.
Lydia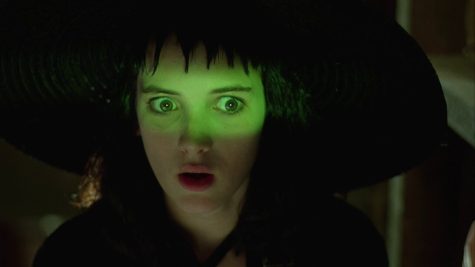 This costume can either be dressed up or down. If you are going for a more dramatic look, then a long, puffy red dress, veil, bouquet and black boots would turn you into the perfect bride for Beetlejuice. 
If you prefer to keep it dressed down, you could find a shorter red dress, skirt set or pant set for the base of the outfit. Now, all you would need is a piece of fabric for a red veil and a pair of black shoes. 
To add a little more spice to your outfit, you could load up on accessories such as red lace tights, red fishnets or red thigh-high socks. Black jewelry would pair perfectly with the bold red outfit and would be very fitting of Lydia's character.
Some specific colors and textures that should be focused on with this costume are vibrant red, black and lace.
Beetlejuice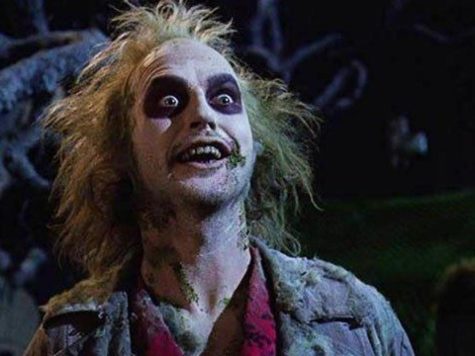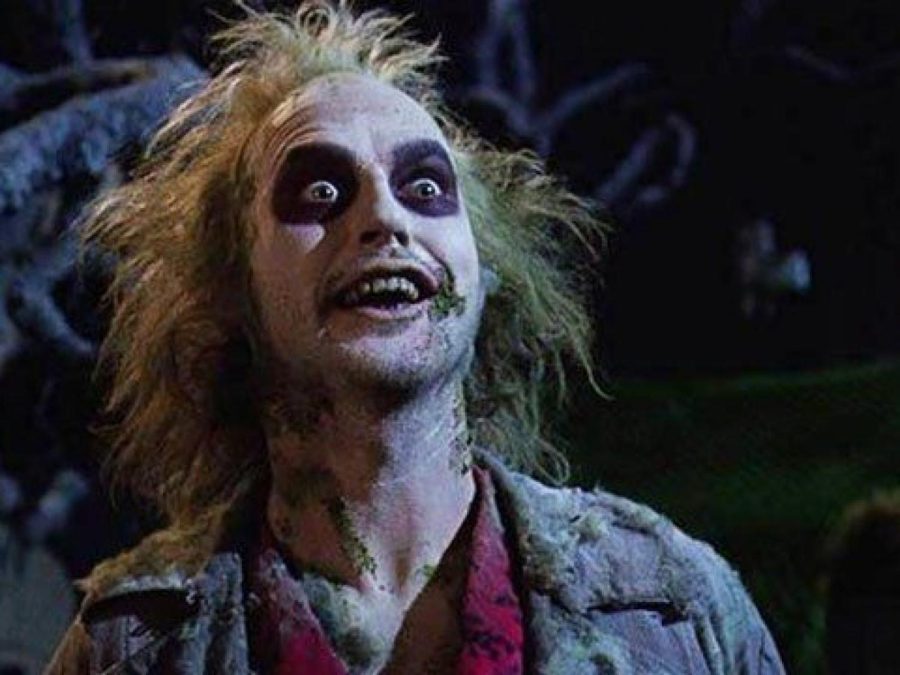 Throughout the film, Beetlejuice has a plethora of outfits, but his most iconic is his black and white striped suit. This could be modified in various ways. 
A black and white striped dress or skirt would work just as well as a matching pant set. Any white or black shoes would also work for this look. To pull the whole outfit together, I would suggest black jewelry or accessories such as a bow tie or rings. 
The most important part of this costume is Beetlejuice's iconic green hair. This could be done with a green wig or temporary hair color spray. You could also substitute both of these for some large green hair clips and other hair accessories.
Audrey Hepburn in "Breakfast at Tiffany's"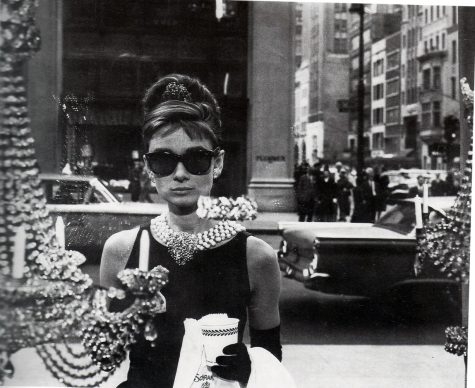 "Breakfast at Tiffany's is a romantic comedy from 1961starring the beloved Audrey Hepburn.
To become Holly Golightly is actually very simple. Any black dress or skirt set would work perfectly for the base of this costume. After that, it is all about the accessories. A pearl necklace or choker would be the perfect statement piece for this look. A pair of dramatic earrings would match the entire vibe of this character. Long black gloves and a tiara adds the elegance needed for this costume. A pair of black heels would be fitting, but any pair of black shoes could work. Last but not least, you cannot forget the iconic sunglasses that Holly wears throughout the film. 
Jigsaw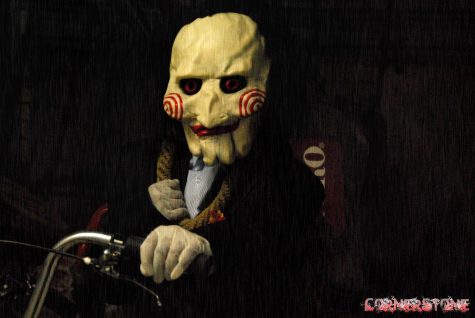 If you're a fan of scary movies, then the character Jigsaw from the famous Saw franchise may be the perfect costume for you. 
This creepy little puppet can easily be turned into an amazing costume. Jigsaw wears a black suit and a red bow tie which can be interpreted in many ways. You could choose to go the original route and wear the same outfit as the character or you could trade the suit for a black dress, skirt or pants set. A little red bow is a must and could be worn around the neck or as a hair accessory. Any black shoes would work with this outfit. Black gloves or thigh-high socks would also make a great addition to this look.
The makeup on Jigsaw is what makes the character so distinguished, so drawing red spirals on your cheeks would really bring this character to life. In addition, adding red contacts or a red lip look can help you stand out while adding the creepy factor to this outfit. 
Willy Wonka and Violet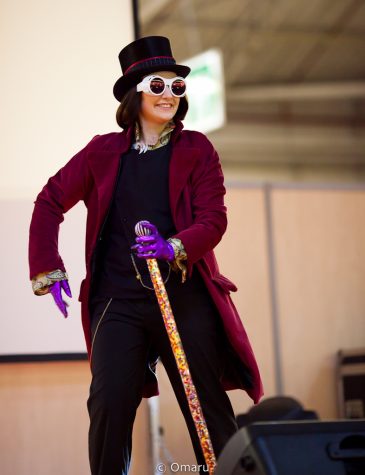 Tim Burton's "Charlie and the Chocolate Factory" has many distinctive characters to choose from. 
Willy Wonka
To become Willy Wonka, you need a red-toned blazer or jacket. A black dress or a black pair of pants and a top layered underneath will help keep the focus on the jacket. Black, short leather gloves would be the perfect accessory for this look. To really establish the character, you need goggle-style glasses and a top hat, which Wonka wears for his iconic look in the movie. 
Violet
The fate of Violet Beauregarde at the end of the movie can make for a crazy makeup look for Halloween. 
Violet wears a blue tracksuit which would pair well with some white sneakers, ultimately making this a comfortable and cozy costume for a chilly, Halloween night. The fun part of this costume centers around the makeup. At the end of the movie, Violet turns into a blueberry, causing her to turn blue from head to toe. Use a blue sparkly eyeshadow as blush and drag it over the bridge of your nose to accentuate her character.
The Grady twins from "The Shining"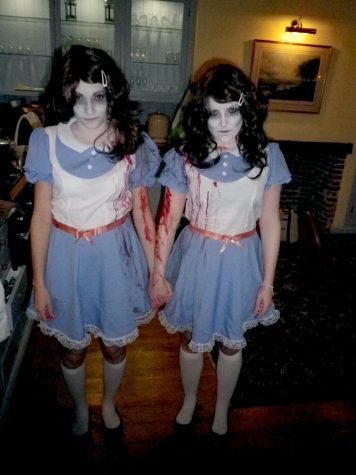 Stephen King's 1980 film, "The Shining," paved the way for horror movies across the globe. This is truly an iconic film that provides thrills and chills. One of the most famous scenes from the movie shows two identical twins standing at the end of the hallway in the Stanley Hotel. This costume allows for the perfect mix between cute and creepy. 
This is by far one of the easiest costumes to pull off which makes it great for last-minute planners. Just grab a friend and wear matching light blue dresses,  white socks and black shoes. You can accessorize with a pink bow either tied around your waist or in your hair. 
Jennifer from "Jennifer's Body"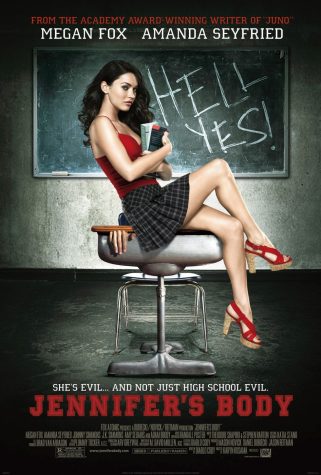 This 2009 cult classic starring Megan Fox and Amanda Seyfried makes for a unique Halloween costume as it embodies a look that is both dangerous and alluring.  
One of the most famous scenes in the movie follows Jennifer strutting through the halls of her high school after freshly killing a boy. The outfit in this scene trended on social media platforms, causing many clothing retailer websites to recreate this look, making it easy to replicate. 
To complete this look, consider a pink, heart-patterned hoodie, a pair of blue jeans, heart-shaped earrings and a pair of wedges (which could also be swapped out for a more comfortable pair of shoes).
"Guitar Hero" characters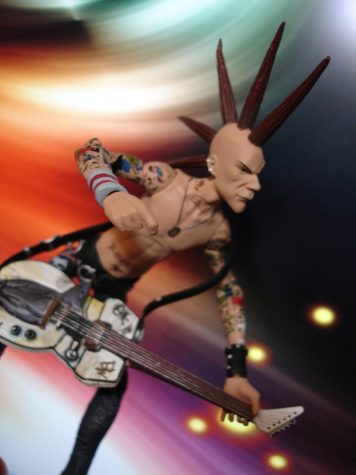 This popular video game can make for a fun costume that you could do either alone or with all of your friends. This game is filled with characters wearing crazy outfits that you could choose to re-create or make your own.
Have fun with this costume by dressing like a stereotypical rockstar. That might include leather, ripped jeans, high-top sneakers, boots, chains or gloves. Finding a real guitar may be tricky, so you can substitute it with a toy guitar or even an inflatable one. If you still have your old "Guitar Hero" guitar, that would really pull this look together!